The Park Hyatt Melbourne offers a decadent Festive High Tea to dine-in or as a home hamper.
After a challenging year of missed milestones and keeping our distance – Melbourne finally feels alive and full of renewed hope (as I write this we have ticked off 30 days Covid free). And so if ever there was a Festive Season to celebrate, it is absolutely this one!!
Were we excited to head into town and preview the Park Hyatt's Festive High Tea? OMG yes! We were positively bursting with excitement, like a couple of small children on Christmas morning!
We were greeted at the entrance by Mr Walker (the resident labrador) and his always ready doormen taking care of the doors. Upon stepping into the huge cool foyer, it's hard not to be swept up in the thrill of holidays, five star travel and an awaiting gastronomical adventure.
The Park Hyatt's Festive High Tea is beautifully presented on a traditional tiered stand. The only clues we are living in a time of covid: tongs are provided, along with antibacterial wipes. And for those who still prefer to indulge in the comfort of their own home – the Festive High Tea is available as take-away!
On the bottom level of the stand are scones, both traditional and raisin – served with whipped vanilla cream and delicious locally sourced jams (the berry was worthy of seconds). We also had warm savouries such as pulled duck-leg pithivier (a tiny pie), Gruyere cheese and chilli straws, and leek, feta and thyme tarts – if you are a savoury lover all of these delivered and it's hard to choose a favourite between the pie and the tart.
The middle layer was the sandwiches. A very generous serving of finger sandwiches – my intention was just to have a taste and save myself for the indulgent top level of sweets, but the sandwiches were so light and delicious that it was hard not to enjoy them… and well, I was at a High Tea, who was I kidding! Each flavour combination was delicious, and perhaps the most surprising was the chicken and apple – the texture was fabulous and the flavour combination one of those unexpected joys.
Ah and of course, saving the best for last… the sweet treats! It was here that we really enjoyed the festive cheer, in both presentation and taste. Cinnamon, ginger, citrus and a hint of brandy were all nods to favourite Christmas treats – the pops of green, gold and red definitely gave the stand its festive cheer.
If you are looking for an extra special way to celebrate Christmas with loved ones, your 2:30-5pm sitting also includes a glass of French Champagne on arrival as well as free-flowing tea, coffee and sparkling wine. It's a treat that will be fondly remembered.
A High Tea at Home Hamper is also available for collection or delivery, with the option to add a bottle of Jacob's Creek Reserve Sparkling Piccolo.
View this post on Instagram
Park Hyatt Melbourne Festive High Tea Menu: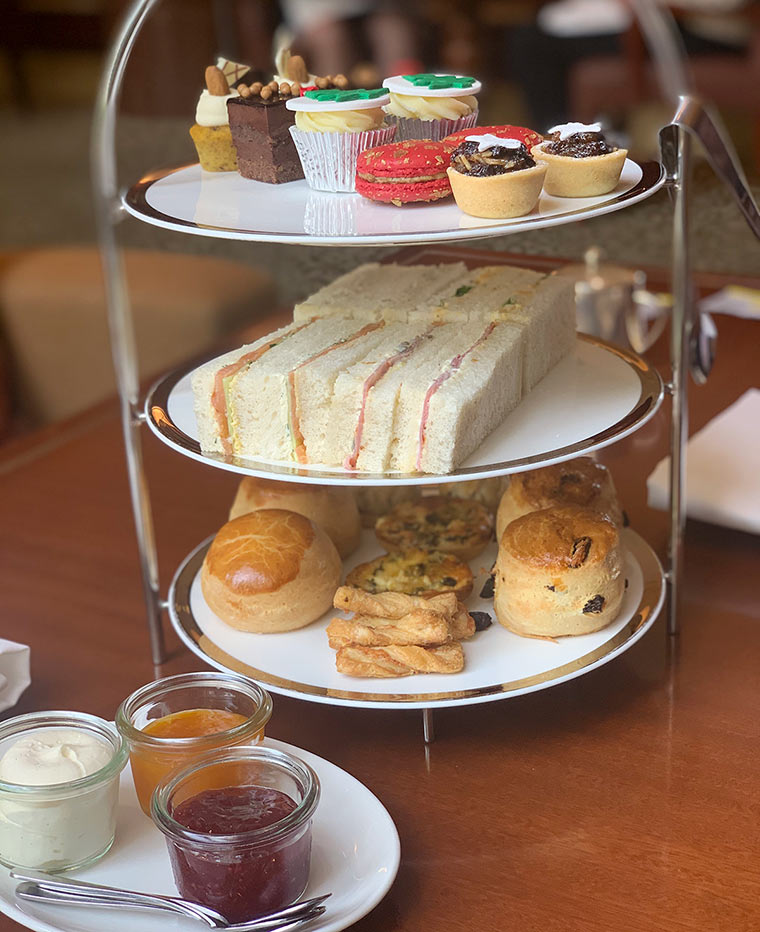 A selection of savouries and classic sandwiches:
Pulled duck leg pithivier
Gruyere cheese, chilli straws (V)
Braised leek, feta, lemon thyme tarts (V) Smoked salmon, cucumber, dill, cream cheese Free-range egg, watercress, grain mustard (V) Chicken, celery, apple mayonnaise
Beef pastrami, pickle, Swiss cheese
Scones & Preserves:
House-baked plain and raisin scones served with whipped vanilla cream and local preserves
Sweet:
Dark chocolate, Tonka bean, cinnamon, marquise (GF)
Mini Christmas tree lemon cupcakes Orange and almond tea cakes (GF) Drunken fruit mince tarts
Festive Macarons (GF)
(V) = suitable for vegetarians (GF) = gluten free
High Tea Melbourne – find more experiences
in our High Tea Venue Directory