The High Tea at the Park Hyatt Melbourne was delicious. Our petit fours included: Chocolate Profiteroles, Vanilla Lime Cupcake, Canelé, Raspberry Friands and Salted Caramel Macarons.
As you approach the Park Hyatt Melbourne you know that you're in for a treat. The grand driveway leads you into the fabulous foyer of the hotel – an expansive space of classic proportions announcing: you have arrived!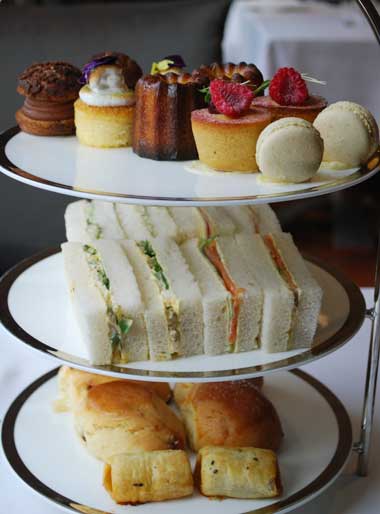 The Park Hyatt's Radii Restaurant is the setting for High Tea (served daily from 2.30-5pm). The restaurant has a unique layout that is multi layered and so whilst there might be different groups and parties happening all around – you can feel quite tucked away which makes for a lovely atmosphere for a proper catch up.
During the afternoon we were there (a Saturday) live music was playing and it filtered nicely through the space – a really lovely touch.
Our table was afforded a gorgeous outlook over the garden and St Patrick's Cathedral. In our little corner we enjoyed very attentive staff who seemed to pre-empt our needs, with fresh plates and topped up glasses whenever we seemed to need them – but otherwise we were left uninterrupted for a fabulous catch up between friends. And with nowhere to be in a hurry, a delicious High Tea to nibble and French champagne to sip – we didn't leave until 5pm!
The High Tea itself was delicious. Our petit fours included: Chocolate Profiteroles, Vanilla Lime Cupcake, Canelé, Raspberry Friands and Salted Caramel Macarons.
Our savoury item was a delectable sausage roll that had hints of middle eastern spice and our sandwiches were very satisfying and fresh. The scones were warm and freshly baked – we couldn't fault them – and the cream and jam combo was flavoursome.
Worth noting is that there is a children's High Tea option and also for an additional charge you can have your car valet parked on arrival. (We knew we would be enjoying the Champagne and so took advantage of nearby Parliament Station.)
The chefs at the Park Hyatt will also prepare High Teas to cater for any dietary requirements for expectant mothers, vegetarians or guests requiring a gluten free high tea. The Radii Restaurant also offers private dining rooms.
Park Hyatt Melbourne High Tea Menu:
Unlimited Australian sparkling wine, espresso coffee, tea or herbal infusion
Oven fresh scones with vanilla chantilly and homemade jams
Assorted finger sandwiches
Chef's selection of petit fours
Savoury items:
Smoked salmon with cucumber and cream fraiche
Double smoked leg ham and Swiss cheese
Egg, mayonnaise and watercress
Smoked chicken with avocado
Petit fours
Chef's selection of 6 petit fours: chocolate profiteroles vanilla lime cupcake canelé raspberry friands salted caramel macaron
Scones
Plain scones
Raisin scones
Vanilla Chantilly cream and 2 types of and homemade jams
Served with continuous tea and coffee enjoy high tea and indulge in a glass of Moët & Chandon Champagne, France $75.00 per person
Menu price and selections subject to change without notice.