High Tea in the Lobby Lounge of the Hyatt Regency Sydney now has a modern Australian twist with G&Tea.
G&Tea is served in the Lobby Lounge in the heart of the Hyatt Regency Hotel, think sleek booths, warm atmosphere and casual elegance.
This is a high tea experience perfect for those who have eclectic tastes, as there's Australian flavours such as eucalyptus and pepper berry.
Once seated we were served a refreshing cocktail, infused with Australian native flavours, botanical gin and tonics.
Pastry Chef, Prashant Anand and Executive Chef, Sven Ullrich have joined forces to deliver a smogasboard of high tea delicacies.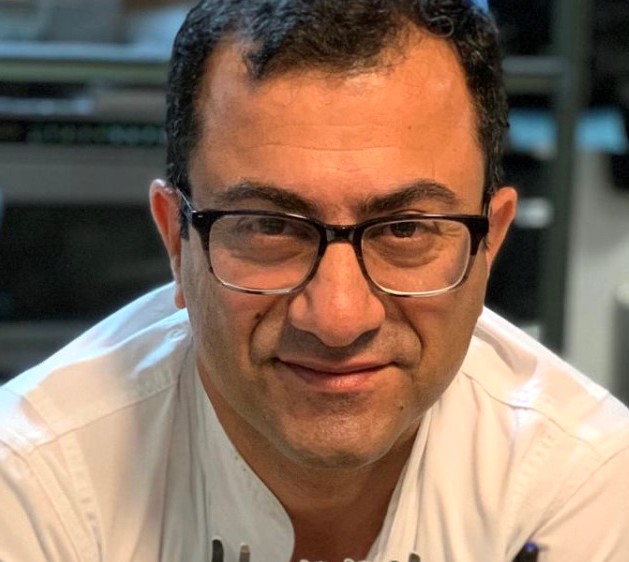 The high tea stand featured three levels of cold and hot savoury canapés – we love a high tea that has a good range of savoury. The highlights for us were the cured salmon, BBQ pork buns and prawn twisties.
Then a basket of freshly-baked scones arrived, the flavours include white chocolate aniseed scones, bitter orange and pepper berry scone with Australian jams and honey infused clotted cream.
We were invited to the bar for a cocktail mixing experience, with a choice between Australian Poor Toms Gin (Sydney Dry or Strawberry) or London Dry Gin (Opihr Oriental Spice or Bloom London Dry Gin) our cocktail was mixed in front of us.
But there's more – with a botanical dessert table covered in sweet delicacies. We loved the aniseed crème brulee which was torched to perfection right at the table and the raspberry-orris root chocolate magically melted in front of the guest before being served – spoiled for choice.
High Tea guests receive a wide selection of sweet and savoury canapés (including the savoury high tea stand, scones and dessert table), tea and two G&T's. Non-alcoholic gin options, artisan loose-leaf teas from Rabbit Hole Tea and coffee – all for $75 per person.
This is a fabulous high tea that is delicious and generous. It's a multi-sensory journey with savoury canapés and sweet delicacies infused with native Australian flavours, with a range of botanical gin and tonics, artisan teas, and coffees. It's the perfect experience for high tea lovers and people wanting an eclectic and gorgeous experience.
Bookings for G&Tea's are recommended.
G & Tea Menu: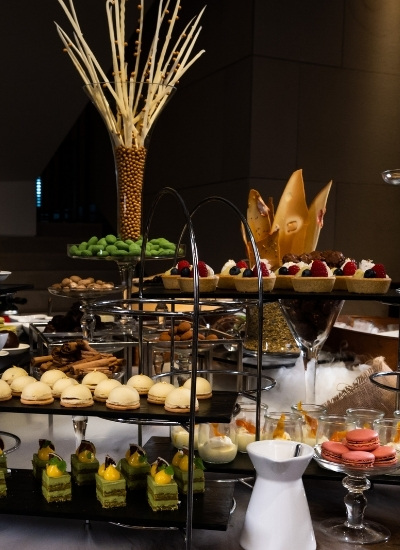 Native Scones:
White chocolate-aniseed scone, with strawberry-eucalyptus jam
Bitter orange and pepper berry scone, with raw honey infused clotted cream
Cold Canapés / Sandwiches:
Brioche bun, smoked chicken, celeriac-truffle salad
Burrata, puff pastry, aged balsamic, basil
Cured salmon, kipfler potato, rocket pesto, cured lemon
Marinated beef, focaccia crisp, parmesan aioli, fried caper
Hot Canapés:
Prawn twisties, palm sugar-chili dip, black sesame
Spinach and feta pastie, honey, figs
Chicken kebab, cumin-garlic labne, pomegranate seeds
BBQ pork bun, sweet plum sauce, charred green onion
Botanical Dessert Table:
Yuzu–chocolate tart, juniper cream Pistachio and saffron cheesecake, candied orange zest
Apple and wattle seed zucotto, licorice sabayon
Green tea-lemon slice, merengue crunch
Torched aniseed crème brulee
Hazelnut-cassia bark truffles, caramel pearls
Steamed sweet dumplings, vanilla-cardamom sour cream
Iced mulled red wine granite, mascarpone, coriander
Melted chocolate "surprise", hot raspberry-orris root coulis, gold leaf
With teas by The Rabbit Hole.
High Tea Sydney – find more experiences
in our High Tea Venue Directory