Tucked away on vibrant Sussex St in Sydney's Darling Harbour precinct is the Hyatt Regency. Its restaurant – Sailmaker – is named so to reflect the area's sail-making history since the 1800s.
Recently refurbished, the hotel launched its high tea menu a few months ago. We popped in for a visit to check it out.
The room is a nice open space with plantation shutters along one wall, letting in lots of natural light and a view out towards Darling Harbour. There's a large buffet area which is used for the hotel's breakfasts, and also a regular seafood buffet which seems to be a popular option for the larger hotels throughout Sydney.
The high tea itself is served on the more traditional 3-tiered stand, which we much prefer over a buffet. High tea is all about sophistication and elegance – things that can go out the window if you stack your plate high and have to carefully balance it while squeezing past tables back to your chair!
As you can see from the menu below, it's quite a traditional selection of flavours, all made freshly in house with some nice twists thrown in to jazz it up. The egg in the egg sandwich has actually been carefully scrambled rather than mashed with a fork. If you've read many of my other reviews here on High Tea Society, you'll know that I absolutely love a good egg sandwich, and this one was fantastic. I also loved the combining of two very traditional ribbon sandwiches together into one – chicken and cucumber – it really works well together!
The scones were served warm with house-made strawberry jam and whipped cream. There's a choice of two flavours: raisin or white chocolate. I really liked the white chocolate version, the chips near the surface had caramelized slightly which gave the scones a lovely flavour. One thing you'll notice about the scones though is that they're quite flat. Kind of like a muffin top, which made them comical (if you've seen the Seinfield episode about selling muffin tops), but still a delicious scone nonetheless!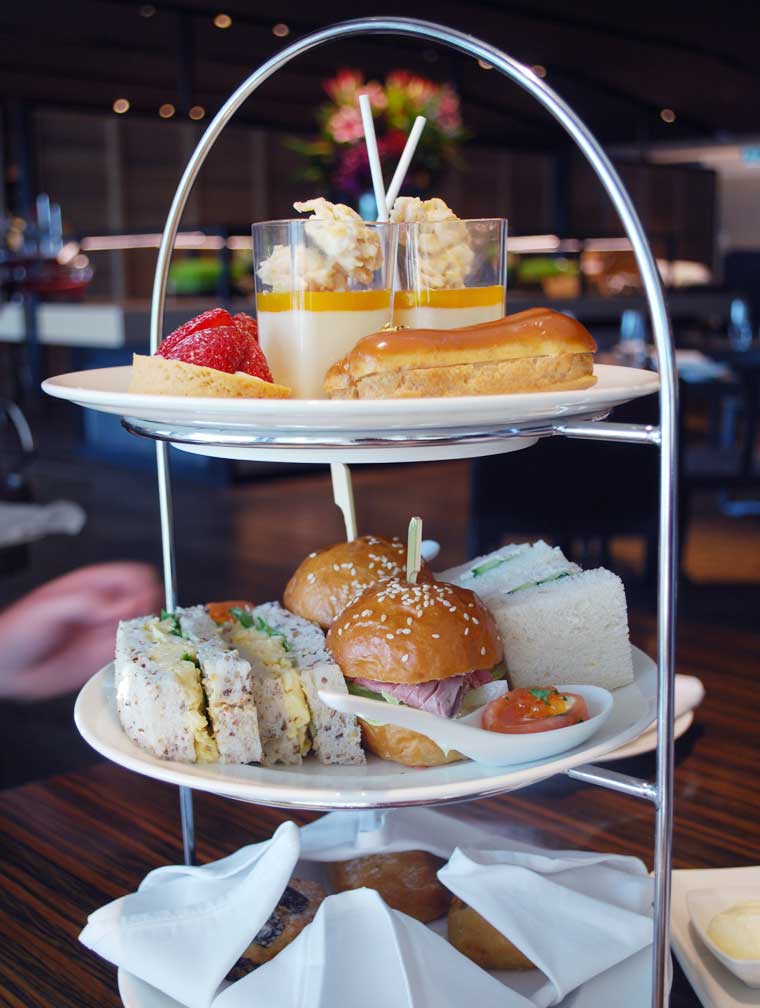 The sweets were all well made and it was quite refreshing not to have anything chocolate-based and finally we didn't have to eat a mini cupcake (again if you've been following my reviews, you'll know my distain of the children party treat on a high tea menu!) Instead we had a passionfruit pot which was a nice balance of rich and tangy. The carrot cake pops were a bit of fun thrown in, but my favourite was the petite coffee eclairs. The choux was still crisp and the filling had a subtle hint of coffee, nothing too overpowering to obliterate the other flavours around it.
Sailmaker Hyatt Regent Sydney High Tea Menu:
Egg sandwich on wholemeal
Smoked salmon roulade with caviar
Roast beef sliders
Chicken and cucumber on white
Crème of Passionfruit
Strawberry tarts
Carrot cake pops
Coffee eclairs
Scones – white chocolate or raisin served with strawberry jam and whipped cream
The Sailmaker high tea menu is also available as vegan and gluten free, however this required advance notice.
Photos by Joshua Pike and Michelle Milton