When you step out for a High Tea it's not just about the food on the plate (although that's important) it's the whole experience… and Altus, Hotel Chadstone delivers on all fronts.
Departing from a bustling shopping centre carpark, the Hotel Chadstone's lift transports you to what almost feels like another country and place! The decor is beautifully moody with stunning artwork on every wall, opulent fittings and a very comfortable space to relax in – with views in every direction.
Up on level 12, it's easy to forget the crowds below as you look across the city skyline in the distance and enjoy a peaceful hush. Staff are attentive without being intruding and small touches of lovely linen, glassware and china made our dining experience special.
But the main event, our High Tea, was not only beautiful, it was generous and delicious.
The Director of Culinary and Food, Deepak Mishra, heads up the team at Hotel Chadstone and he comes to Melbourne with an excellent pedigree, so it's no surprise that his High Tea is one to remember.
There were a number of standout moments on the menu.
The mushroom and cheese pie in the savoury section was delicious, as was the corn and gruyere fritter – and the selection of mini rolls was tasty and a little bit adventurous (in the best way). The mini rolls were also a generous serve, and (for this reviewer) verging on too generous – but I did make sure to taste each one, even if I didn't quite finish them all.
Of the sweets, I was blown away by two in particular (so delicious!). The salted caramel ganache tart and the passionfruit jelly cream cheese dome both packed a flavoursome punch that will long be remembered and drooled over.
High tea is naturally served with a pot of tea, and the Altus Rooftop offers 11 different blends on their menu, as well as cocktails and champagne.
If you are looking for an afternoon to remember, High Tea on the Altus Rooftop at Chadstone's MGallery Hotel is a must.
Altus High Tea Menu: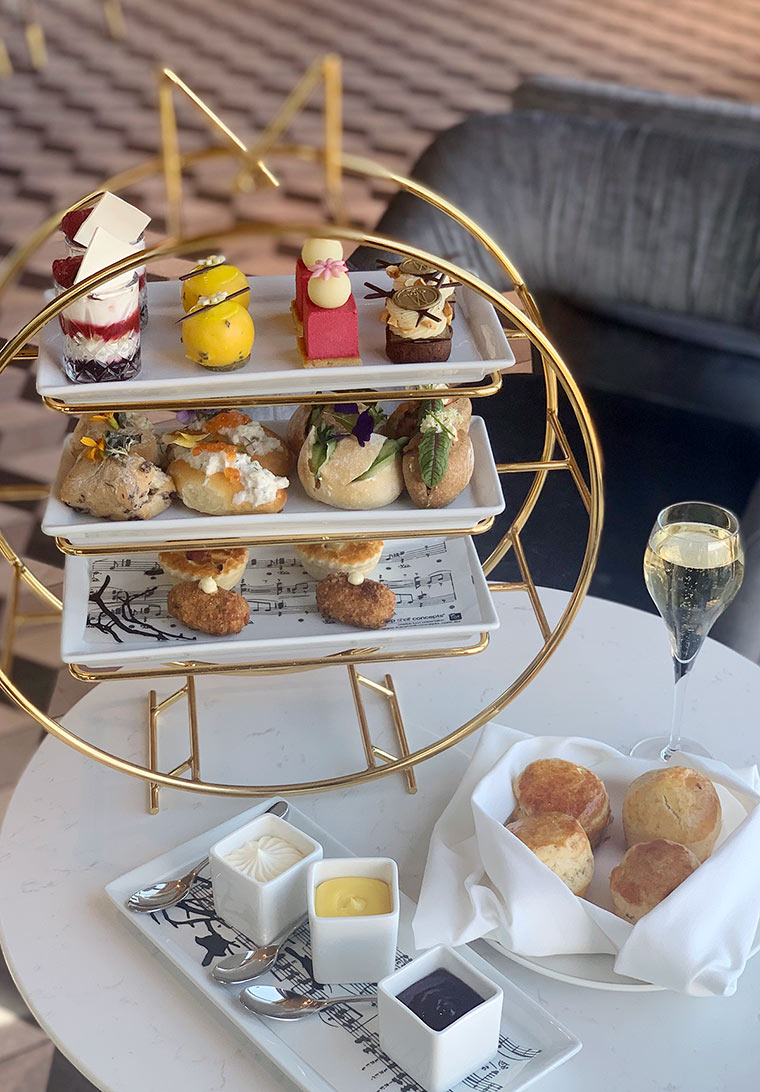 SANDWICHES & SAVOURIES
Blue swimmer crab remoulade with fennel slaw, yuzu, native lime and salmon roe
Yarra valley smoked salmon, calamansi lime curd, and Geraldton wax and mountain pepper
Citrus cream cheese, apple, mint & lime compressed cucumber triple Decker
Roasted chicken, balsamic onion, Davidson plum gel, salt bush and smoked marrow aioli
Mixed exotic mushroom and cheese pie with bush tomato relish
Gruyere and corn fritter with truffle emulsion
PATISSERIE
Salted caramel ganache tart, single origin chocolate, golden hazelnut and Tasmanian berry dust
Red cube –strawberry gum and berry mousse, coconut jelly, with almond pain de gene base
Passionfruit jelly and cream cheese with lemon myrtle layered dome with pistachio sponge Raspberry crunch and gel, wild berry noodle, wattle seed and yoghurt semi freddo, (gf)
Artisan Chocolate truffles
SCONES
Warm buttermilk scone
Orange blossom, white chocolate, lavender scone
Served with strawberry rose petal preserve, lemon curd, clotted cream
High Tea Melbourne – find more experiences
in our High Tea Venue Directory