Hotel Chadstone is taking High Tea to new heights with their rose-inspired afternoon tea at rooftop bar Altus.
Discover Hotel Chadstone's indulgent High Tea on the rooftop bar and dining level of the new luxury five-star hotel located at Chadstone – Melbourne's fashion capital.
The hotel oozes style and sophistication, with 250-rooms and suites designed with M Gallery's Inspired by Her ethos in mind, the hotel features a wellness retreat with yoga studio, rooftop bar & dining, swimming pool and an Italian-inspired ground floor all-day dining venue.
Ascend to the elegant rooftop dining venue for High Tea, served every Saturday and Sunday in Altus. The intimate dining space features plush carpet, art deco style and deep leather chairs to sink into for an indulgent afternoon.
The table is simply set, letting the beauty of the décor speak for itself. Your high tea experience starts with a glass of Veuve Clicquot Rosé on arrival, or opt for the free-flowing Champagne option.
Director of Culinary, Deepak Mishra has created a stunning selection of savoury and sweet morsels presented on a custom gold stand that arrives in spectacular fashion.
Starting with the warm savoury selection, we devoured the French fried chicken brioche with mild blue cheese and celery and the Swiss Gruyere and corn croquette, aioli and candied olives. These two opening numbers were a standout and hint of the deliciousness to come.
The middle tier contained the savoury selection including the impressive spanner crab roll with fennel slaw, yuzu, avocado crème and topped with Yarra Valley salmon roe plus the high tea standard of cucumber sandwich served with finesse with citrus mascarpone, mint and lime.
Plain Buttermilk scones and Orange blossom, white chocolate and lavender scones were served on the side wrapped in a napkin to keep warm and served with strawberry rose petal preserve, lemon curd and clotted cream.
Save room for the top tier sweet selection with the show stopping bright 'red cube' of lychee mousse with almond pain de gene base. The Gianduja whipped ganache tart with golden hazelnut features the hotel's signature M Gallery logo, while the highlight for our party was the glossy Passionfruit jelly and cream cheese layered dome with pistachio sponge.
While there were some subtle references to roses as the inspiration, I would have liked to see even more rose-inspired elements included in this high tea experience.
On our visit, the restaurant was filled with guests celebrating a milestone birthday and as word spreads, no doubt the restaurant will attract further ladies and family groups celebrating special occasions.
With prior notice, the Altus chefs happily handle dietary requirements with ease, offering gluten free and vegetarian options.
Included in the indulgent experience is a selection of TWG loose-leaf teas served in specially imported rose gold teapots with a highlighted selection of delicate rose tea as well as speciality coffee by Padre.
High Tea at Altus is a stylish affair and ideal to combine with shopping at Chadstone or pampering at Holism Retreat day spa for the ultimate girls' day out.
Sample High Tea menu for Hotel Chadstone Melbourne: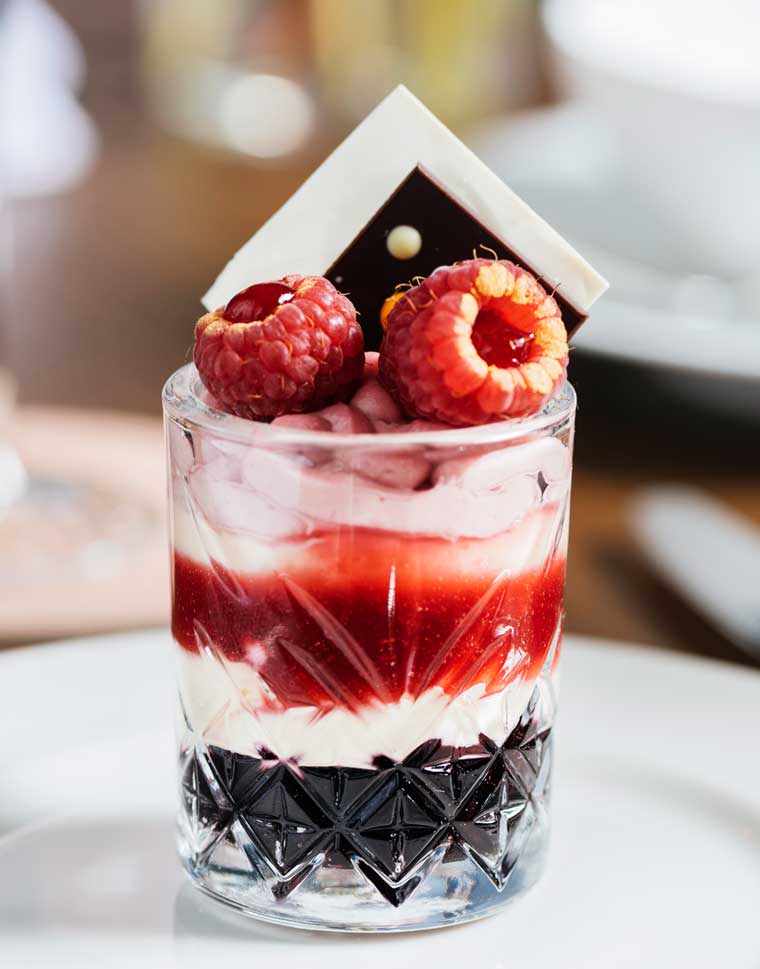 Savoury:
Poached chicken, prosciutto, apple pin wheel
Cured king salmon bagel, calamansi curd, glazed asparagus on beetroot nigella seed bagel
Spanner crab roll, fennel slaw, yuzu, avocado crème. Yarra Valley salmon roe.
Citrus mascarpone, mint and lime compressed cucumber triple decker (v)
Warm savoury:
French fried chicken brioche, mild blue cheese, celery
Swiss gruyere and corn croquette, aioli, candied olives (v)
Patisserie:
Gianduja whipped ganache tart golden hazelnut
Red cube – lychee mousse with almond pain de gene base
Passionfruit jelly and cream cheese layered dome with pistachio sponge
Raspberry crunch and gel, wild berry noodle, yoghurt semi freddo, almond crumble (gf)
Belgian chocolate truffles
Scones:
Warm buttermilk scone
Orange blossom, white chocolate, lavender scone
Served with strawberry rose petal preserve, lemon curd, clotted cream
High Tea Melbourne – find more experiences
in our High Tea Venue Directory