From the 1st of November until the end of 2018, chocoholics can indulge at the Langham Melbourne's new Chocolate Bar High Tea.
The Langham Melbourne is indulging chocolate lovers each weekend from now until the end of the year in Aria Bar with their newest offering Chocolate Bar High Tea.
Deepak Mishra, Executive Chef has announced the introduction of a new Chocolate Bar High Tea menu which will be treating guests in Aria Bar & Lounge will a sweet feast designed specifically for chocolate lovers and devotees of the tradition of high tea.
On arrival, guests receive a glass of sparkling wine or a mocktail and unlimited Wedgwood specialty loose leaf tea is served in tailor-made 'Langham Rose' Wedgwood china tea ware. Guests can also enjoy espresso coffee and of course, hot chocolate.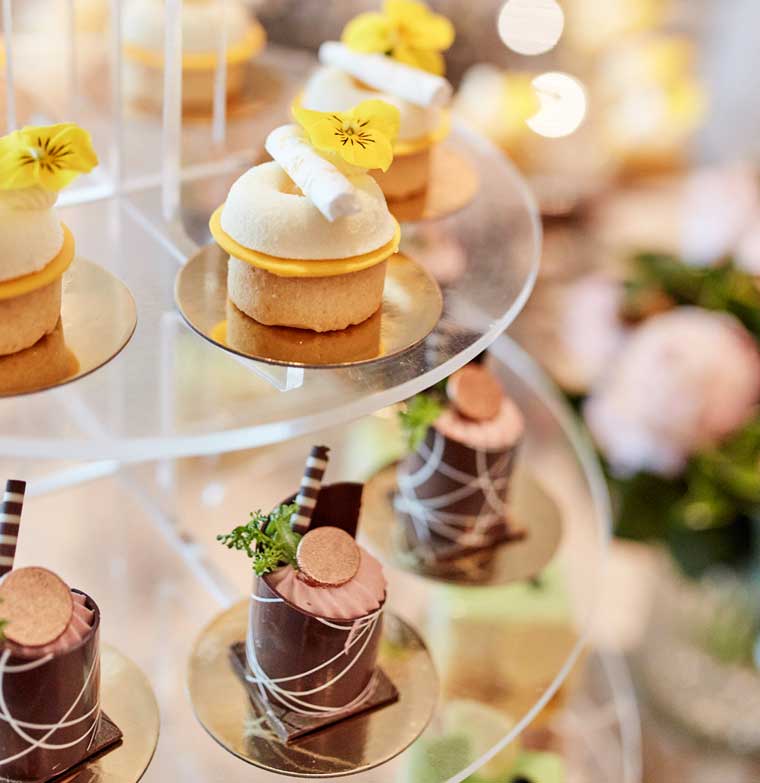 Starting with a tradition three-tiered tray of savouries, including the traditional finger sandwiches with a twist including a triple decker cucumber finger sandwiches layered with citrus cream cheese, mint, lime and compressed cucumber. There's also so mini beetroot bagel topped with Yarra Valley smoked salmon with calamansi curd, asparagus and salmon roe. The traditional take on the ham and cheese sandwich has been reinvented with a Swiss cheese roll filled with honey glazed ham and sweet mango relish while the rare roast beef roll includes a Pommery mustard and horseradish mayonnaise as well as the modern addition of a house-made balsamic onion marmalade.
Also on the savoury side, there's a mini forest mushroom, truffle and parsnip pie, braised Wagyu beef fritters with smoked chipotle aioli as well as truffled macaroni and cheese en cocotte with bacon crumbs.
Guests can choose between two types of scones, the signature Langham traditional buttermilk scones as well as lemon verbena and lavender scones, both types of course are accompanied by strawberry and rose preserve, lemon curd and fresh, clotted cream.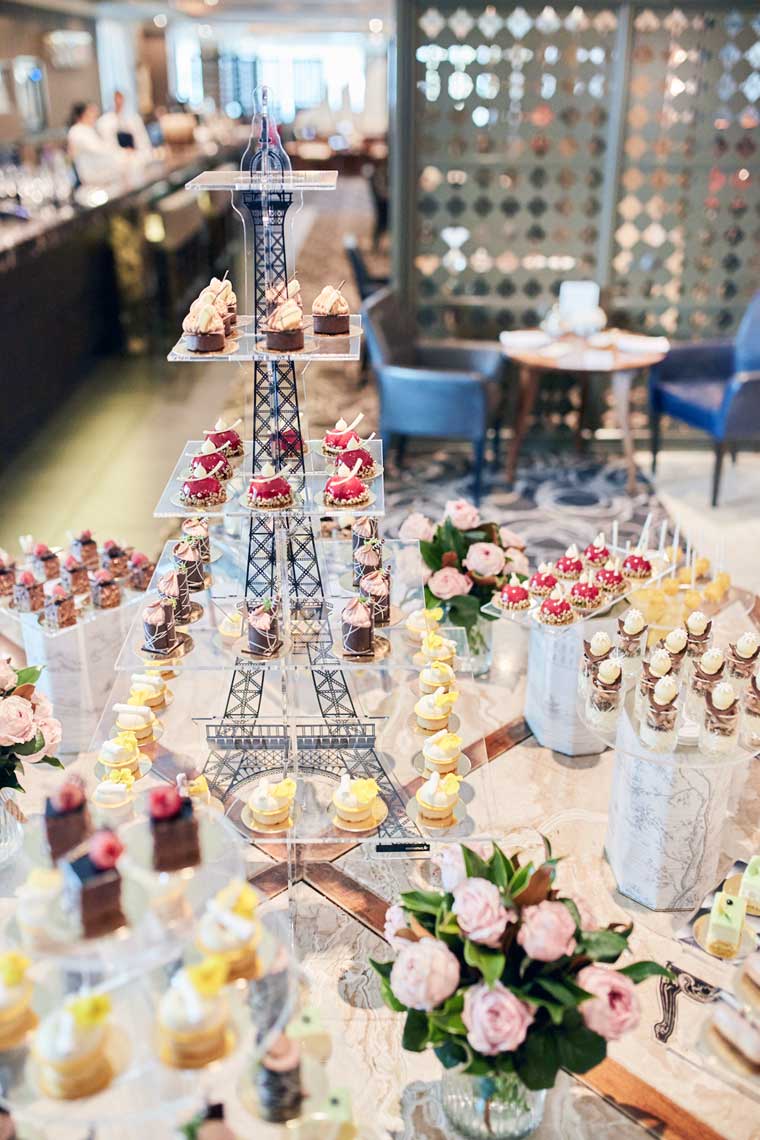 From here, at your leisure, guests move to the chocolate dessert buffet where you can return again and again until to satisfy your chocolate cravings, However, it's important to know that this is for serious chocolate lovers. The decadent and rich treats might have you opting out far quicker than you might expect.
Chocolate fans will enjoy the variety of sweets including Granny Smith apple and white chocolate and frangipane served in a bite-sized layer cake as well as the rich, mouth-watering 55% bitter chocolate terrine with raspberry croquant. There's also tiers of Belgian milk chocolate and Vittoria coffee éclairs with caramel pearls, miniature dark chocolate and hazelnut tarts with gianduja mousse.
Make sure to leave room for the quirky white chocolate and passionfruit pops with a surprising burst of citrusy yuzu as well as chocolate cannoli filled with coconut, Malibu gel, white chocolate and berry cream. You'll be cancelling your dinner plans once you lay eyes on the Bailey's Irish cream panna cotta with coffee crumbs and chocolate spaghetti or the strawberry jelly and cream cheese layered dome with pistachio sponge and a citrus, vanilla and white chocolate mousse. No doubt about it, this high tea is about serious indulgence.
"Our brigade of pastry chefs have devoted hours and hours to taste-testing and playing with dozens of chocolate from across the globe to create our latest menu," explains Chef Mishra. "Picture Charlie and the Chocolate Factory meets an episode of MasterChef and you get the idea of what our pastry kitchen has been like," adds Mishra.
The unlimited dessert buffet is also topped with a chocolate fountain.
The experience is equally suited to couples as it would be for groups. It's also the perfect idea for special celebrations as well as bridal or baby showers. Bookings are encouraged and bookings for groups are essential.
The two-hour sitting is great value and Aria Lounge is the perfect place to enjoy a semi-formal tea with a bit of cheeky twist. Our advice, arrive hungry.
Bookings are suggested.