For many aficionados, The Langham is synonymous with afternoon tea – and for good reason.
The Langham has a long tradition of serving afternoon tea, dating back to 1865 when The Langham London began serving finger sandwiches and petit fours to hotel guests.
Today, that tradition lives on at The Langham Melbourne, where afternoon tea is served three times a day, every day, at the Aria Bar & Lounge, located at the top of the famous Langham staircase.
When The High Tea Society pays a visit, we are immediately offered a glass of Taittinger Champagne, coffee and a selection of 13 teas from British tea brand, JING.
The table is beautifully set with the Langham's signature Wedgwood rose patterned bone china, silverware and linen napkins.
A pot of sugar cubes with silver tongs and individual pots of jam, cream and lemon curd for the scones to come epitomises the traditional, classic afternoon tea offering you can expect at this venue.
The afternoon tea itself is served across a four-tier stand – again, on the Langham's signature Wedgwood – with the scones wrapped in a linen cloth to keep them warm.
Executive chef Thomas Rappl said the menu changes every three months to keep it seasonal, but one thing that never changes is the attention to detail paid to every item.
One of his personal highlights for this particular offering is the tuna poke, which originated from a recipe handed down from a Hawaiian friend and has been reinvented with a spicy twist.
He also recommends the arancini, which features semi-fermented trumpet mushrooms to ramp up the umami flavour.
True to his word, both dishes are delights.
Two other standouts include the rock lobster cocktail tart, which is generously portioned and utterly delicious, and the traditional chicken sandwich, which is elevated by the inclusion of some crunchy walnuts.
Over to the scones, and afternoon tea goers have the choice of plain and raisin. A nod here to the lemon curd – not many venues offer this with scones, and it's a real shame. If you haven't tried lemon curd on a scone, do so immediately!
Last but not least, the desserts.
Our personal favourites were the rich dark chocolate and ancho chilies mousseline and the wonderfully tangy meringue.
For those with any dietary needs, The Langham Melbourne can accommodate gluten free, dairy free, fructose free or vegetarian requests.
They're also kid-friendly, offering a themed kids high tea during school holidays, and a Prince and Princess afternoon tea during the rest of the year for little ones.
If you are looking for a traditional afternoon tea with a great offering and impressive attention to detail, the Langham Melbourne won't disappoint.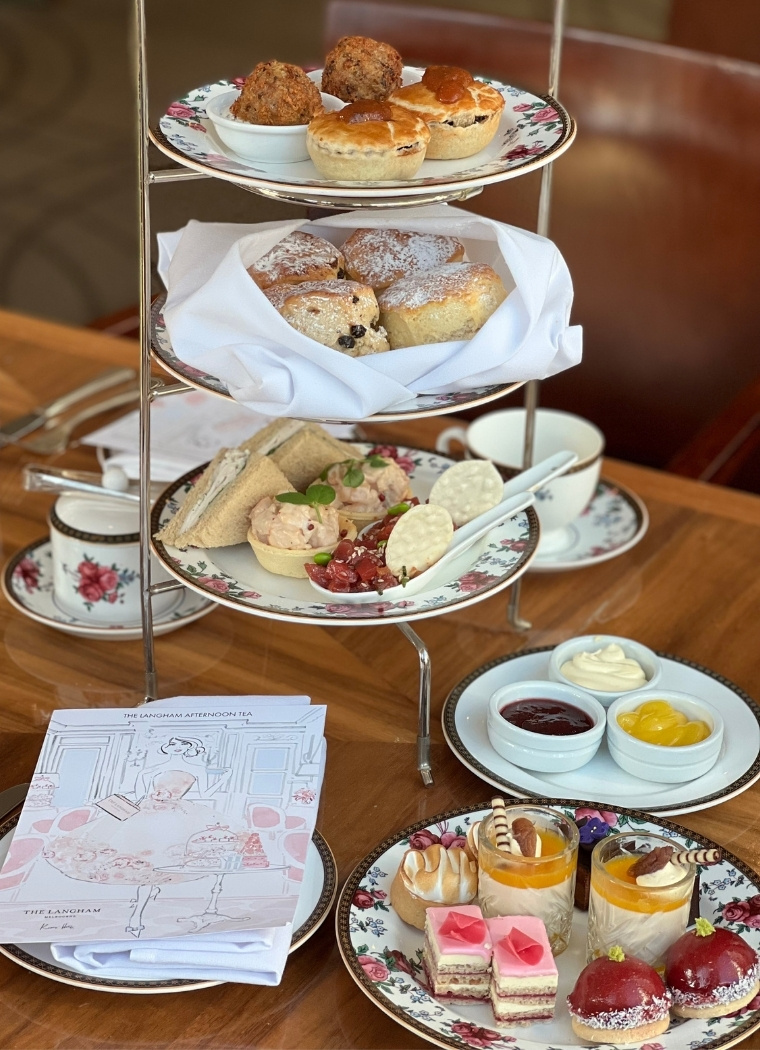 The Langham Melbourne Afternoon Tea Menu:
Sweet Delights:
Cherry and pistachio mousse, hazelnut jaconde, pistachio microwave sponge
Valrhona chocolate and ancho chilies mousseline
Raspberry opera
Chestnut panna cotta, sea buckthorn jelly, chestnut confit
Sudachi and kalamansi meringue tart
Savoury Treats:
Rock lobster cocktail tart with creamy horseradish, Tahitian lime and Four Pillar's cocktail sauce
Chicken, watercress and walnut cream cheese in wholemeal bread
Tuna poke with spicy sesame, soy and ginger sauce, rice water cracker
Warm Treats
Arancini with porcini and trumpet mushroom filling, dill and tarragon sour cream
Beef and burgundy pie with bush tomato chutney
Scones:
Served with Yarra Valley clotted cream, rose scented citrus curd, and a berry, ginger and pear jam
High Tea Melbourne – find more experiences
in our High Tea Venue Directory