High Tea at The Cortile, InterContinental Sydney probably is one of the best locations in Sydney for one of those special life occasions you want to commemorate with a once in a lifetime meal.
We were excited as ever to travel into the city, to Sydney's InterContinental Hotel, to join them at their first sitting of their weekend High Tea Buffet. After entering the grand atrium, our ears filling with the soft lilt of a grand piano's siren song, we immediately felt a wave of warmth run through us, and our relaxing journey of delights began, as we were welcomed inside the ground floor's Cortile café by our charming besuited host.
Seated comfortably on plush, comfy sofas, we were filled with anticipation. We'd never had a 'buffet' style high tea before, and had been informed that the tables would be waiting for our feast very shortly. In the blink of an eye, large glasses of crisp, sparkling champagne had appeared before us, and, in the time it took to clink cheers, we were welcomed to take a plate and visit the food tables, that lay waiting for us, heaving with delights.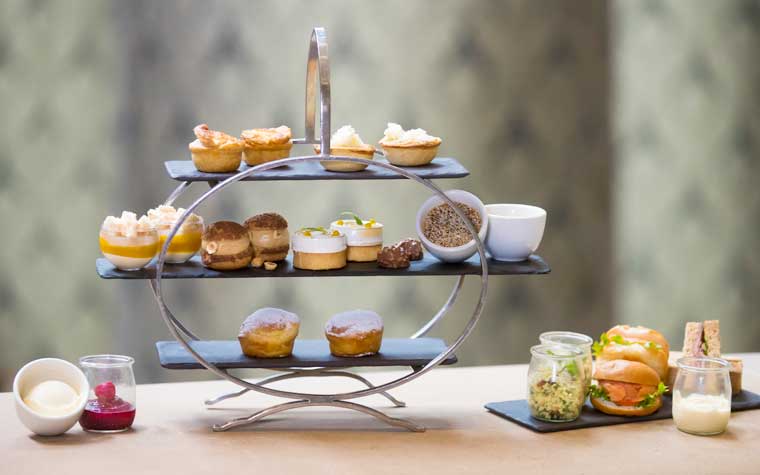 What really sets The Cortile's high tea streets ahead of it's competitors is, indeed, it's unique buffet style, and the impeccably dressed attendees' awed silence, on touring the spread, was broken only occasionally by amazed 'ooh's' and awed 'aah!'s', and remarks on the quality, quantity, and sheer presentational majesty of the food.
We were so bowled over by the choice at the buffet, that we were quite in daze, not knowing where to begin piling our plate. But, we had to start somewhere, so we started savoury. Odes to tradition fused with innovation at the hot food bar. A quiche Lorraine, and high tea mainstays, such as an egg and cucumber, and salmon and baby spinach sandwiches, also lay astride a marvelous Moroccan harissa lamb pie, a shitake mushroom arancini, all executed with considerable aplomb.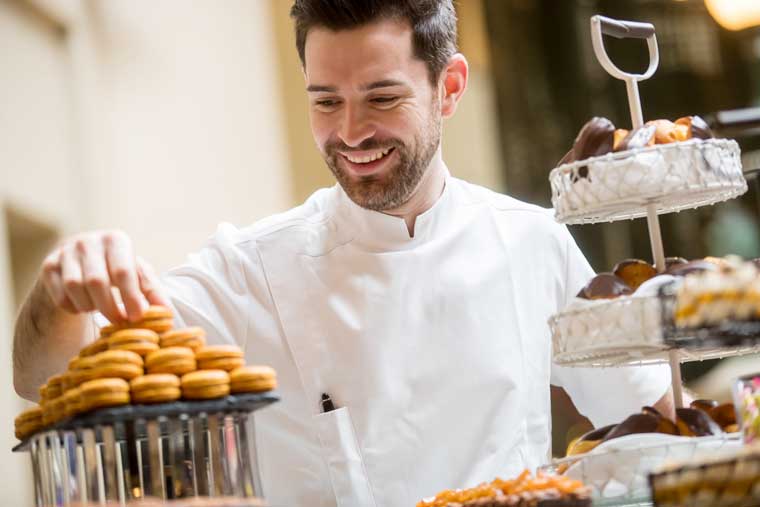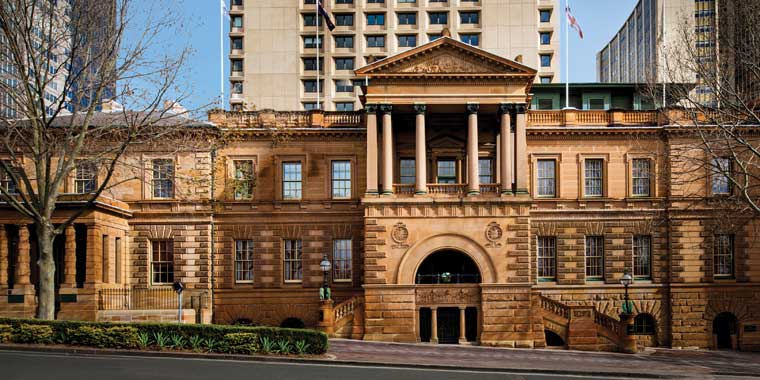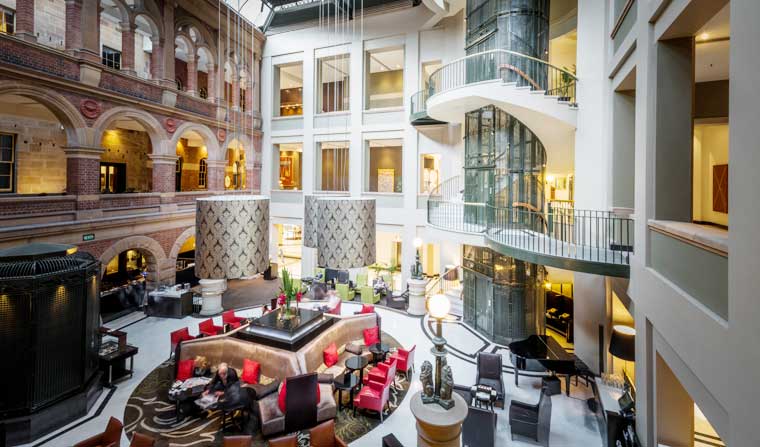 After polishing off our first course, off we skipped to the 'macaron bar', which contained pyramids of salted caramel and raspberry varieties, that we could tell, by texture, must have just been baked that very day. The 'yummy sweet' table contained no less than 11, yes, 11, different artisan tarts, puddings pies and cookies, and to our inner child's leaping hearted joy, there was even a candy station, beset with vintage style jars of whimsical lollies from our childhoods. It was so, so hard to pick a favourite from the faultless selection, but goodness, the chocolate, ginger and coconut crème brulee was so delicate, so unusual, so darned yummy, we were lost for words. Our guest with a dietary requirement needed not miss out on the fun either, as the flourless, gluten free cookies were warm, gooey little pillows from heaven, some of the best we'd ever tried.
We thought, too, that it was a brilliant touch to include a fresh, Romanesque fruit salad, with nuts, gourmet cheeses, and a bread board to the buffet's harmony, as these accompaniments, which more than enough sang for themselves, helped to lighten, freshen, and balance the richness of the indulgent sweets.
After an hour of sampling every item at the buffet we sat back and basked in the sheer glamour of the amazing architecture of the hotel's interior, with it's exposed brick turrets, met with gold filigree and marble accents. We spotted two birthdays, and even a bridal party at our high tea sitting, and we had to agree that High Tea at The Cortile probably really was one of the best locations in Sydney for one of those special life occasions you want to commemorate with a once in a lifetime meal.
We felt very lucky indeed, and, as our cups were filled, filled, and re-filled again, and with every ambrosial sip of Earl Grey, Red Berry, and a really special Irish Malt blend, we felt yet luckier to be part of it.
InterContinental Sydney High Tea Buffet Menu:
Arrival
Ignite your palate within the alluring charm of The Cortile with a glass of Bimbadgen Sparkling Semillon or upgrade to a glass of French Champagne for an additional $15 for a more opulent afternoon experience.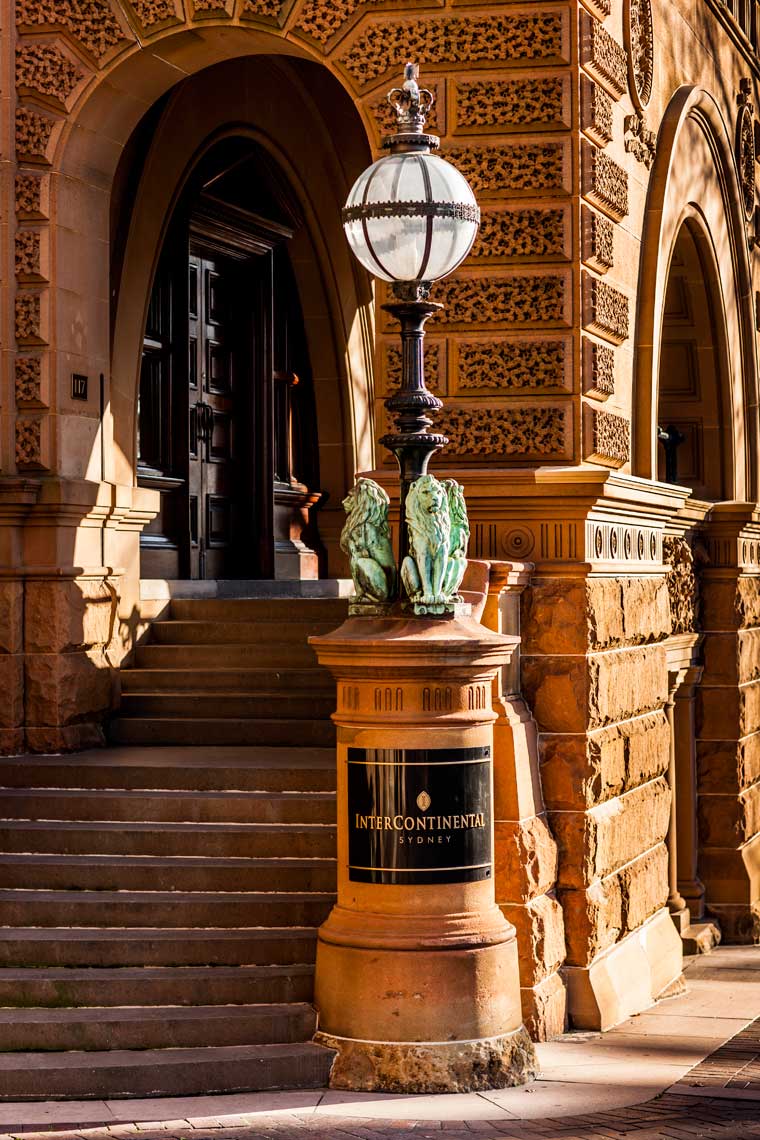 Tea Sandwiches
Chicken Pesto Sandwich
Smoked Salmon, Baby Spinach, Lemon Cream Cheese Wrap
Tea Sandwiches
Chicken Pesto Sandwich
Smoked Salmon, Baby Spinach, Lemon Cream Cheese Wrap
Hot Savoury
Traditional Quiche Lorraine with Leek
Gourmet Harissa Lamb Pie
Shitake and Buffalo Mozzarella Arancini with Tomato Sauce and Aioli
Cold Savoury
Moroccan Cous Cous with Pine Nuts, Preserved Lemon, and Coriander
Hot Sweets
Buttermilk Vanilla Scones with Raspberry Jam and Vanilla Whipped Cream
Homemade Orange Crepes Cold Savoury Moroccan Cous Cous with Pine Nuts, Preserved Lemon, and Coriander
Macaron Bar
Salted Caramel Macaron
Raspberry Macaron
Sweet Treats
Caramel Mascarpone, Lychee and Mango Cup
Milk Chocolate, Ginger and Coconut Creme Brûlée
Lemon and Lime Meringue Tartlet
Hazelnut Praline Choux
Nutty Caramel and Milk Chocolate Tartlet
Roasted Pineapple, Passionfruit and Milk Chocolate Cake
Fresh Lemon Madeleine
Passionfruit and Hazelnut Slice
Iced Earl Grey Tea, Fresh Mint and Lime Drink
Candy Station
Walnut Dark Chocolate Flourless Cookies
To Finish
Seasonal Sliced Fruit
Australian and International Cheese with Lavosh and Crackers