Do you have friends that complain about taking High Tea (strange, I know), that it's "too dainty" or "only for girls"? Well, we attended a launch of a new event to shake the complainers up a bit – High Coffee.
The InterContinental has teamed with renowned chef Stefano Manfredi, offering up a decedent afternoon of coffee-themed sweet and savoury treats. On arrival you'll be served an ice-cold spiced espresso martini. If you've never had one before, you're in for a treat. The barista knows what he's doing!
Then the food will begin to arrive, and oh my, there's lots of it, so make sure you're hungry before you go! Everything is made in house and you can tell the chef's love what they do. I mean, who wouldn't when you're creating such delicious little treats.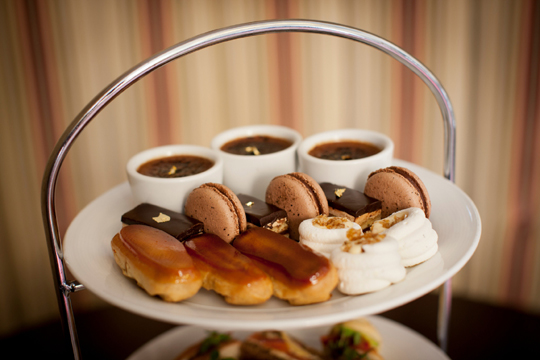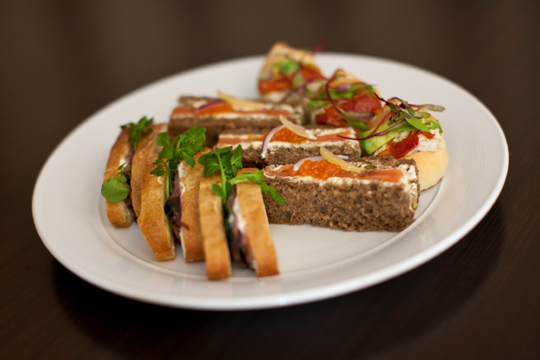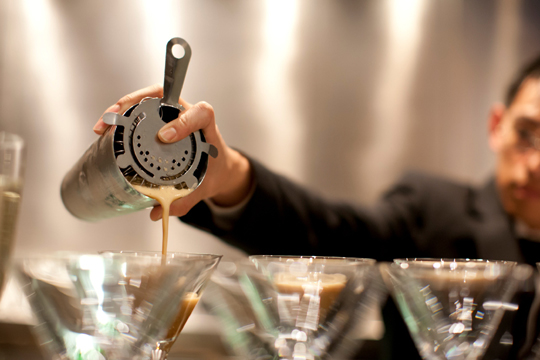 The menu (see below) is like your more traditional high tea in that it's presented on a three-tiered stand (well, most of it is). But it's also similar to a mini degustation as it walks you through savoury to sweet all with matching coffees.
The standout savoury dish is the smoked salmon finger sandwich. Using mascarpone and preserved lemon was a lovely change to the more common cream cheese and capers. The mini beef and burgundy pie was a close second.My favourite on the sweet side would have to be the crème brulee. It was so rich and velvety that you needed something with a little more body than tea to stand up to it – coffee matched it perfectly.
Just like a degustation, there is a palate cleanser to separate the more substantial portion of the menu from the sweets. It's a green apple sorbet that is so creamy you'd swear it was ice cream (it isn't though). It has the perfect amount of zing to refresh your palette, without making you look like you're sucking on a lemon.
Apart from the excellent spiced espresso martini on arrival, the Café Freddo is a fun idea where you get a shot of espresso coffee over ice, with two tiny jugs of sugar syrup and milk so you can mix your own iced coffee to taste. To finish, there is a Café Corretto, which is another shot of espresso that is 'corrected' with a shot of your choice of grappa. The baristas are fully trained in grappa tasting, so if you're a little unsure, but want to be adventurous, they'll help you make the right choice.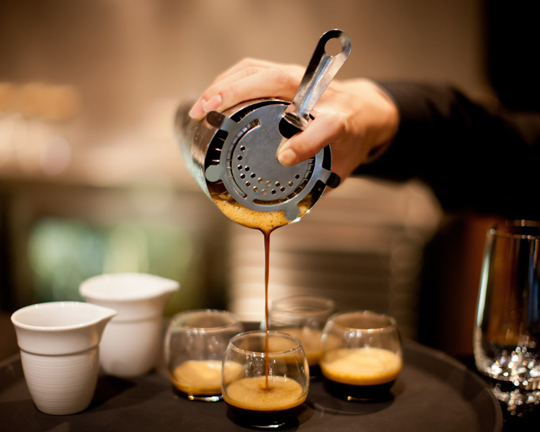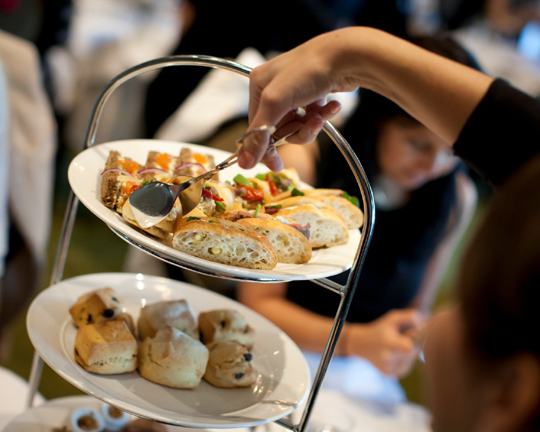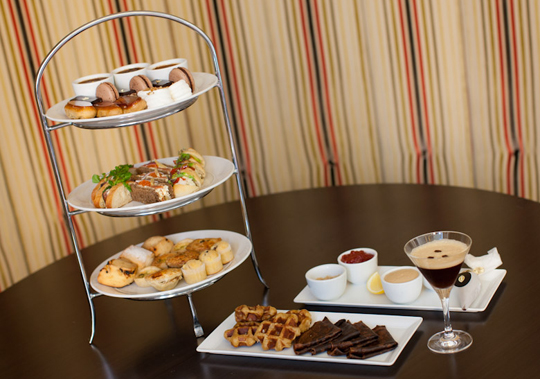 So in all, it's a lot of coffee teamed with a lot of food. It's designed to be taken over a few hours, so you can leisurely graze without feeling rushed. It would be great for an afternoon treat before heading out for the evening. Or even a long morning tea to replace brunch.
InterContinental High Coffee Menu
Afternoon sandwiches:
Wagyu beef, cucumber relish and watercress Panini
Roasted chicken, avocado with semi-dried organic tomato, linseed rol
Smoked salmon on rye with mascarpone and preserved lemon
Warm afternoon savouries:
Beef and burgundy pie
Prosciutto and green asparagus quiche
Feta and olive mini muffin
Chocolate and espresso crepes and Belgian waffles with condiments
Scones:
Fruit and plain scones with double cream and homemade strawberry jam.
Palate cleanser: Green apple sorbet
Sweets:
Opera slice with Espresso di Manfredi and chocolate ganache, gold leaf
Infused cinnamon and ginger chocolate crème brulee
Salted caramel and espresso bavarois cream eclairs
Wattleseed macaroons with P125 Valrhona-coffee curd
Meringue with Bailey's cream with candy macadamia