Fill up on a generous Seafood High Tea at the Pan Pacific Melbourne.
Next to the Melbourne Convention and Exhibition Centre and within the luxurious Pan Pacific Melbourne is Dock 36 Bar and Kitchen. Located on the ground floor, Dock 36 Bar and Kitchen is easy to find upon entering the hotel. The timber panelling creates a warm as well as stylish interior and the mood lighting immediately sets us at ease. We opt for a table by the window for some natural sunlight and to people watch those going about their Sunday on Convention Centre Place.
View this post on Instagram
Before our introduction to the Chef, the hospitable staff offer us each a glass of Veuve Clicquot Champagne ¬– it's the easiest yes of the day. We're also presented with the Singaporean TWG Tea menu. TWG Tea is one of the finest and most luxurious tea brands in the world. It was established in Singapore and is internationally recognised as a true innovator with the creation of new varieties of tea every season. The tea menu is extensive. We order the French Earl Grey and Moroccan Mint to start. The earl grey is delicately infused with citrus fruits and has a subtle peppery note from French blue cornflowers. I love my bold black teas with milk and this one is no exception.
Looking up from my tea, I spy the tall, 3-tiered glistening high tea stand on its way to our table, alongside it is a man in Chef's whites. It's an honour to meet and speak with award-winning Chef, Deepak Mishra. Chef Deepak Mishra's career spans the kitchens of numerous 5-star properties across the Asia Pacific. In Melbourne, Deepak has worked at The Hotel Windsor, Grand Hyatt Melbourne, Crown Towers, The Langham, Marriott and Stamford Plaza. He invites us to listen in as he takes us through each of the savoury and sweet treats in front of us.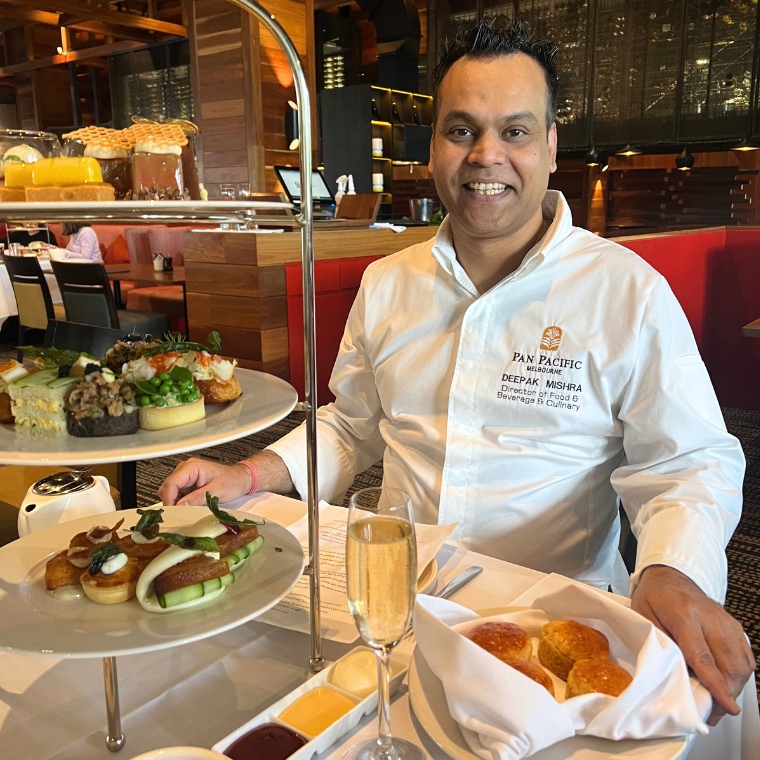 The high tea menu features native Australian ingredients and local produce. It is also somewhat influenced by Singaporean and Southeast Asian cuisine.
We begin our feast with the bottom tier of warm savouries. This is a delicious exploration of taste, texture and flavour. The serrano ham croquette with truffle aioli and serrano crisp is a perfectly balanced, salty, rich and creamy celebration unlocked on first crunch. The soft combination of cauliflower and sebago potato cased in a buttery and flaky petite pie with goat's curd and golden raisin on top is a pleasant vegetarian selection. My absolute favourite of the warm savouries is the mouth-watering slow-cooked pork belly with Davidson plum gel and pickled cucumber in a sweet, steamed bao bun. We are off to a fantastic start.
Up next to taste are the cold savouries on the middle tier. Seafood is an obsession of ours and the Western Australia crayfish roll did not disappoint. We are still reminiscing the sweet meat in the soft bun paired with finger lime and Yarra Valley salmon roe. This marriage of flavours is everything and only enhanced by the addition of a laksa leaf on top.
A high tea staple are egg sandwiches. This egg sandwich may be the best we've ever tried. It's combined with black truffle, aged parmesan, caviar, roasted onion and Tasmanian pepper mousse. It's as magnificent and rich as it sounds and the perfect way to end our savoury course.
The top tier of the stand holds the most beautiful and exciting looking desserts, one of which is branded with a golden Pan Pacific chocolate stamp – completely edible of course!
Our favourite dessert is an inspired take on a tropical trifle and is presented in a spherical glass. It contains a coconut and passionfruit flavoured parfait with kaffir lime juice, jujubes, hibiscus watermelon gel and a lemon myrtle crumble.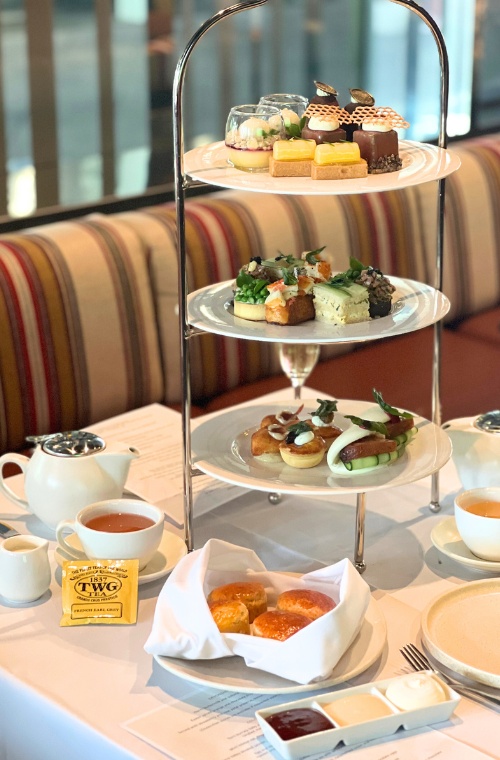 We also thoroughly enjoy the calamansi (also known as Philippine lime) and mango tart which is elegantly wrapped in a jasmine tea veil and topped with the aromatic Geraldton Wax herb.
Another dessert that absolutely deserves praise is the green tea cube with milk chocolate cremeux, strawberry gum and berry compote, and hazelnut dacquoise. Occasionally we find that chocolate-based desserts at high tea can be overly indulgent, however, this treat gives all the richness and deliciousness while offering a blissful berry tartness. We are not struggling to finish this delectable treat.
The final course of the Pan Pacific high tea are warm buttermilk scones served with strawberry and rose petal preserve, lemon curd and clotted cream. We are incredibly impressed with the scones which are flavoured with orange blossom, white chocolate and lavender. All the condiments are freshly made and are delicious.
High Tea at the Pan Pacific Melbourne is a sensational and bespoke experience created to highlight the finest Australian native and homegrown ingredients. We recommend this high tea to anyone who appreciates refreshing interpretations of classical dishes.
Dock 37 Bar & Kitchen High Tea Menu: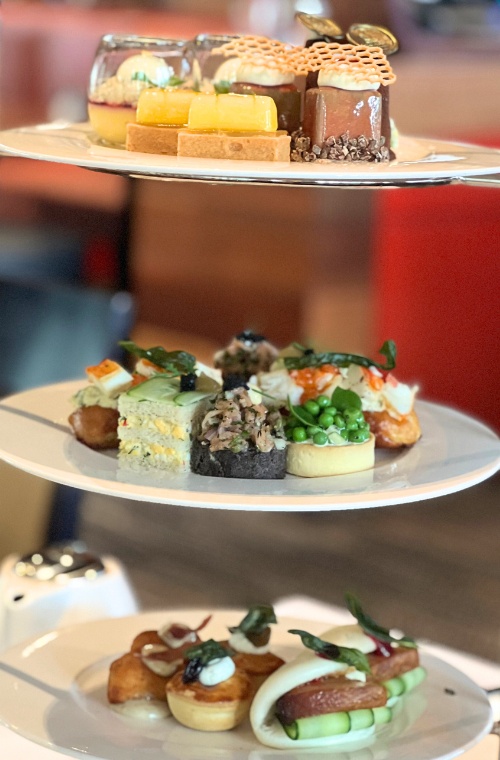 Devonshire:
Warm buttermilk scone
Orange blossom, white chocolate and lavender scone
Served with strawberry and rose petal preserve, lemon curd and clotted cream
(Gluten-free scones are available if requested upon booking)
Cold Savoury:
Torn burrata baby peas, asparagus, bush apple gel, candied macadamia and olive
Mini lobster roll, finger lime and Yarra Valley salmon roe
Yarra Valley smoked salmon, Geraldton Wax, dessert lime and Avruga caviar
Egg and black truffle, aged parmesan and caviar,
roasted onion and Tasmanian pepper mousse
Warm Savoury:
Serrano ham croquette with truffle aioli and serrano crisp
Cauliflower and Sebago potato petite pie with whipped goat's curd and golden raisin
Slow-cooked pork belly, Davidson Plum gel, soused cucumber in a soft bun
Patisserie:
Calamansi, mango tart with jasmine tea veil and Geraldton Wax
Black Sesame, almond praline ring with wattleseed sable
Coconut and passionfruit parfait with kaffir lime, jujubes, hibiscus,
watermelon gel and lemon myrtle crumble
Green tea sphere with milk chocolate crèmeux, strawberry gum and berry compote,
and hazelnut dacquoise
Singaporean TWG Tea & Australian Vittoria Coffee
High Tea Melbourne – find more experiences
in our High Tea Venue Directory