Enjoy High Tea in the heart of the city at the Radisson Blu Plaza Hotel, Sydney. Located at the confluence of O'Connell, Pitt and Hunter Streets, the stately Radisson Blu Plaza Hotel occupies the triangular landmark Beaux Arts building, built in 1856 for publishers John Fairfax and Sons.
Entering the lobby, we were led into the open plan lounge room where High Tea is served. The revamped interiors made good use of the building's distinctive history and lofty proportions that made us feel as though our visit here was special. The décor is of understated elegance with high arched windows, linen covered tables, and plush velvet green upholstered armchairs wide enough for two, and perfect for sinking into for a relaxing afternoon.
On the day of our visit, there was a high tea to celebrate a young girl's 6th birthday, as well as families and friends who were catching up. Staff were attentive and eager to please, glad to be welcoming guests back once more.
Claudia, who looked after the high tea service for us, outlined the order of the High Tea and all items on the menu. To begin with, we were served with a glass of Prosecco, with time given to settle in.
We were then brought a beautifully presented three-tiered china stand of sweet treats, a scone each with cream and jam, and savouries.
Pastry Chef Bo Khamkaew came out to meet us and describe the High Tea and her approach to it. Originally from Thailand, where there is a strong culinary tradition of elaborate dessert making, Bo had shown an interest in cooking from an early age. Drawing on Asian influences such as incorporating matcha green tea, agar-agar and coconut cream into her desserts, Bo is also passionate about freshness, quality, and presentation. Each of our serving plates were decorated with rose petals shaped as flowers with stems made from chocolate – an added touch that made the experience even more special.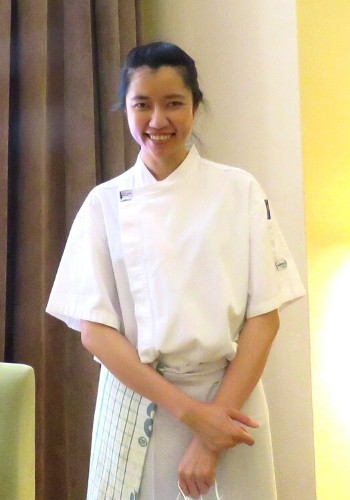 The savouries were bursting with a combination of flavours. My vegan selection was a deep fried pumpkin and filo roll, topped with black sesame seeds, toasted bread topped with a rich hommus spread, and assorted char grilled vegetables including cherry tomato, capsicum, zucchini and asparagus. My favourite was the vegetable pie filled with pepita seeds, mashed sweet potato, corn and pumpkin encased in the lightest puff pastry.
My companion Nicky's traditional High Tea savouries included a multi grain cucumber and cream cheese finger sandwich, neatly tied up in a bow with a fine slice of cucumber, a salmon vol au vent combined with chipotle aiolo, black sesame seeds and dill, that was buttery and light, and a flaky pastry curry puff, filled with a subtle combination of spices, a creamy sauce and tender pieces of chicken.
The petit sized desserts were all delicious. The vegan selection included a richly flavoured chocolate vegan cake, a tapioca pudding topped with raspberry, kiwi fruit and lime crystal jelly, a strawberry soy cheesecake with a nutty coconut biscuit base, and to finish, a sticky date pudding topped with orange candy.
The traditional High Tea selection comprised of the standout coffee ganache with toffee and candied walnuts, a triple layered chocolate mousse, and a matcha green tea cake of choux pastry, with a creamy soft centre.
The scones were a highlight, and quite different. The vegan scone was mixed with swirls of raspberries, and served with coconut cream and raspberry preserve while the traditional scone was quite dense, almost leaning towards the crispness of a shortbread biscuit, that was delicious when served with scoops of thickly clotted cream and raspberry preserve.
We found the scones to be a welcome addition, something different from the traditional scones served at high teas.
There is an extensive tea menu to select from the range of La Maison Du The tea or Vittoria coffee. The choice of herbal teas included Lemongrass and Ginger, Peppermint, Chamomile, and an extensive offering of black teas. I chose the Orange Pekoe, and later tried an outstanding full bodied tea of berries while Nicky enjoyed the Earl Grey.
Overall, the High Tea at the Radisson Blu Sydney was a very enjoyable experience, and we loved the warm and welcoming staff, relaxing surrounds, pleasing ambience and delicious food.
When visiting, allow extra time to stroll down to Circular Quay to the Sydney Opera House, and on to the Royal Botanic Gardens, or visit the State Library, Museum of Contemporary Art, or enjoy high end shopping at luxury boutiques, all just a short walk away.
Reservations are recommended and special diets including gluten free and vegan are well catered for.
Family packages and catering for children's parties or Hens parties are hosted in the lounge area or a special function room – making it a great way to capture your special moment.
High Tea Sydney – find more experiences
in our High Tea Venue Directory