Old British Charm with a Gluten-Free High Tea at the Radisson Blu Plaza Sydney.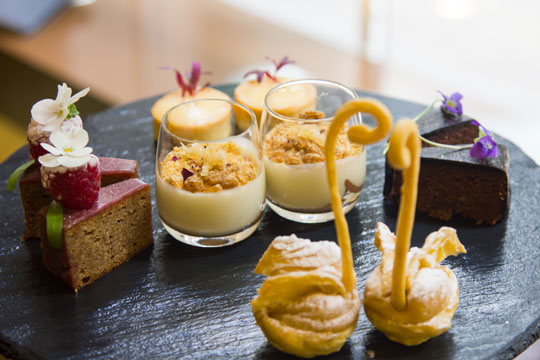 Experience a centuries-old British High Tea ritual with the five star Radisson Blu Plaza, whose in-house chefs pride themselves on innovation and incorporating surprise elements, whilst making gluten-free the norm.
We went for a mid-week high tea in this quieter O'Connell Street Sydney CBD hotel, entering through the impressive 1800s sandstone façade and marble entrance, full of historic charm with contemporary comforts.
A welcoming doorman led us through the lobby to the Bistro Fax Bar where we were seated by the gorgeous high heritage windows, streaming with natural light. The atmosphere was elegant and intimate, with its subtle lighting, plush lounges and white linen. We were asked if we were taking the gluten-free afternoon tea today, which does not require pre ordering, and we confirmed two regular High Teas with bubbles.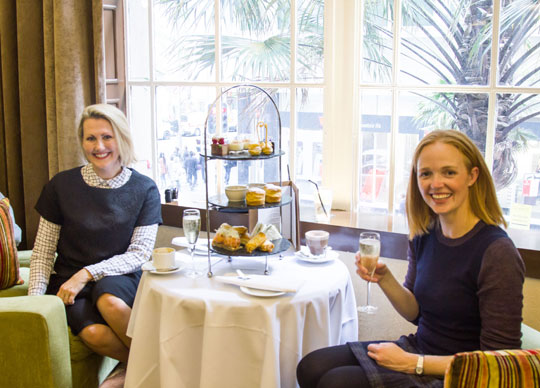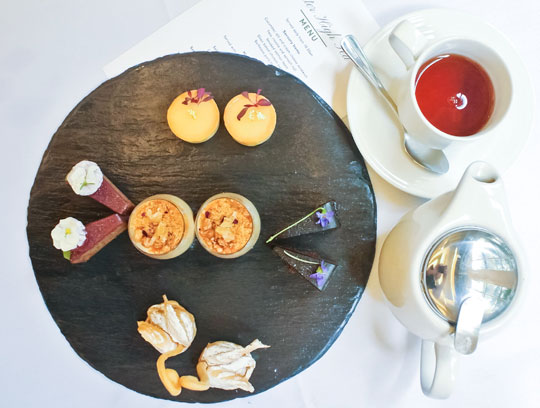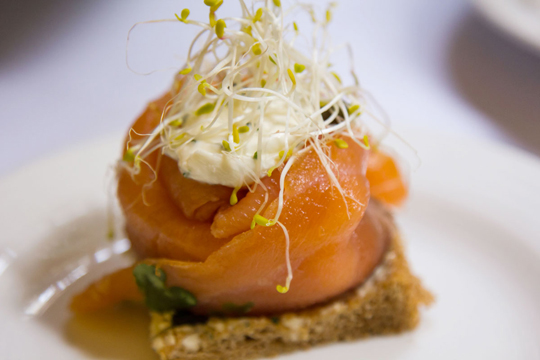 As we settled in and chatted they brought a cookies and cream hot chocolate, which was a lovely winter surprise before the feasting began.
As the Moet & Chandon was poured, a grand and generous styled British silver-tiered stand was placed on our table. We were very much looking forward to our Winter High Tea, the prefect belly filler and winter warmer.
We immediately started with the feta, ricotta and spinach roll, from our warm savoury tier. Sprinkled with sesame seeds, the pastry was harder compared to the deliciously flaky oven baked chicken curry puff with its tender chicken chunks. Next the smooth textured barbeque pork filo, with its chilli kick and golden pastry, followed by the substantial smoked salmon with a mountain of alfalfa on lightly toasted rye, with the perfect amount of crème fraiche. Last were the lovely fresh looking, thinly sliced cucumber and dill sandwiches, with a nice thin layer of cream cheese.
It was now time for our scones, nice and moist laced with icing sugar. Maybe a little too much icing sugar as the vanilla clotted cream and strawberry preserve were perfectly sweet enough, complimented with our lychee La Maison Du The.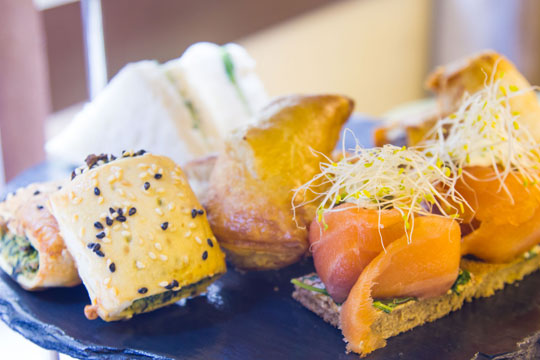 As we embarked on the top tier selection of handmade cakes and pastries, they almost looked too beautiful to eat with the pretty flowers and swans. I of course dived into the swan that had an explosion of salted caramel that was subtle and absolutely not what you would expect. Next we enjoyed the moist spiced cake with light cinnamon flavours, with a raspberry on the top.
It was time for chocolate, starting with the chocolate cake and then the mouse. The cake was deceivingly not too dense, rich, sweet and more like a sponge. Then the decadent white and milk chocolate mouse with a ginger brittle on the top. Ending, reluctantly and incredibly fulfilled with the citrus tart with its perfectly crumbed pastry and strong citrus flavours. All were perfectly bite-sized sweet portions that combined with the savoury elements, which allowed us to feast over for more than two hours. With the great conversation of course.
One to be known to ask a question or two, I asked if the chefs were in the house. As I started to ask my string of questions about the preparation, their favourite dishes and what was in store, the host quickly asked if we would be interested in meeting them. Next thing we knew we were heading to the kitchen and introduced to Oswin Ribeiro, the Executive Chef and Jacob Teo, the Pastry Chef. What an absolute treat.
Both were in the midst of kneading dough and crafting sweets, as everything is prepared from scratch, and were incredibly excited that we were so interested in their loves and techniques. Jacob told us that he likes to make each piece different in taste, texture and go a touch beyond the traditional to mix it up. They said they had reviewed many a high tea in their time and always love to add an element of surprise.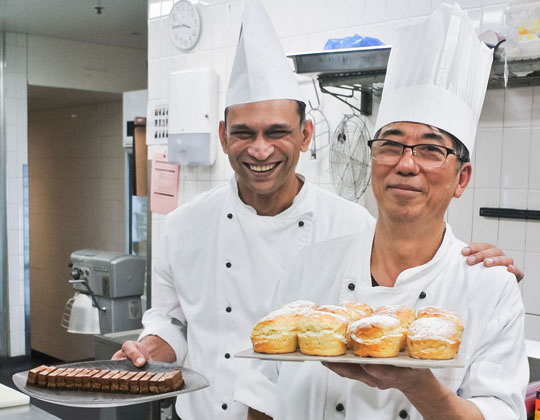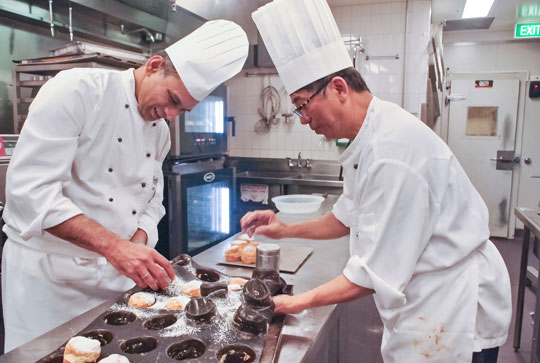 Both chefs had been experimenting with different milks to see the different flavours they could create. We were lucky to try a gorgeous flourless chocolate cake they had been working on which was divine and simply just dissolved in your mouth.
The lovely lady who introduced us said the chefs would retire there as they enjoyed it so much. You could see how passionate they were.
Meeting the chefs was really the icing on the cake for our experience so we left with satisfied bellies and a continued love for High Tea.
The Winter High Tea at the Radisson Blu Sydney Menu

Cucumber, dill and cream cheese sandwich
Feta, ricotta and spinach roll
Smoked Salmon toast
Oven baked chicken curry puff
Barbeque pork filo pastries
Home-baked Scones
Served with clotted cream and strawberry preserve
Citrus tart
Double chocolate cake
Spiced cake
Salted caramel swans
Decadent chocolate mouse
Served with your choice of tea from La Maison Du The, Hot Chocolate or Vittoria Coffee