French pastry chef Pierrick Boyer brings a slice of Paris to Melbourne with Reverie Café & Dessert Prahran's new cosmopolitan High Tea experience.
Across from the renowned Prahran market is Reverie Café & Dessert Prahran, another foodie destination that promises worldly culinary excellence. Standing tall against the backdrop of Grattan Gardens, the Reverie neon pink and purple outdoor sign beckons parkgoers to stop and smell the coffee.
It's early on a Sunday morning, most of Melbourne are still sleeping off their Saturdays but Michelle Milton and I are too excited for a taste of Reverie's newly offered High Tea.
We are warmly greeted by Pierrick Boyer, a French pastry chef who has called Australia home since 2003. Prior to this, Boyer oversaw the Pastry Department at the Ritz Carlton in Boston and worked in Paris as the Sous Pastry Chef at the Hotel Plaza Athénée. In 2018 Boyer left the Executive Pastry Chef position at RACV City Club and successfully opened Reverie Café. In May this year Reverie and Boyer were the recipients of the Chapel Precinct Sweet Treats Award.
In 2018 Reverie was also a finalist at the Eat Drink Design Awards in the Best Café Design category. Boyer stands proudly before us in the beautifully lit space which he credits to the custom halo light fixtures and modern architecture, however it's what's behind him that impresses us most. A full-length display chest that stretches across the room glistens with multicoloured treasures in the form of delectable handmade chocolates. While we admire, Boyer has floated away and reappeared with his petite fille Charlotte in his arms. Charlotte shyly turns into her father while he points out two desserts to us, one pink and one pale blue. The former is the Charlotte Fraise a white chocolate strawberry mousse and the blue is the Charlotte Tiffany, a blueberry and dark chocolate mousse – both desserts named after his daughter.
We opt for a corner table nestled between some vibrant indoor greenery and deep blue velveteen seating. Morning sunlight now starting to stream and reflecting elegantly off our Saint-Hilaire sparkling wine. As with traditional High Tea, the savouries and sweets arrive together on a tiered platter. They both look incredible. We let our eyes dance over the petit fours on top, their structure and detailing a treat for the eyes before falling on the French inspired savouries below.
The chicken tartlet is an absolute standout. The free-range chicken has been pulled but not completely blended to retain some texture, and then combined with delicious herbs and mayonnaise. The filling sits neatly in the well-executed shortcut pastry and makes for an interesting contrast.
View this post on Instagram
Although they appear like mini baguettes, next to savour is a French inspired slider. The cloudlike homemade brioche milk buns contain a delicate flavour combination of cream cheese, herbs, smoked salmon and lemon. In future, Boyer tells us Reverie has plans to smoke their own salmon and we cannot wait to try.
We finish our savoury course with a Croque monsieur or ham and cheese with white bread and fresh herbs. Both the bread and gruyere are homemade. How could you possibly go wrong?
We are spoilt for choice with desserts at Reverie. A serving of the High Tea includes four assorted Petit fours which can range from a Caramel choux bun to a Chocolate and blueberry ganache macaron. Designed by a chef whose training hails from the dessert capital of the world, any selection is sure to delight.
When Boyer first arrived in Australia, he found the typical mud cakes to be overly dense. This is something he has addressed in his own version and creation, the Salted caramel mud cake. Boyer uses almond meal to create a rich chocolatey and caramel treat that has an airy light texture and is easy to finish. He uses coffee instead of water to build on flavour and sweetens the deal with a homemade Nutella and salted caramel topping.
After such decadence the Berry brownie is a refreshing change for the palate. The tart berry curd paired with blueberry and dark chocolate mousse matches incredibly and is enhanced by a hazelnut crunch all stacked neatly on a walnut base. It is absolute perfection and the ideal segue to our obligatory scones with jam and cream.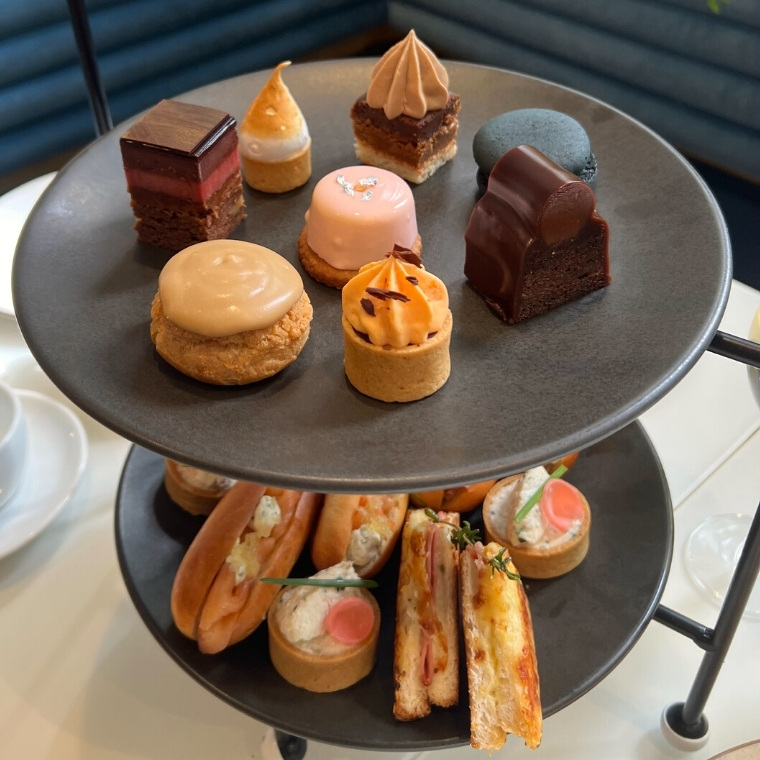 Reverie makes their own lusciously fragrant, fresh and tangy to taste strawberry jam. This is paired with their homely scones which although are glazed on the outside have a familiar damper quality inside staying true to tradition.
Reverie Prahran offers a quintessential high tea boasting a sophisticated French flair and unlimited hot beverages. We left satisfied and full of deliciousness. It was a gorgeous morning out, made extra enjoyable by the lovely Pierrick Boyer, his wife Vanessa and staff.
Reverie Café & Dessert​ High Tea Menu:
2 Chicken mini Tarts
2 Salmon Sliders
2 Mini Croque Monsieur
2 warm scones with cream & homemade strawberry jam
4 sssorted petit fours
Unlimited hot drinks
High Tea Melbourne – find more experiences
in our High Tea Venue Directory