With an unbeatable location, right in the heart of Sydney's CBD - next to up market shopping, the art gallery and close to the State and Capitol theatres, the Gallery at the Sheraton Grand Sydney Hyde Park provides the perfect venue for High Tea.
Contemporary and spacious, with a colour palette of cream, grey and dark brown, the Sheraton Grand Sydney Gallery is framed by a stunning silver feature wall, and a canopy of plane trees with views across to Hyde Park.
During the week, guests are served High Tea on elegant three-tiered cake stands, whilst on weekends, a High Tea buffet offers an array of savoury and petite sized sweet treats to try. Opting for the weekend High Tea buffet, we were given the warmest of welcomes, before being brought to our beautifully set table, decorated with fine china and flowers, and given Bandini Prosecco to start.
We started with a selection of hot savoury canapés, including mini beef pies, crisp Beef Arancini balls and mini bacon and onion quiches. In addition, guests with special diets are well catered for, with choices including roast cauliflower florets and mildly spiced spinach pakoras.
A choice of cheeses from an expansive cheese board followed, and finger sandwiches with options including smoked salmon and cream cheese; ham, tomato with rocket; avocado with fetta, and egg mayonnaise and chives on a selection of multigrain, white, charcoal and gluten free bread. Vegan sandwiches are available on request, and I sampled finely sliced roast pumpkin and avocado with lettuce.
But the star of the buffet worthy of a drum roll are the sweets, with an amazing selection to choose from, arranged on stands, that were edible works of art, with ribbons, swirls and splashes of vibrant greens, pinks, yellows, a multi-coloured display decorated with delicate flower petals and decorative icing, all used to visually stunning effect.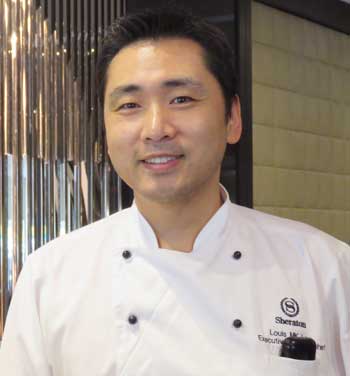 The sweet treats were bite sized, so you could sample all that you wished, and the selection was staggering-including strawberry eton mess, lime yoghurt semi freddo, devil's chocolate cake, crème brulee, triple chocolate brownie, lemon slice, fig and nut slice, raspberry cheesecake, chestnut tart, caramel lava tart, passionfruit flan, and my top pick, the macarons (I confess trying two). And these are only a few of the cakes on offer.
The Executive Pastry Chef, Louis Lee, introduces a new rotating menu every two months, with many of the guests' regulars, adding testament to the quality of the cuisine on offer. Asked what the signature dish is, Louis suggested the green matcha opera cake, and it is perhaps his background (Louis is Korean), training and work experience, that are reflected here. From sweets that are Asian inspired, to British, French and Italian, Louis has worked in Europe and spent time working at one of Australia's most renowned patisseries, Melbourne's Brunetti's.
To finish off, we had a lovely brewed Rose and Vanilla tea, accompanied with scones, which had a lovely warm, fluffy centre and crispy texture on the outside, combined with a dollop of jam and cream. It was a fitting way to end what had been a perfect afternoon.
The choice of teas from Sri Lanka are extensive, with detailed descriptions of the finest teas from Dilmah, including green, black and herbal and the rarest form of tea, silver tips white and the subtle aromas of the tea I tried, Rose with French Vanilla.
Sophisticated décor, unobtrusive service, the background humming with happy voices and the tinkling of cake forks against china.
Given the classy ambience and high quality of the food on offer, the High Tea buffet is exceptional, and with a changing menu every two months, I've already booked ahead. On the day of our visit, it was elegantly dressed women of all ages filling the room, a venue that's equally suited for celebrations or catching up with family or friends.