High tea at the Sheraton on the Park Sydney is served in the Gallery Tea Lounge. The Royal High Tea stand is modeled on the tiny morsels Queen Elizabeth herself likes to eat – or at least that's what we were told by our lovely waitress.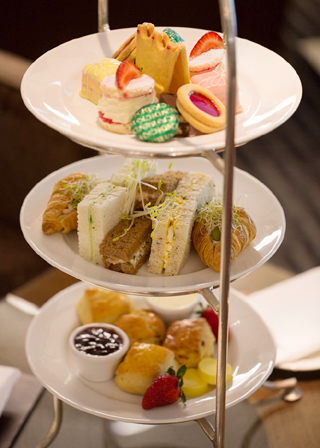 High Tea at the Sheraton on the Park is tucked away in the lobby of the 5-star hotel and overlooking beautiful Hyde Park, you could be forgiven for forgetting you're actually in the middle of Sydney's bustling CBD.
Served in the Gallery Tea Lounge, the Royal High Tea stand is modeled on the tiny morsels Queen Elizabeth herself likes to eat – or at least that's what we were told by our lovely waitress. When we visited, the buffet menu was also available, so yes, dear reader, as you can see in the photos… we got to sample both!
Let's start with the Royal High Tea stand. The sandwich fillings were all very traditional flavours, although the smoked salmon had the addition of finely diced prawns, which was an unexpected surprise. There was also a mini ham croissant, which sounds a bit heavy, but it was the most light and delicate filled croissant I think I've ever eaten.
The theme of this stand must be 'dainty', because the scones were smaller than on most other stands we've sampled. Their size is by no means a negative thing, they match the rest of the tiers perfectly, and you'll be able to eat all of what's served without wasting any of the treats. It was nice to have the choice of jam, cream and butter too. Sometimes you just don't feel like lashings of jam and cream (crazy, I know, but it happens!), so having the option of butter was appreciated.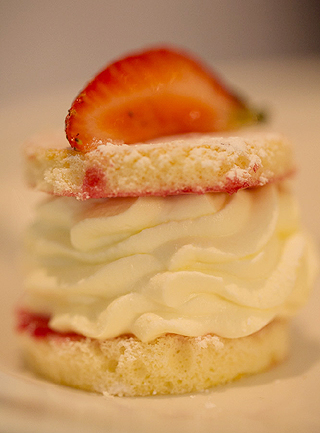 On the sweet tier, the crown shortbreads and jam ring cookies were nice and buttery with the right amount of crumble. The chocolate biscuit cake was quite rich, probably better matched with coffee rather than tea. The Victoria sponge was presented as two discs of sponge which were sandwiching fresh whipped cream with strawberries on top. It looked amazing, although a little tricky to eat. I love a good Battenberg cake, so was hoping that when I bit into the petit four version I'd see the traditional checkerboard pattern. To my surprise, while it wasn't full checkerboard in something so small, it was still two tone, with the cake inside deliciously moist.
With the Royal High Tea stand finished, it was time to move onto the buffet.
Walking around the spread trying to decide what to sample out of the cornucopia of goodies on offer was tricky. There were macarons, chocolate truffles, cheese platters, fresh fruits, sandwiches galore, several whole cakes, chocolate mousse cups, scones, slices and even an ice-cream station.
It was a much bigger selection than what is included on the Royal High Tea stand, and all of it looked like it was to the same high standard. The morsels we sampled certainly were.
Out of the two options available, we'd recommend the buffet if you like to have lots of choice, or if you have guests who are on the picky side. If they can't find something to enjoy on the buffet, you'd have to wonder if they even like food at all!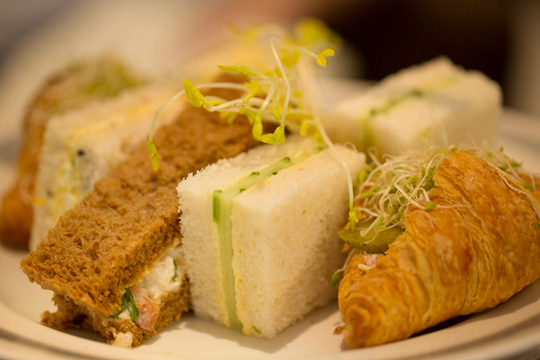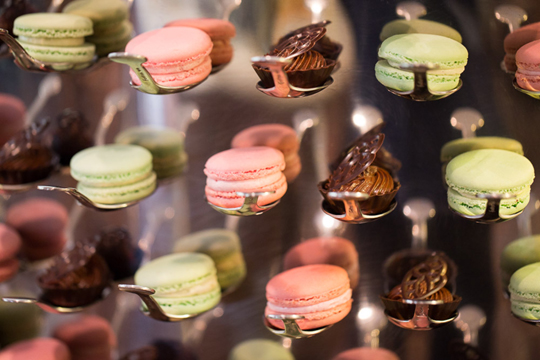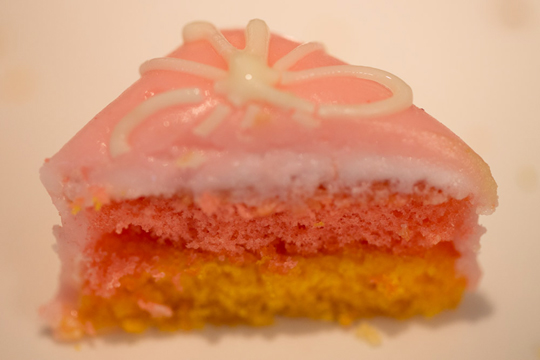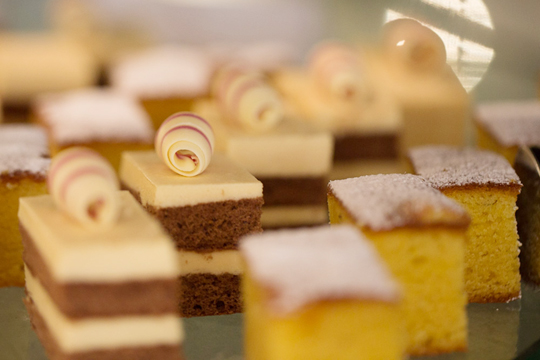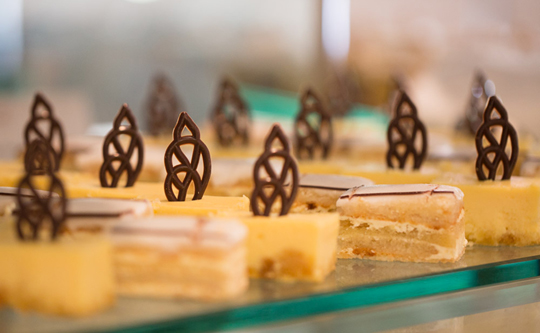 The Royal High Tea stand is for those who prefer the traditional element of an English High Tea where a tiered stand of goodies is brought straight to your table for you.
Both options offered at the Sheraton are well worth a visit.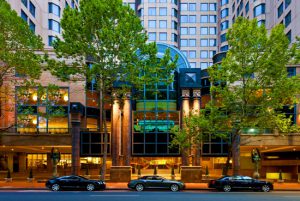 Royal High Tea Menu

 Scones with strawberry jam, cream and butter
Sandwiches: smoked salmon, prawns, sour cream & coriander on rye; cucumber, cream cheese, chives on white; egg, mayonnaise & cress on multigrain; smoked ham, swiss cheese, grainy mustard & alfalfa on mini croissant
Sweets: Crown shortbreads; mini Victoria sponge cake; Battenburg petit fours; chocolate biscuit cake slice; jam ring cookies & Bendicks bittermints.

Buffet Menu

Chef selection of sandwiches, cheese, fresh fruit, scones, range of desserts and cakes.

Tea Selection

La Maison Du The: French handcrafted tea; Penelope Sach organic herbal tea; Vittoria coffee; Lindt hot chocolate.