Located across from Sydney's iconic Hyde Park, you can be spoilt for choice, with a sophisticated, modern and colourful High Tea experience in the Gallery, an award-winning buffet at Feast Restaurant, a cocktail at the Conservatory Bar or stay after your High Tea for cheese and wine in the Gallery Wine Room.
Whatever your fancy, we highly enjoyed the High Tea and recommend you start your experience indulging your sweet and savoury tooth in all the delights Sydney Sheraton has to offer.
The afternoon started with Amadou Goumbia, the Sheraton On the Park Marketing and Communications Manager, greeting us with a glass of Domain Blanc de Blancs. We were seated at the window overlooking the busy Sydney street, amongst the contemporary décor allowing us to soak up the bustling ambiance.
Able to cater to all your dietary requirements, we tasted both the vegetarian and gluten free High teas, which were served on elegant and luxurious three-tiered, beautifully crafted, luxury Anna Vasily high tea stands.
We started our tasting journey with the petite portions of sweets as the talented junior Sous Chef, Mika Ito, told us her favourite way to enjoy the delicacies was by starting with the sweeter items before moving onto the delicate savory pieces. And it was a lovely recommendation.
All pastries are handmade on site. My favourite among the six was the Pashton, a lamington topped with peach mousse. The coffee chocolate crème filled éclairs dressed with delicate flowers, sesame honey and Maltese pearls was also incredibly tasty. We also enjoyed the raspberry tower with white chocolate and jam, the meringue with a citrus burst, the biscotti with chocolate and strawberry cream and a cute heart on the top and the currently staple Macaroon with custard.
Next, the good-looking lemon and poppy seed or rosella flower and white chocolate scones. I would recommend consuming the scones after the sweet while they are still warm. They were light in both sweetness and density. Paired with the delicious and light double cream and jam, I could not resist dolloping on a generous amount.
When it came to the five savoury items, I loved the incredibly flavoursome goats curd profiterole, the delicious and generous gravlax serving with sweet honey mustard. The quiche and pulled chicken and shrimp sandwiches were also presented beautifully, a gorgeous vegetable stack for the vegetarians and the gluten free bread was light and tasty. Overall a substantial and enjoyable experience.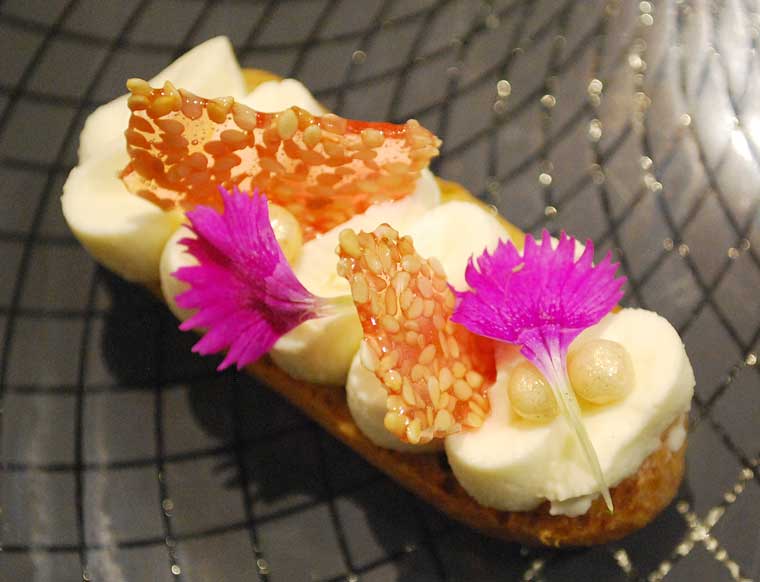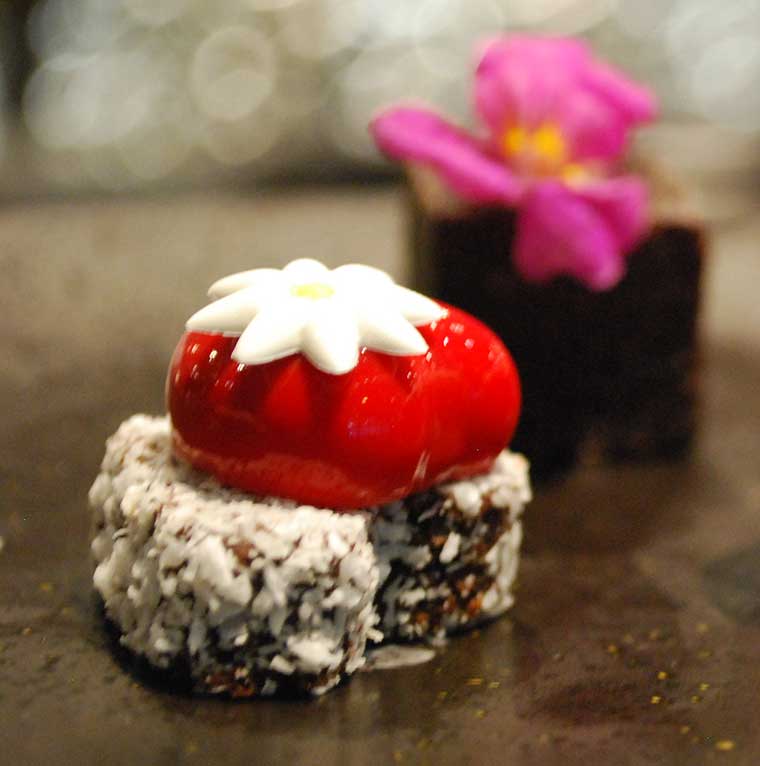 You will find yourself wondering if the wait staff are clairvoyant as you rarely need to ask for anything, whether it be to top up your water or clear a finished plate. Thang Vu was an absolute delight. Accompanying the array of beautifully crafted treats are selections of Vittoria coffee, Dilmah teas or choosing from milk, dark or white Lindt hot chocolates.
The menu changes every few months to match the seasons and is guaranteed to be creative and innovative. You are likely to be greeted by the executive Chef Gunnar Mueller who will happily gush about his love for cooking and the reasons behind each delicious selection for the season's menu.
From Wednesday to Saturday you have the option to continue your afternoon of indulgence into the evening with a gorgeous wine and cheese tasting in the lounge. Why not, sometimes we deserve and afternoon of delightful gluttony.
Sheraton on the Park High Tea Menu: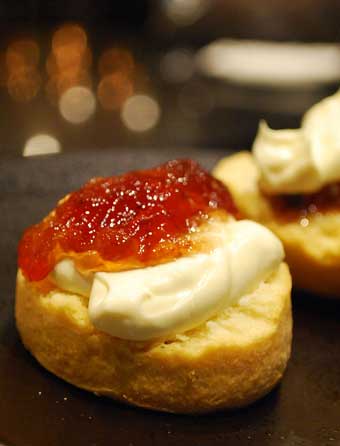 Scones:
Plain, rosella flower and white chocolate
Strawberry jam and double cream
Quiche – Feta, zucchini and red capsicum
Sandwiches:
Gravlax, honey mustard dip, cucumber, tortilla
Pulled chicken, avocado, radish, mayo, wholemeal sandwich
Shrimp, Mary Rose sauce, mustard cress, asparagus and Turkish bread
Goat curd, mushroom duxelle, profiterole
Sweet Treats:
Peach mousse and lychee berry compote
Rasberry macaron
Strawberry mousse
Rose cherry mont-blanc
Pink grapefruit cream, white wine mousse, nectarine gelee
Opened éclair with white chocolate and sesame crunch
Tea:
Prince of Kandy – High Elevation tea, that is medium bodied with medium tannins. Honey, mango molasses and cashews on the nose.
Ceylon Breakfast – A refreshing black tea in the English Breakfast style, rich and flavoursome
Early Grey – Well balanced, medium black tea with citrus notes of bergamot
Rose with French Vanilla – Premium black tea with sweet aromas of red rose and flavours of French vanilla
Italian Almond – Rich black tea, nutty with slightly sweet almond finish
Ceylon Ginger, Honey and Mint- Single region black tea with a balanced blend of natural honey, ginger and lingering mint
Pomegranate and Mint- Refreshing yet gentle, naturally sweet and tangy pomegranate and enlivened with mint
Single Estate Oolong 9 – A semi fermented tea offers a lightness of green and the character of black tea. Gentle in taste with herbal and pleasant fresh, grassy notes
Vittoria Coffee:
Espresso, ristretto, macchiato, cappuccino, flat white, latte, piccolo, latte, long black, double espresso, mocha, chai latte
Gallery's Hot Chocolate made from Lindt
Chocolate, milk, white and dark chocolate
The Sheraton on the Park Sydney offers gluten free and vegan high tea menu options upon request.