The Sheraton Melbourne Hotel, having only opened its doors in March 2014, offers a fresh new and largely undiscovered option for high tea in the middle of the city.
High Tea Society was delighted to visit The Sheraton Melbourne Hotel, at the Paris end of Melbourne, for a slice (or five) of Paris in the form of a French inspired high tea.
The Sheraton Melbourne Hotel, having only opened its doors in March 2014, offers a fresh new and largely undiscovered option for high tea in the middle of the city. The décor is modern, airy and relatively understated – typically Melbournian – and the high tea offering is the same; it's light and very on-trend in an unpretentious way.
The menu is a clever mix of French cuisine, classic high tea treats and great Australian produce. We were ushered to a quiet table in the 90-seat restaurant's alcove near the bar and seated at a grey marble topped table set with crisp napkins and white German Schonwald china. A few hotel guests and businessmen in their weekend wardrobe of trousers and polo t-shirts were seated nearby, but the place was otherwise quiet. We were offered still or sparkling water, tea and coffee or a glass of sparkling wine to begin. I opted for a lemon and ginger tea from the La Maison du Thé tea menu and my guest had a long black coffee, which was happily up to his Melbourne coffee-snob standards. My tea, which featured pieces of real dried citrus and lemongrass, arrived in a nice little teapot with built-in strainer and a small jar of honey.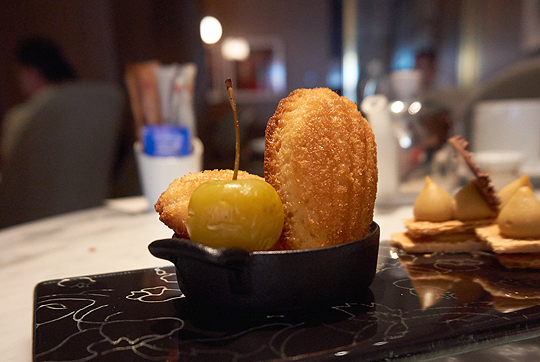 The high tea stand, a modern square glass three-tiered presentation, arrived about ten minutes later. The top plate held four macarons from La Belle Miette, who have collaborated with The Sheraton to create the high tea. La Belle Miette is a small local Melbourne company and their flavours are really genuine and natural, yet exciting. The Sheraton's stand featured blueberry and cherry-blossom flavoured macarons when we visited. La Belle Miette translates to 'the beautiful small thing' or 'the beautiful crumb' and they really were beautiful small things and we did not leave a single crumb of them behind!
The second tier of the stand hosts a range of savouries, encompassing signature foie gras mini éclairs, a pastry-based version of a pissaladière (like a pizza), chicken roulade on a toasted scone and a prawn remoulade on toasted brioche with caviar and cucumber. This last item was a real hit, being a sort of fancy take on the traditional cucumber sandwich. I'm personally not into foie gras as a concept or a reality, but it was popular with my guest and the idea of a savoury éclair really worked well. The only other complaint was that the scone base under the chicken was kind of dry, but this is really looking for flaws in an almost flawless offering.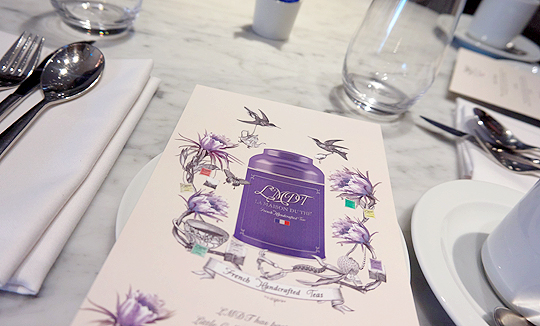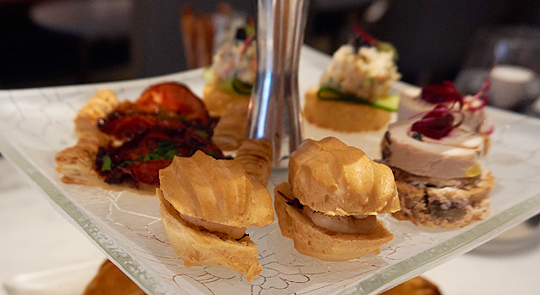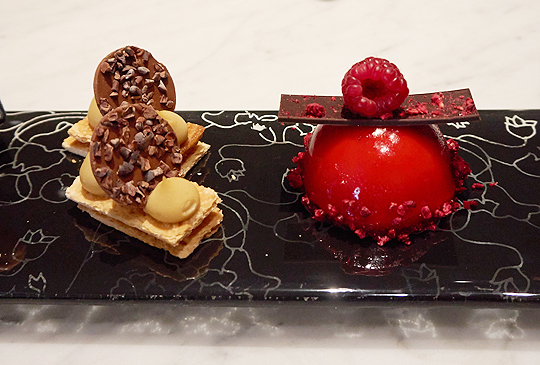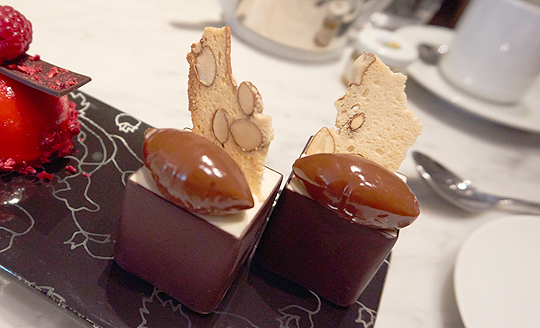 Even though The Sheraton has taken a modern approach to high tea, the final tier has four traditional scones (two plain and two raisin) with strawberry jam and Chantilly cream. The scones are a good small size and arrived warm. They are quite a biscuity style, rather than being fluffy. The accompanying jam and cream were both nice, but nothing to get excited about. The Sheraton had apparently previously tried serving clotted cream with their scones, but this received complaints because it was too fatty and not French enough. I'd never complain about receiving proper clotted cream on my scones, but maybe that's the English-heritage bias in me!
After the three-tiered stand, the high tea finishes with a long platter of miniature showcase style desserts. The mille-feuille, which is two layers of caramelised pastry with a crème brûlée infused cream and a chocolate cocoa nib disc, was delicious and had some great textures. My absolute favourite item which also happens to be Pastry Chef Simon Hardie's favourite, was the raspberry white chocolate dome. It's a glistening pink half-orb of raspberry gel and white chocolate mousse set on a crunchy little base and topped with freeze dried raspberry and a fresh raspberry on a sliver of dark chocolate. In your mouth it's incredibly smooth and tastes like summer – vibrant berries and just a hint of roses.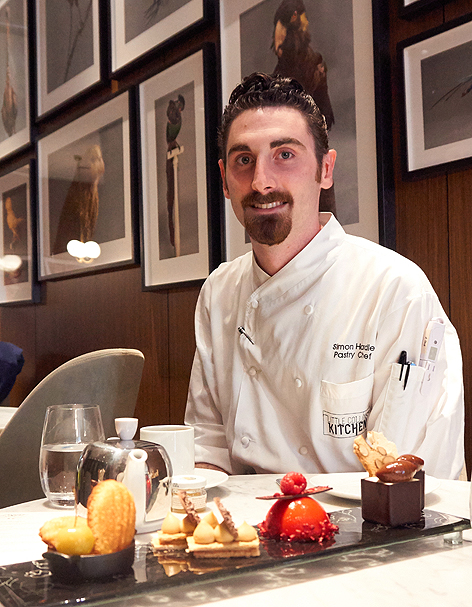 Sheraton Melbourne High Tea Menu:
La Belle Miette macarons
Duck foie gras éclair with fig jam
Tomato and anchovy pissaladière
Chicken roulade with beetroot
Prawn remoulade on cucumber toast
Plain and raisin scones with jam and cream
Poire belle Hélène
Raspberry white chocolate dome
Crème brûlée mille-feuille
Orange madeleines with lemon curd
Dietary requirements are happily accommodated by the chef with notice.
Currently high tea is really only served on request with a booking and my guest and I seemed to be the only two people having high tea there on a Saturday afternoon. As much as I love exclusivity, this seemed a bit of a shame given how well The Sheraton's team executed the whole high tea experience. Knowing Melbourne and its hordes of fabulous foodies, high tea at The Sheraton is unlikely to stay a secret for long, so get in now before there's a wait list for their raspberry white chocolate domes!