Taking your mother out for an indulgent afternoon tea this March 11th 2018, is the perfect way to spend Mother's Day together.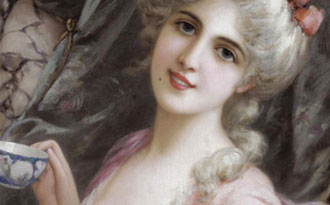 London is home to some of the most renowned tearooms but while the options are there it can be hard to decide on just one! To help you choose the perfect venue we've put together a list of our favourite places for soft, warm scones served with lashings of Somerset clotted cream and wild berry jams. These desired destinations for afternoon tea range from traditional and classic to quirky and surprising. Gluten-free options are also available at most salons.
The historic British tradition dates back to the mid 1700s so we've made sure to include Fortnum & Mason's take, especially since they've been a purveyor of fine goods and tea from as early as 1707. Funnily enough though, this now girly and lavish excursion was originally a meal for male workers, enjoyed standing up or sitting on tall stools, thus 'high'. Oh how the times have changed… You can read more about the extensive history here.
Our Mother's Day London top picks:
sketch
In the heart of Mayfair, amongst Vivienne Westwood, Dior and Jimmy Choo, there is sketch. This eatery meets gallery is decked out in fabulous pink velvet chairs from which you can admire the exhibits – the most important one being at your table. Whether it's the earl grey or vanilla infused luxury champagne – a unique treat – the perfectly triangle cut quail egg and caviar topped egg and mayonnaise sandwich or the rich fig jam, the food design illustrates the flow of creativity and quirky elegance that is sketch.
Our review of sketch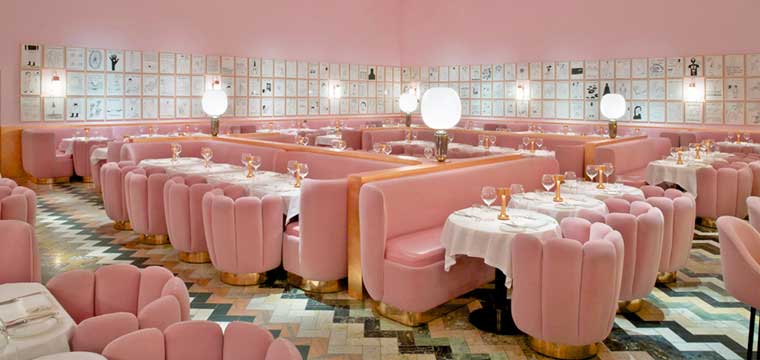 The Ritz London
Attentive staff and an opulent ambience at the Palm Court serve to enhance your afternoon tea at the Ritz. We should warn you though it can be fully booked months in advance, a true testament to its success.
Our review of The Ritz London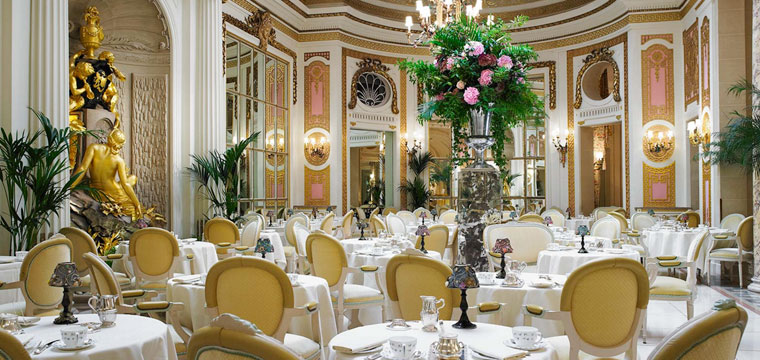 Brown's Hotel London
The historic Brown's Hotel offers an award-winning afternoon tea. It's no surprise since everything is made in-house. The seasonally rotating menu keeps things refreshing.
Our review of Brown's Hotel London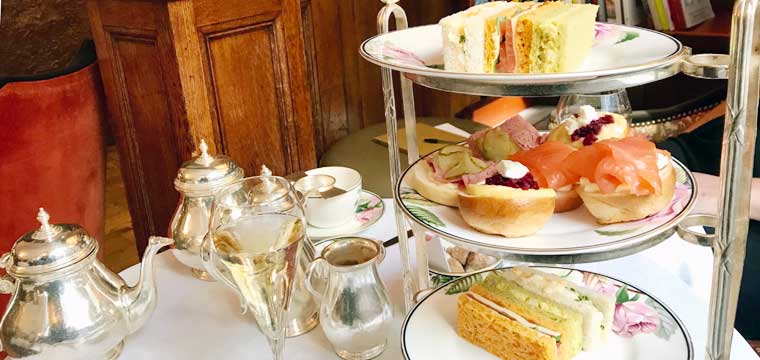 The Savoy London
What better area to have afternoon tea than Covent Garden? The famed list of former guests and residents is as endless as it is impressive – Charlie Chaplin, Claude Monet, Oscar Wilde, Judy Garland, Alfred Hitchcock, Coco Chanel and Marilyn Monroe give just a flavour of the wonderful stories hidden within the Savoy's historic walls. It's nothing compared to the delectable menu though, and you even have the choice between a more savoury or sweet menu depending on your preference. Don't miss the 'Oriental Beauty' Oolong tea (the Queen's favourite, we're told).
Our review of The Savoy London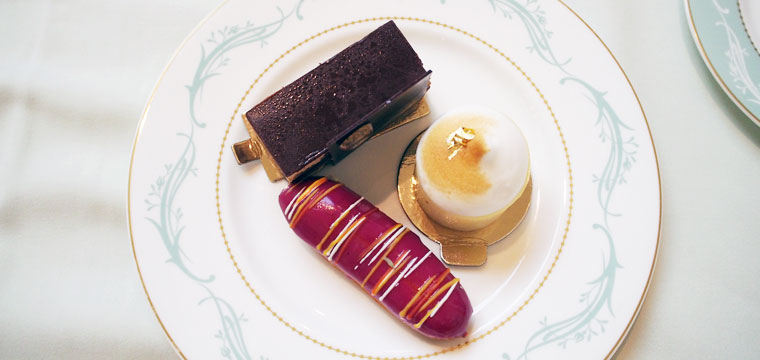 Fortnum & Mason
The Diamond Jubilee Tea Salon located at this luxurious department store is home to one of the most famous and traditional afternoon teas in London. Unique to this venue are the 100 plus rare and exotic teas showcased – such as Jasmine Dragon Pearls – from India, China, Nepal, Japan, and Sri Lanka along with an exciting range of green teas. To accompany your dancing tastebuds is the impressive panoramic vista of Piccadilly, enhanced by the peaceful piano playing in the background. What more? They offer a gluten intolerant afternoon tea!
Rosewood London
Rosewood London's new permanent "Art Afternoon Tea," is what makes it a must, especially if you're an art lover. The world's most famous artists including the British-born and controversial Banksy inspire these unique pastries. Remember Banksy's iconic Girl With a Balloon? Now imagine it as a dessert; A white chocolate cube filled with a vanilla cream pastry, salted caramel, and chocolate pudding. It's incredible, like the artwork itself.
Our review of the Rosewood London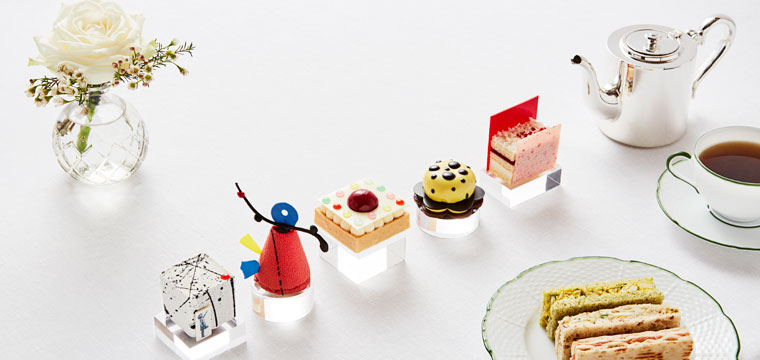 Claridge's London
The Claridge's tea menu is created in partnership with Henrietta Lovell of the Rare Tea Company. You'll be whisked down nostalgia lane at the sound of the talented pianist playing all your favourites. What more? Claridge's world famous fruit and plain scones served with Cornish clotted cream and Marco Polo tea jelly (infused with orange and vanilla) are to die for!
Our review of Claridge's London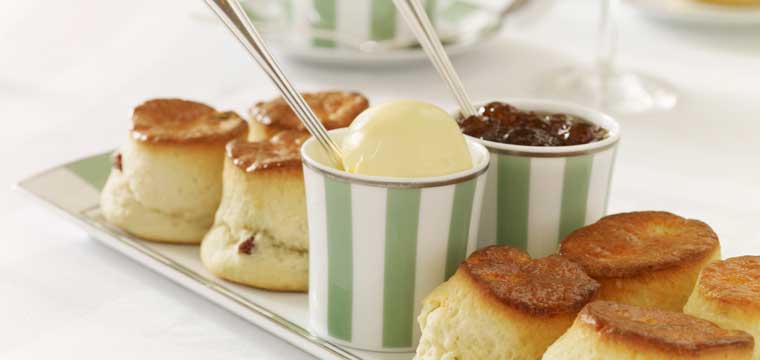 The Langham Hotel London
How could we not include the dazzling Langham? Famed as the place where the tradition of afternoon tea was born over 150 years ago, this historic establishment continues to deliver excellence day in, day out. Timeless and elegant immediately come to mind as you gaze in awe at the assortment of pastries and mini cakes: chocolate tart, strawberry meringue, banana cake and the piece de resistance, the must have Victoria Sponge.
Our review of The Langham Hotel London
Mad Hatters Afternoon Tea at Sanderson
Sanderson invites you to tumble down the rabbit hole and revel in an Alice in Wonderland themed Afternoon Tea. You'll discover menus hidden inside vintage books from which you'll make your selection. Whether it's a Classic Cucumber, Goat Cheese Croque-Monsieur or the White Crab Éclairs you won't be disappointed. We shouldn't forget to mention the five tailor-made teas inspired by Lewis Carroll's characters. "Alice" has transformed into China Black Tea infused with hints of blackcurrant, vanilla, caramel, citrus, blue cornflowers and blue mallow flowers.
Aqua Shard
Let charming and courteous staff pamper you as you enjoy the best view in Europe (according to some). We can only describe the ambience to be truly unique as you watch the sun set over the London skyline. Then you can try the equally sensational, seasonally changing fragrant homemade jams: strawberry and Tahitian vanilla, apple, lime and earl grey jelly & raspberry and raspberry & lemon thyme.