Celebrate Mother's Day on Sunday the 13th of May 2018 by taking your mom out for an Afternoon Tea date in San Francisco.
Diverse and scenic San Fran is one of America's greatest dining cities and is in proximity to the freshest ingredients, meaning it produces unforgettable dining experiences. So to help you choose the perfect venue we've put together a list of our favorite places for soft, warm scones served with lashings of clotted cream and wildberry jams.
The High Tea Society contributors have the terribly difficult task of tasting a lot of high teas each year, meaning we have a pretty good idea of where to go. Most salons fortunately accommodate dietary needs including vegan, gluten free and diabetic. We do recommend you advise venues of all food allergies at the time of reservation.
The historic British tradition dates back to the mid 1700s. Funnily enough though, this now girly and lavish excursion was originally a meal for male workers, enjoyed standing up or sitting on tall stools, thus 'high'. Oh how the times have changed… You can read more about the extensive history here.
Our Mother's Day San Francisco top picks: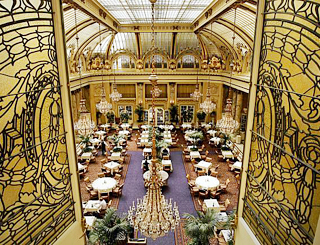 Palace Hotel San Francisco
Behold a magnificent glass atrium, grand piano and luxurious interior. The Garden Court offers an equally impressive afternoon tea. We recommend the Oriental Spice Black Tea (orange peel, vanilla, ginger and cinnamon) and the Red Vanilla Rooibos caffeine-free Herbal delight. The Garden Court Roses (a blend of Chinese green tea and Guatemalan red rose petals) is also a standout. Delicate tea sandwiches are on offer as well as other inspired savories like the Curry Chicken Banh Mi with green papaya salad, Thai basil and a mini croissant. Devonshire cream, lemon curd and rose petal jam accompany their homemade scones. Sparkling wine tea can also be enjoyed and for children under 12 years, there's the tailored Prince and Princess Tea.
Read our review of the high tea at the Palace Hotel San Francisco>>
The Ritz Carlton San Francisco
Experience a deliciously modern ritual of afternoon tea in The Lounge, which features a city vista. Again, fine pots of tea and sandwiches are crafted with seasonal and local ingredients. This ensures the freshest beet cured salmon, dill and prosciutto. Sweet indulgences may include Strawberry Lemon Scones; Earl Grey, Orange Macarons; Raspberry and Cream Éclairs and Carrot Cake with a refreshing Greek yogurt frosting.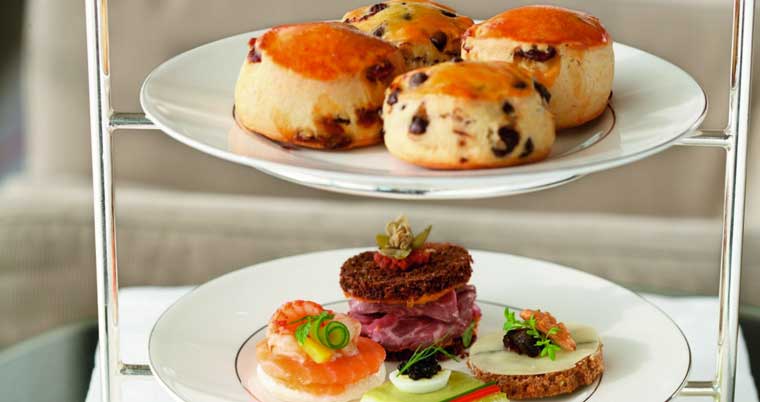 Fairmont San Francisco
Visit the Laurel Court Restaurant – which has recently returned to its original grandeur – for an unconventional afternoon tea. Savory scones highlight aged cheddar and chives and the teas are just inspired. Whether it's the Kyoto cherry rose, Egyptian chamomile or Jasmine Butterfly you'll be transported somewhere far and exotic. An interesting sandwich contains deviled egg salad with watermelon radish and another is filled with a crab and mango salad.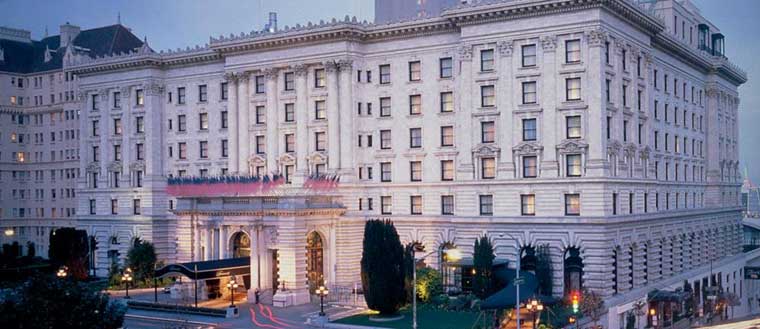 St. Regis Hotel San Francisco
The Art of Tea at the St. Regis is a modern take on the traditional English tea affair. How often do you see a Duck Confit Quiche or Passion fruit and white chocolate mousse on the menu? The Rhubarb Tartlet and Apple Pie Green Tea also have out utmost attention.
The Rotunda at Neiman Marcus, San Francisco
It's all about the tea at The Rotunda. The menu features all sorts of black teas from ones with citrus fruits and essential oils to ones with sweeter shades such as the Sri Lankan tea with a vanilla aroma.
We can't not mention the green teas that accent unique hints and tones such as lemongrass, bergamot, kiwi, yellow peach, orange blossom, and violet blossom.
DarTEAling Lounge, San Francisco
The selection of sandwiches at this eatery is as exciting as it is unique: Curry chicken and mango chutney
, bacon onion cheddar
 and smoked salmon mousse with dill
. There are also vegetarian tea sandwiches so no one misses out. These include brie, pepper jelly, green apple
, honey lavender cream
 and a delicious hummus with roasted pepper. The Covent Garden Afternoon Tea is the most traditional choice. However there is a more sweet menu and more savory menu.
Pardee Home Museum, San Francisco
Afternoon tea is served in the elegant dining room of the Pardee Home Museum. This historical home decked out with original furnishings is ideal for special celebrations.
Samovar Tea Lounge, San Francisco
Visit Samovar Tea Yerba Buena Gardens to relax in the Restaurant Tea Lounge. The venue boasts a generous selection of organic, single origin and direct import teas, chai, iced tea, and herbal blends. These beverages are perfectly paired with dishes inspired by cuisines from all over the world.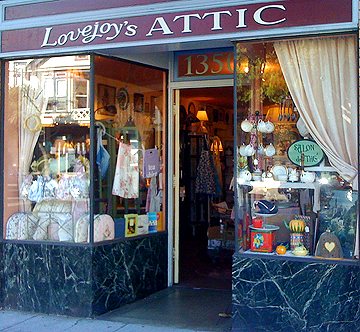 Lovejoy's Tea Room San Francisco
Located in a quintessential San Franciscan Street in the rolling hills of Noe Valley, Lovejoy's Tea Room encompasses everything a high tea venue should. It's cosy, quirky, warm and homely, the ideal setting for digging into a scrumptious spread.
Read our review of the the high tea at Lovejoy's here>>
Crown and Crumpet San Francisco
This venue boasts an afternoon tea as genuine as it could be. The sandwiches are sourced from seasonal produce, the scones are homemade and the crumpets are from an LA bakery. The most impressive component is the well-traveled clotted cream shipped in from Devon. From the tea range, we recommend the Paris (the most popular) with bergamot and vanilla notes as well as the Marie Antoinette (bergamot, blue, mallow and rose). It's served in Crown and Crumpet branded crockery for that finishing touch.
Read our review of the high tea at the Crown and Crumpet here>>
Japanese Tea Garden, San Francisco
Where better to sip on the perfect cup of green tea than the Japanese Tea Garden? Surround yourself with blooming cherry trees and azaleas while tasting a variety of traditional Japanese snacks, both savory and sweet.