A unique recipe that features the indigenous Davidson Plum and Wattle Seed made into scones inspired by Aussie damper.
Discover the essence of the Australian bush in this unique Davidson Plum and Wattle Seed Damper Scone recipe from Apoorva Kunte, Executive Chef at The Westin Melbourne.
Apoorva Kunte, an accomplished Indian-Australian chef, excels in contemporary and classical culinary techniques. His expertise encompasses modern European, regional Indian, and Middle Eastern cuisine. He refined his skills at renowned establishments like The Ritz Carlton and collaborated with culinary luminaries like 3 Michelin Star Chef Alain Passard, Italian Chef Luciano Parolari, and Paul Bocuse Award-winning Norwegian Chef Geir Skeie. Prior to becoming Executive Chef at The Westin Melbourne, Apoorva served as Executive Sous Chef at Sydney's prestigious Sheraton Grand Hyde Park.
These scones draw inspiration from the traditional Aussie damper, paying tribute to native Australian ingredients. Infused with the tart and tangy Davidson Plum flavour and enhanced by the delightful nuttiness of Wattle Seed.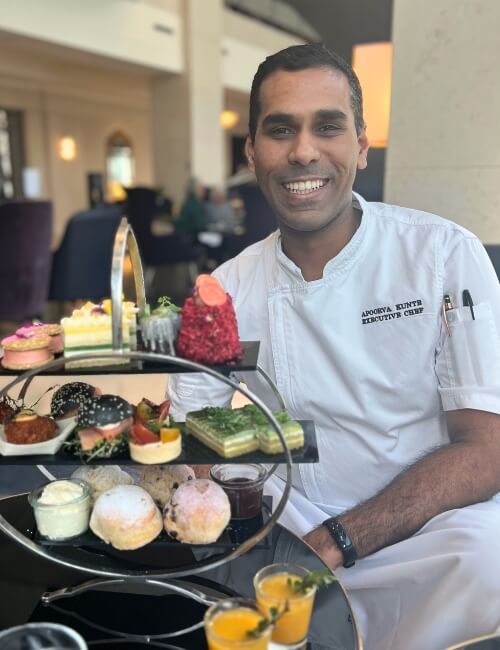 Ingredients:
Flour : 480 gms
Baking powder: 2.4 gms
Caster sugar: 60 gms
Salt : 1.2 gms
Butter : 120 gms
Whole eggs : 2 nos
Full fat milk: 120 ml
Buttermilk: 120 ml
Davidson plum powder: 40 gms
Prunes chopped : 100 gms
Wattle seed: 1 tsp
Method:
Pre heat oven to 160 degrees C. In a mixing bowl sift in flour and baking powder. Add salt, caster sugar and give it a good mix.
Cube the butter and add to the flour, rub until there are no lumps.
In a separate bowl whip together whole eggs, milk, buttermilk, and Davidson Plum powder.
Pour this mix over the flour and butter mix and knead lightly to a soft sticky dough. If you like, the dense damper-like texture knead a bit more to develop gluten and then fold in the prunes.
Transfer the dough onto a floured table top and hand press out to an even thickness of approximately 2 -3 cm. Using a cookie cutter (approximately 3 cm diameter) cut into the dough and place onto a lined baking tray. Move to a refrigerator for a 40 minute rest. You may alternately cut it into square pieces using a knife
Bake in the pre-heated oven for 14 minutes, cool down on a wire rack for 15 minutes and serve with clotted cream and jam after dusting with a mix of icing sugar and plum powder.
---