Equipment
2 x 20 cm (8 in) round cake tins
Food processor
---
Red Velvet Layer Cake Recipe from Beatrix Bakes by Natalie Paull. The cookbook features all the Beatrix Cakehouse classics.
This recipe takes less than 1 hour to make and bake. Cool for at least 2 hours before assembling into layers.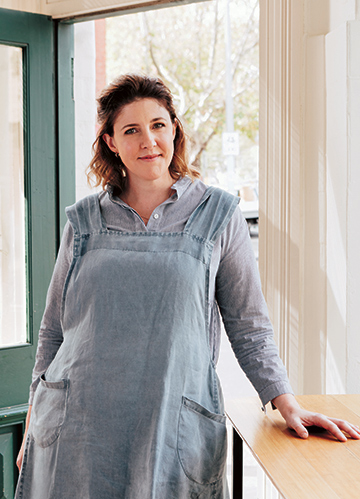 The cake is best eaten at room temp the day it is iced. Can be chilled overnight, but remove from the fridge a few hours before serving. The buttercream and cake can be made the day before.
"My customers don't have a middle ground on this cake and it joins other polarising topics in food life: pineapple on pizza? Vegemite? The cake has smidges of vanilla, cocoa and buttermilk to flavour the batter, but there's no magical ingredient that gives it its overwhelmingly vibrant redness – just food colouring. The velvet texture comes from building the batter in reverse – 'flour first'. It is always best dressed in cream cheese buttercream made with lashings of butter and cream cheese." Natalie Paull
Beatrix is a tiny bakery in North Melbourne run by Nat Paull and her killer cake squad who are dedicated to baking great cakes from good things for you.
This is an edited extract from Beatrix Bakes by Natalie Paull published by Hardie Grant Books $45.00 and is available where all good books are sold. Photographer: © Bec Hudson and Emily Weaving.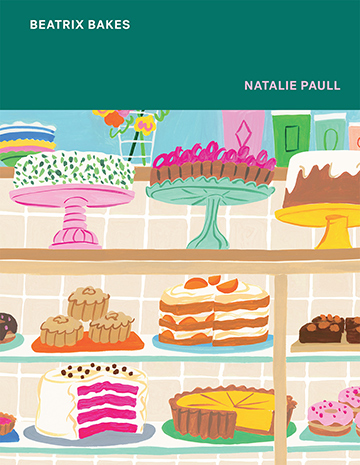 Cake Ingredients:
cooking oil spray
100 g (3½ oz) egg (approx.
2 eggs)
60 g (2 oz) egg white (from approx. 2 eggs)
5 g (⅛ oz/½ teaspoon) vanilla paste
35 g/ml (1¼ oz) red food colouring
345 g (12 oz) plain (all-purpose) flour
345 g (12 oz) caster (superfine) sugar
25 g (1 oz) Dutch (unsweetened) cocoa powder
18 g (2/3 oz/3½ teaspoons) baking powder
2 g (1/16 oz/¼ teaspoon) bicarbonate of soda (baking soda)
2 g (1/16 oz/¼ teaspoon)
fine sea salt
100 g (3½ oz) unsalted butter, squidgy
170 g/ml (6 oz) buttermilk, room temperature
100 g/ml (3½ oz) vegetable oil
1 × batch White chocolate cream cheese buttercream (page 234)
Instructions:
Preheat the oven to 150°C (300°F). Lightly spray the bases and sides of two 20 cm (8 in) round, 5 cm (2 in) deep cake tins with cooking oil spray. Line the base of each tin with a circle of baking paper (there's no need to line the sides).
In a small bowl, lightly combine the eggs, egg whites, vanilla and red food colouring with a plastic spatula, and set aside. In another small bowl, combine the flour, sugar, cocoa powder, baking powder, bicarb soda and salt, and have a sieve ready.
Put the butter, buttermilk and oil in the bowl of an electric stand mixer. Using the paddle attachment, mix on speed 2 (above low) for 5 minutes until combined. Sift over the dry ingredients, then mix on speed 2 for 1 minute until a moist paste forms. Increase to speed 8 (under high) and beat for 1 full minute. The batter will look fluffier and a shade or two paler.
Combining fat and flour will prevent toughness, and the fast whip will build an airy structure. Make sure you beat on the high speed for only 1 minute, as overbeating will create a rubbery-textured cake.
Turn the mixer off and scrape down the side of the bowl, then add approximately one-third of the egg and red food colour mix. Mix on speed 2 (above low) for 20 seconds, then increase to speed 6 (medium high) for 20 seconds. Add the remaining mix in two more batches: scrape > add mix > speed 2 for 20 seconds > speed 6 for 20 seconds. Scrape and repeat. Remove the bowl from the mixer and thoroughly scape down the side of the bowl again. The batter will be a glossy red colour, with the consistency of thick yoghurt.
Divide the batter equally between the two prepared cake tins – about 640 g (1 lb 7 oz) each – and smooth the tops. Bake for 20–25 minutes until a skewer inserted into the centre comes out clean – the tops will still feel pillowy soft.
Cool the cakes in their tins on a wire rack for 2 minutes, then flip the cakes out onto the rack and invert them so they are top side up.* Allow to cool completely, for at least 2 hours.
Assemble the four layers (see pages 101–102) using the White chocolate buttercream. Serve at room temperature.
White chocolate custard cream cheese buttercream (or CCBC 'cause that's a long name).
This buttercream has a white chocolate custard base and, although it is higher in fat than your average frosting, it is more restrained in the sugar. It is a silky-smooth coat for your cakes with a taste that's just like melted vanilla ice cream.
Buttercream Ingredients:
130 g (4½ oz) white chocolate, chopped
150 g (5½ oz) unsalted butter 100 g (3½ oz) egg (approx. 2 eggs)
250 g (9 oz) full-fat cream cheese, soft room temperature
10 g (¼ oz/1 teaspoon) vanilla paste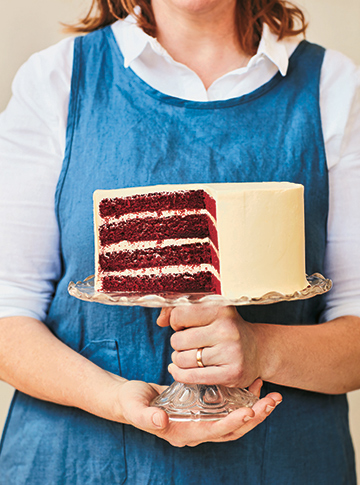 Instructions:
To make the custard base, fill a 20 cm (8 in) wide saucepan with 5 cm (2 in) of water and bring to a low simmer on the stovetop. Choose a heatproof bowl (at least 25 cm/10 in wide so you have room to whisk) that will nestle on top of the pan without touching the water. Put the chocolate and half of the butter in the bowl, then place the bowl over the pan of simmering water. Heat until just melted, stirring occasionally.
Do not allow the melted chocolate and butter to get too hot, as it can scramble the eggs you are about to add. Just melted is perfect. Also avoid the flames licking up the side of the pan, which will cause the chocolate to burn on the side of the bowl. If this does happen, strain the mix into a clean bowl and cook on a lower heat.
Remove the bowl from the heat and swiftly whisk in the eggs, then return to cook over the simmering water, whisking slowly, until it thickens to a gloopy consistency (and reaches 70°C/158°F).* Remove from the heat and cool at room temperature to lukewarm. If you need to accelerate the cooling, pop it in the fridge, but stir often so the chocolate custard doesn't fully harden.
Put the cream cheese in the bowl of an electric stand mixer. Using the paddle attachment, cream on speed 4 (medium) for 5 minutes. Scrape down the side of the bowl twice during this process.
Turn the mixer off. Add one‑quarter of the cooled chocolate custard to the cream cheese.
Switch the paddle for the whisk and whisk on speed 6 (medium high) until combined. Add the chocolate custard in two more batches, turning the mixer off to add the custard and whisking well between each addition – always being a vigilant scraper!
Add the remaining butter, piece by piece, and whisk for a further 5 minutes until all the butter is incorporated and the buttercream is thick, fluffy and silken. Whisk in the vanilla and it's ready to use.
If you notice any brown flecks of overcooked custard in the base, strain them out before setting aside to cool.
If the chocolate custard is too cool when it is added to the cream cheese, the chocolate can start to set into fine chips. If this happens, a quick whiz in the food processor will fix all.
---