Equipment
Electric mixer fitted with paddle attachment
18 cm (7 inch) round cake tins
---
Sour cream blueberry cake with vanilla mascarpone icing recipe by Emelia Jackson.
"Understanding why you use an ingredient is crucial to mastering baking and building confidence. The high fat content of sour cream means it adds a lovely richness to cakes, while the acidity adds a tender texture, which is exactly what you're looking for in a vanilla cake. And because it's thick, it won't thin out the batter and affect the way the cake cooks. You can substitute the sour cream with a thick, Greek-style yoghurt," said Emelia
Images and text from First, Cream the Butter and Sugar by Emelia Jackson, photography by Armelle Habib. Murdoch Books RRP $59.99.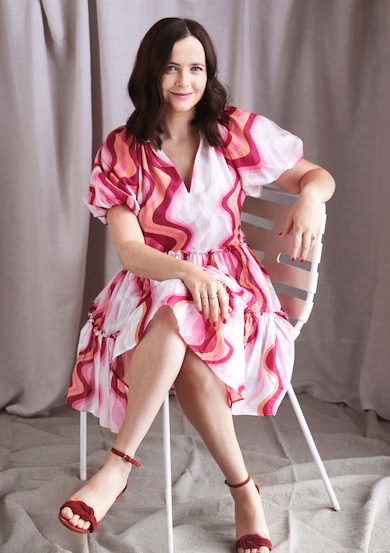 Recipe makes an 18 cm (7 inch) two-layer cake
Ingredients:
200 g (7 oz) caster (superfine) sugar
170 g (5¾ oz) unsalted butter, softened
Grated zest of 3 lemons or ½ teaspoon lemon extract
1 tablespoon vanilla bean paste or extract
1½ teaspoons baking powder
½ teaspoon bicarbonate of soda (baking soda)
½ teaspoon salt
3 eggs
120 g (4¼ oz) sour cream
120 ml (4 fl oz) full-cream milk
220 g (7¾ oz) cake flour
200 g (7 oz) fresh or frozen blueberries (not thawed)
125 g (4½ oz) fresh blueberries, to serve
Grated zest of 1 lemon, to serve
Vanilla mascarpone icing:
250 g (9 oz) chilled mascarpone cheese
200 ml (7 fl oz) chilled thickened (whipping) cream
100 g (3½ oz) icing (confectioners') sugar
1 tablespoon vanilla bean paste
Method:
Preheat the oven to 160°C (320°F). Line two 18 cm (7 inch) round cake tins with baking paper.
Using an electric mixer fitted with the paddle attachment, mix the sugar, butter and lemon zest or lemon extract until light, creamy and fluffy. Add the vanilla, baking powder, bicarbonate of soda and salt and mix until thoroughly combined. (I like to add the raising agents at this point to ensure they are evenly dispersed throughout the cake batter, creating an even rise in the final cake.) Add the eggs, one at a time, and beat until combined.
Whisk the sour cream and milk in a small jug or bowl.
Sift the flour over the egg mixture, then gently fold together until combined. Lightly mix in the sour cream mixture until the batter just comes together.
To prevent all of the blueberries from sinking to the bottom of your cake, first divide a quarter of the batter between the cake tins and smooth the top. Mix the blueberries through the remaining batter and divide it between the tins.
Bake the cakes for 40–45 minutes or until a skewer inserted into the centre of each cake comes out clean. Allow the cakes to cool in the tins for 10 minutes before turning them out onto a wire rack to cool completely.
For the icing, whisk the mascarpone, cream, icing sugar and vanilla in a bowl until thickened. Be careful not to overwhisk the cream as it can easily split.
Use a serrated to knife to level the tops of the cakes, if needed. Put one of the cakes on a serving plate and spread it with about a third of the icing. Add the second cake and spread the remaining icing all over the top and side. Garnish the cake with the fresh blueberries and lemon zest.
Using cake flour makes a huge difference to a cake. It's a low-protein flour that helps you achieve the most tender, fluffy and light cakes imaginable. There's no need to race out and buy cake flour – it's literally just plain (all-purpose) flour with some cornflour (cornstarch) or potato starch added to reduce the gluten content.
To make your own cake flour, measure out 430 g (15¼ oz) plain (all-purpose) flour, then add 70 g (2½ oz) cornflour (cornstarch) or potato starch and sift together.
Adding the cornflour or potato starch reduces the gluten content in the plain flour from 11 per cent to between 7 and 9 per cent. I make it in a big batch so I always have it ready to go.
---