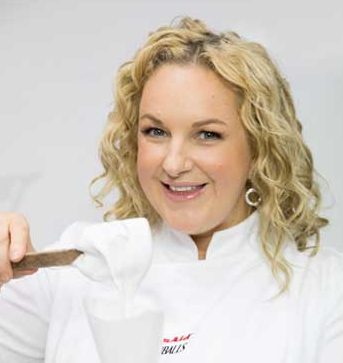 Festive Wreath recipe by Kirsten Tibballs.
Kirsten Tibballs is the Owner & Director at Savour Chocolate & Patisserie School, in Melbourne's Brunswick.
---
Instructions
Wreath:

- 60 g egg yolks
- 60 g caster sugar
- 30 ml water
- 1 tsp Heilala vanilla bean paste
- 4 g gold gelatine sheets
- 130 g Callebaut White Chocolate
- 345 ml Bulla Pure Cream, semi-whipped
- 25 g glace cherries
- 25 g dried cranberries
- 25 g pistachios, roughly chopped
- 25 g slivered almonds, roasted
- 25 g Callebaut Dark Chocolate, roughly chopped

1. You can use an 18cm doughnut silicon mould or a Bundt pan for this recipe. If you are using the Bundt pan, grease it with vegetable oil and line with plastic wrap.
2. Place the egg yolks into the bowl of a stand mixer fitted with a whisk attachment and begin whisking.
3. Boil the sugar and water to 123°C in a medium saucepan. If you don't have a thermometer, test the sugar syrup by dropping a small amount of the boiling syrup into a bowl of cold water. It should have a firm but pliable consistency.
4. Slowly pour the boiling syrup over the whisked egg yolks, ensuring you don't hit the whisk. Add the vanilla bean paste and continue to whisk until it cools slightly.
5. Soak the gelatine in a bowl of cold water until it becomes soft and pliable. Once soft, drain off the excess water and melt in the microwave for 20 seconds or until melted, do not boil.
6. Melt the white chocolate in the microwave for 30 second intervals, stirring in between until melted and warm.
7. Fold ¼ of the semi-whipped cream into the melted white chocolate. Continue folding and add the whipped egg yolks. Add a small amount of this mixture to the melted gelatine and mix together before adding back into the mousse and folding through.
8. Fold in the fruits, nuts and dark chocolate chips. Lastly fold through the remainder of the semi-whipped cream.
9. Gently place the mixture into the prepared tin or silicon mould and level off the top.
10. Place in the freezer for a minimum of 4 hours.
11. Unmould the wreath and place directly onto a serving plate. You can serve it frozen as a parfait or defrost it in the fridge for 2 hours and serve as a mousse.

Swiss Meringue:

- 190 g caster sugar
- 95 g egg whites
- Pinch of cream of tartar

1. Place the sugar, egg whites and cream of tartar together in a stand mixer mixing bowl over a saucepan of simmering water.
2. Heat to 60°C while mixing by hand.
3. Remove from the heat and attach the mixing bowl to the stand mixer fitted with a whisk attachment.
4. Whisk until the mixture aerates and cools to room temperature to create a meringue.