Equipment
Deep Fluted Tart Tin
---
This Gluten-free Lemon Meringue Pie recipe by Better Homes and Gardens TV chef Ed Halmagyi would be perfect for your next High Tea party.
Now your gluten-free friends can join the pie party.  Tweaking this classic is as easy as swapping the flour you use.
Ed Halmagyi opens up his personal recipe collection to bring you his brand new Seasonal Kitchen cookbook with more than 70 of his favourite dishes taking you on a delicious journey through the seasons.
Better Homes & Garden Seasonal Kitchen with Ed Halmagyi is published by Are Media Books and available where all books are sold.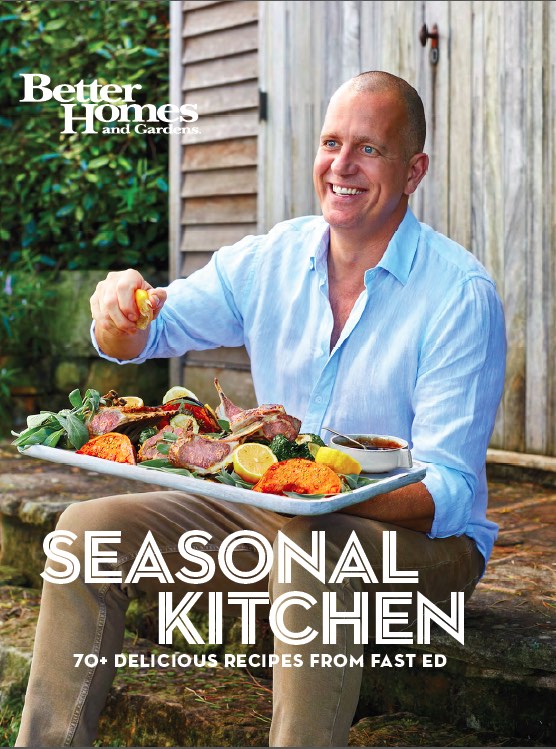 Ingredients:
Cooking oil spray, to grease
250ml milk, plus extra 500ml
100g unsalted butter, plus extra 125g softened
1 tsp fine sea-salt flakes
175g gluten-free flour
11/2 tsp xanthan gum
5 free-range eggs
8 free-range egg yolks
11/2 cups caster sugar, plus extra 11/2 cups
1/2 cup cornflour
1 cup lemon juice
2 tsp finely grated lemon zest
2 tbsp glucose syrup
1/2 tsp cream of tartar
Seeds of 1 vanilla bean
Instructions:
STEP 1
Preheat oven to 180°C fan-forced (200°C conventional). Grease a 20cm round, deep fluted tart tin with oil spray. Combine milk, butter and salt in a medium saucepan, set over medium heat. Simmer for 1 minute. Sift flour and xanthan gum together. Mix into the milk mixture and cook, stirring constantly, for 3 minutes.
STEP 2
Remove from heat and transfer to a stand mixer. Beat with the paddle attachment for 3 minutes to cool, then add 2 eggs and 2 yolks and beat until smooth. Transfer dough to a lightly floured bench, then knead for 3 minutes, until smooth. Roll out to 5mm thick, cover with plastic wrap and chill for 30 minutes.
STEP 3
Roll pastry into a 3mm-thick round, then press into prepared tin. Line with dampened baking paper and baking weights. Bake for 25 minutes, until lightly golden. Remove paper and weights, then bake for 5 minutes more. Set aside to cool.
STEP 4
Put caster sugar and half the extra milk in a medium saucepan. Bring to the boil, then reduce heat to low. Separate 3 eggs. Put remaining extra milk and cornflour in a bowl and whisk until smooth. Beat into hot milk with extra butter, juice, zest and all the yolks. Simmer, whisking constantly, until thickened. Strain into the pastry case. Chill for 1 hour.
STEP 5
Combine extra caster sugar with glucose syrup and 2 tbsp water in a small saucepan and set over high heat until a thermometer reads 119°C. Meanwhile, put egg whites and cream of tartar in a large, clean bowl and whisk with an electric hand mixer until soft peaks form. Pour in syrup in a steady stream and whisk on high speed until cooled, then beat in vanilla seeds. Spoon meringue onto lemon curd, then burn lightly with a kitchen blowtorch and serve.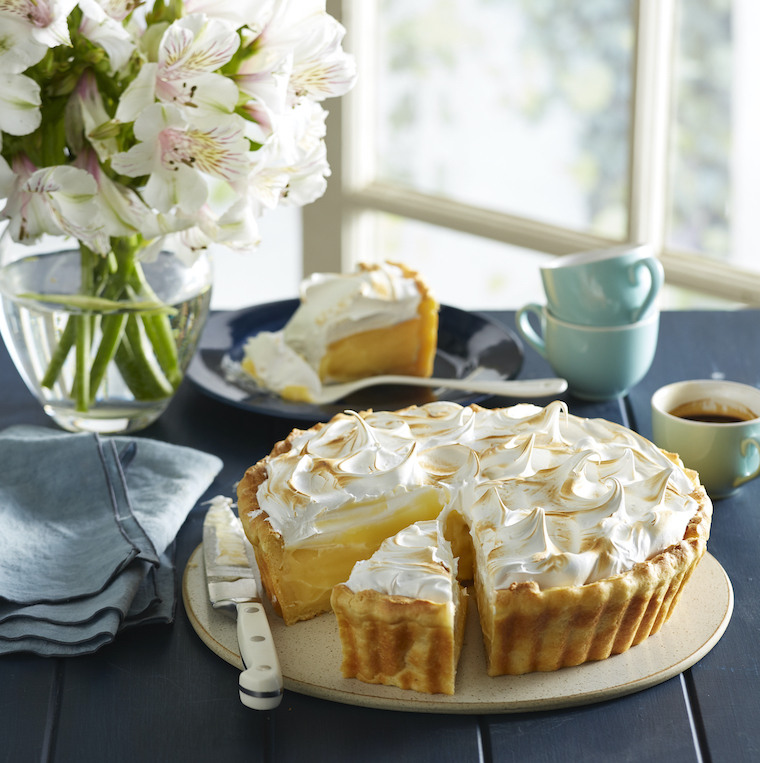 ---