Serves
8 - 12 pcs depending on tins
Equipment
Stainless bowl for mixing
Hand whisk
Zester
Seve
Piping bag
---
Eaten during "Le Goûter", with friends, dipped in a bowl of hot chocolate or spread with jam, La Madeleine is the typical French mini cake that is always a delight for young and old alike.
According to the legend La Madeleine was created in 1755 during a reception organized by Stanislas, the king of Lorraine, in northeast France. During the meal, he was told that his pastry chef, angry after a quarrel, had given up his apron. That a reception without dessert was not possible, a young cook named Madeleine Paulmier intervened and offered to make small cakes from her grandmother's recipe. It was a success! The duke baptized the French cakes in homage to his saviour and Commercy became the world capital of the Madeleine.
The Sofitel Sydney Darling Harbour has decided to pay tribute to this pillar of French gastronomy by serving them during their Claris High Tea. Every Saturday afternoon, let yourself be indulged in an exquisite afternoon tea inspired by Australian fashion illustrator Megan Hess and her acclaimed children's book, Claris, the Chicest Mouse in Paris.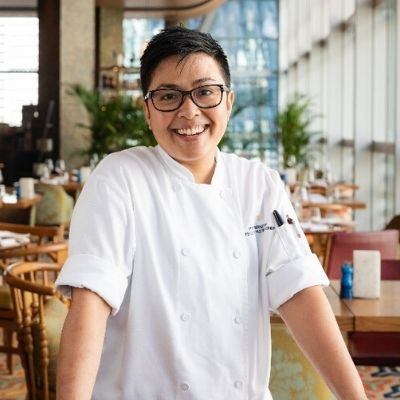 Enjoy the irresistible French-inspired treats created by Pastry Chef, at the Atelier restaurant, is transformed into a wonderful world of teacups, French pastries, delicate choux and chocolate madeleines. High Tea is served on Megan Hess' specially designed, limited-edition fine porcelain plates, with matching cutlery.
Puti Firmansyah is the Executive Pastry Chef at Sofitel Sydney Darling Harbour. Puti brings a fusion of Indonesian, Dutch, French and Australian influences to her approach, with many dishes inspired by her mother and grandmother and recipes passed down through generations.
---
Ingredients
---
Instructions
Whisk melted butter with half of the caster sugar amount in the recipe, gradually add the eggs and yolk until homogenous, set aside.

In a separate bowl, sieve plain flour-baking powder-cornflour onto the other half of the caster sugar, and mix thoroughly.

Using spatula, start adding mixture of dry ingredients into the butter-egg-sugar mix until the mix is smooth. Clean/scrape the sides of the bowl, cover it with cling film, rest it in the fridge between 4 hours to overnight.

Before baking, it is best to leave the mix outside in room temperature for 30 to 45 minutes. Add and fold the citrus zest using spatula just before baking.