Equipment
Rolling pin, Mixing bowl, Baking tray, Cookie cutter, Pastry brush, Kitchen Aid mixer (with pedal attachment)
---
Pastry Chef Gabriella Harianto shares with us The Langham, Sydney scone recipe.
Afternoon Tea at The Langham, Sydney, is famed as the birthplace of the traditional Afternoon Tea, direct from their London flagship hotel.
Served at Kitchens on Kent in their Harbour Room, guests are offered an exclusive experience, including The Langham's signature warm scones with jam and cream, delicate finger sandwiches and a selection of British inspired sweet and savoury delights. Pair it with a delightful selection of loose-leaf teas or Champagne, for the ultimate celebration.
Gabriella Harianto was born in Jakarta, Indonesia and has been The Langham's talented Pastry Chef since 2019. She's has worked at Gelato Messina and Facebook's Headquarters as a dessert connoisseur since 2011.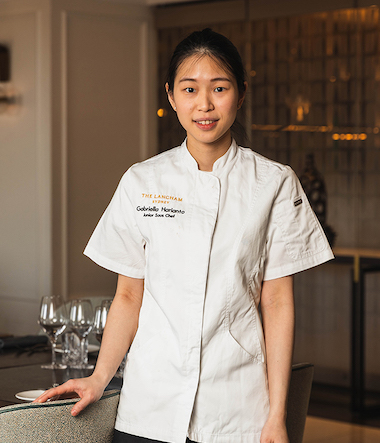 Favouring Japanese style food and desserts, Gabriella's favourite item to bake is the famous Chocolate Castella. A true foodie and creative, in her spare time she loves trying new places to eat to fuel her extravagant new ideas and recipes.
Ingredients
590g flour
10g baking powder
80g sugar
150g unsalted butter
300g buttermilk
30g vanilla extract
Instructions
Mix the flour, baking powder, sugar, and unsalted butter until you've got a sandy texture (make sure there are no butter lumps)
Pour the buttermilk and vanilla extract into the dry ingredient's mixture
Mix it all together until combined, but make sure to not over mix it
Roll the dough until 2cm thick
Cut the dough with a round cookie cutter to any desired size
Place them onto a flat tray with baking paper
Egg wash the top part of the scones
Bake in the oven at 200C for roughly 15 minutes, depending on your oven
To check if the scones are ready, stick a skewer into the scones and if come out clean, it's ready
Enjoy it with your favourite jam and a fresh dollop of cream
---