Serves
15 finger sanwiches
---
Looking for a crowd-pleasing and easy-to-make recipe for your next High Tea at Home? Look no further than this delicious Chicken & Herb Finger Sandwich recipe.
This recipe will be your go-to when hosting a High Tea at Home.
Packed with savoury flavour and a touch of freshness from herbs, this recipe is sure to impress your guests. And the best part, you can prepare the chicken mixture ahead of time and simply assemble the sandwiches just before serving for maximum convenience. Plus, with the beautiful presentation on a sandwich tray, like the Wedgwood, Butterfly in Bloom tray featured below, your guests will feel truly special.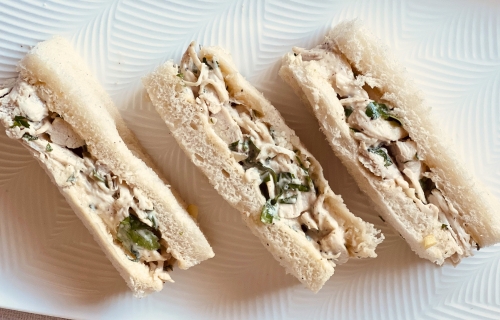 Ingredients:
2 chicken organic free range chicken breasts (about 300 grams)
1 stick of finely chopped celery
1 onion
2 bay leaves
5 peppercorns
grind of 1 lemon
bunch of thyme, chopped
bunch of parsley, chopped
bunch of basil, chopped
bunch of mint, chopped
1/2 cup Kewpie mayonnaise
salt & pepper to taste
10 slices of white bread
softened butter
Instructions:
Place the chicken in a large saucepan and cover with water. Add onion, celery, bay leaf, peppercorns, lemon grind, thyme and parsley stalks.
Bring to boil and simmer for 40 minutes or until chicken is falling apart.
Romove chicken and set a side to cool. Once cooled shred the meat.
Combine the chicken, mayonnaise and herbs in a bowl. Mix well and season with salt and pepper to taste.
Place half bread slices on a board. Butter the bread. Spoon the chicken mixture onto the bread and add the Kewpie mayonnaise. Top with the remaining slices.
Trim crusts from sandwiches and cut each into three fingers. Use an electric knife for neat edges.
Arrange the finger sandwiches on your favourite sandwich tray. Cover and chill until ready to serve.
Tip: Use day old bread. Fresh bread is too soft it won't hold shape.
---