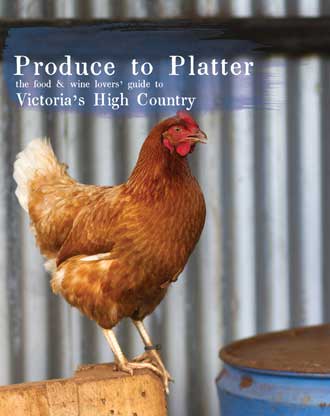 This delicious Roast Vegetable Tart recipe can be found in the Produce to Platter High Country book as part of the ever growing Produce to Platter series.
Through the eyes of locals who are dedicated to making the best regional food and wine, you will discover new taste sensations that have been foraged from wineries, restaurants, farm gates and more in this arm-chair journey through the Victorian High Country. Discover this vast, historic territory of hilly grasslands, bubbling estuaries and snowy alps.
---
Ingredients
---
Instructions
Preheat oven to 200C

For the Pastry

Combine flour, butter and egg yolks in food processor.
Add water to form a firm dough.
Chill and roll to thin dough.
Line tart tins and blind bake at 200C for 15-20 minutes until just golden.

For the Filling

Place thin layer of parmesan cheese in the baked shells.
Make a base with the baby spinach leaves, add onion, eggplant, pumpkin and roast capsicum, remembering to have colourful vegetables on top.
Fill tarts with egg mix and sprinkle with parmesan and salt.
Bake at 200C for 20 minutes until just golden and set.