Equipment
26cm (10½ inch) cake tin
---
Looking for a dessert that brings comfort and unites cultures? Look no further than Saghar Setareh's Orange-Scented Rice Cake Recipe.
This beloved dish is made all over the world, with different variations in density and temperature. But what really sets each region's pudding apart are the unique spices and aromatics used.
In Iran, rosewater is a popular choice, while cardamom is the go-to for many in other areas. In the Levant, orange blossom water and zest are added for a citrus twist, and as you travel west, vanilla becomes more prevalent.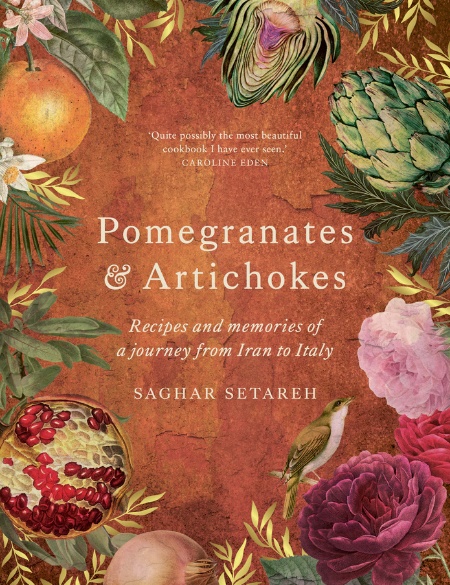 This recipe takes a classic rice pudding and adds a delicious twist – baking it with eggs. While we're not entirely sure where it originated, we've enjoyed similar cakes in both Bologna and Campania.
If you're a fan of orange-flavoured treats, you won't want to miss this recipe. It's inspired by Claudia Roden's famous almond and orange cake, a favourite of home bakers and cookery writers for years. The cake's origins are just as fascinating as its taste – it's a Judeo-Spanish cake that has travelled far and wide, just like this rice pudding cake.
Images and text from Pomegranates & Artichokes by Saghar Setareh, photography by Saghar Setareh. Murdoch Books RRP $49.99.
Ingredients:
1.7 litres (59 fl oz) full-fat milk
180 g (6½ oz) sugar
zest of 1/2 lemon, cut into large strips with a vegetable peeler
300 g (10½ oz) risotto rice, such as arborio, carnaroli or vialone nano
1/2 teaspoon salt
butter, for greasing
5 eggs, separated
50 ml (1¾ fl oz) orange liqueur (Cointreau)
3 teaspoons vanilla extract or paste
zest of 1 orange, plus extra to garnish
40 g (1½ oz) candied orange zest, diced
icing (confectioners') sugar, for dusting
Method:
In a large saucepan, bring the milk, sugar and lemon zest to a moderate boil. Stir in the rice and salt. Cook over medium heat for 30–40 minutes, until the liquid is absorbed and the rice is sticky and creamy, stirring occasionally so the rice doesn't stick. Remember that the mixture will become thicker as it cools. If it looks like the liquid is being absorbed before the rice is completely cooked through, reduce the heat. Transfer to a large bowl and leave to cool completely.
Preheat the oven to 180°C (350°F). Lightly grease a round 26 cm (10½ inch) cake tin with butter. Line the bottom and sides with baking paper, then rub a bit more butter onto the paper.
Remove as many lemon zest pieces from the cooled rice as you can find.
Using a hand whisk, beat the egg yolks with the liqueur, vanilla and orange zest, then add to the rice with the candied orange zest and mix well.
Using a clean whisk and a very clean bowl, whisk the egg whites until stiff and smooth, then gently fold them through the batter.
Carefully pour the mixture into the cake tin and smooth the top with a knife.
Bake for about 1 hour, or until the top is golden.
Remove from the oven, then leave to cool completely in the tin for about an hour before unmoulding.
Before serving, dust with icing sugar, and garnish with extra orange zest. The cake will keep in an airtight container for a few days, refrigerated if the weather is hot.
---