Sundays are a day for relaxation, reflection and indulgence. What better way to celebrate the leisurely pace of the weekend than with a dessert that pays homage to childhood favourites while adding a dash of sophistication? Enter Sophie Godwin's Key Lime Meringue Pie, a delightful twist on a classic recipe.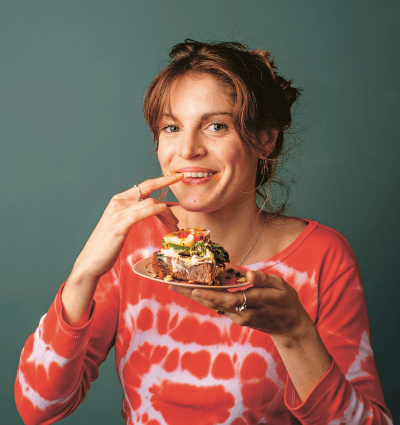 Growing up, key lime pie was a cherished treat in many households, including Sophie's. The irresistible combination of buttery ginger biscuits and the zingy tang of lime filling left an indelible mark on her culinary memories. But Sophie, the creative mind behind our beloved supper clubs, decided to take this beloved dessert to new heights. She added a spectacular blowtorched meringue layer that transformed something great into something truly fabulous. If you're ready to embark on a culinary adventure that blends nostalgia with innovation, this recipe is for you.
Before you dive in, make sure you've got a blowtorch and a digital thermometer at the ready, as these tools are essential for achieving the perfect meringue topping. So, grab your apron, gather your ingredients, and let's journey into the world of Sundays by Sophie Godwin, where every bite of her Key Lime Meringue Pie is a moment of pure delight and indulgence.
Images and text from Sundays by Sophie Godwin, photography by Caitlin Isola. Murdoch Books RRP $39.99.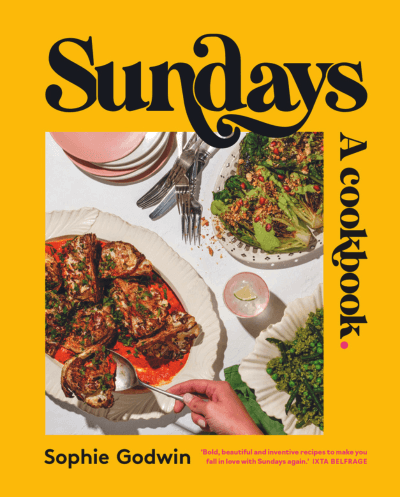 Ingredients:
50g (9oz) ginger biscuits (I like ginger nuts)
140g (5oz) salted butter
8 limes
6 medium eggs
2 × 397g (14oz) tins condensed milk
300g (10½oz) caster (superfine) sugar
Method:
Preheat your oven to 160°C/140°C fan/325°F/gas mark 3.
Tip the biscuits into a food processor and blitz until you have fine crumbs. Alternatively, put them into a sandwich bag and smash super well with a rolling pin.
Melt the butter in a pan over a medium heat, then take off the heat. Add the crushed biscuits and stir to combine. If using a food processor, you can just pour the melted butter in and pulse together. The mixture should be the texture of wet sand.
Tip the buttery biscuits out into a 23cm (9 inch) tart case and use your fingers to evenly line the tin with the mixture, making sure you cover the base and sides. Bake the pie crust in the oven for 10 minutes, then leave to cool slightly.
Meanwhile, zest and juice the limes into a bowl. Separate the egg whites and yolks. Put the egg whites into a container in the fridge for later, and put the yolks into a large bowl.
Using an electric whisk, whisk the egg yolks until they have lightened and thickened slightly – this will take around 2 minutes. Add your condensed milk, whisk to combine, then whisk in your lime zest and juice.
Scrape the lime-flavoured filling into your ginger-biscuit pie crust. Bake in the centre of the oven for 15–18 minutes until the filling is just set; if you lightly shake the tart case, the middle should have a small wobble. Leave to cool completely, then chill in the fridge for at least 3 hours, or overnight.
When the key lime pie is cold, it's time to make your Italian meringue. Don't be nervous, it's super simple, and it can also be done up to a few hours in advance.
Measure the sugar into a saucepan, along with 100ml (3½fl oz) water. Place over a super-low heat and leave the sugar to dissolve – you can use the handle of a wooden spoon to lightly aggravate the sugar with the water if some bits aren't melting. Once the sugar has dissolved, increase the heat to medium and simmer away until it reaches 115°C (239°F) on a digital thermometer.
At this point, using an electric whisk or a stand mixer, start whisking your egg whites – you want them to get to a foamy stage. Come back to the sugar. Once it is at 121°C (250°F) remove from the heat. While continuing to whisk your egg whites, gradually and carefully pour the hot sugar syrup into the bowl, pouring it down the side so that it becomes incorporated gradually.
Once all the sugar has been added, keep whisking your meringue until it has cooled to room temperature and is super glossy and white. (At this point, you can cover the meringue and put it into the fridge. Once ready to use, simply re-whisk to make it glossy again.)
Remove the key lime pie from its tin – I find using a palette knife or cutlery knife can help gently release the edges.
Put the pie onto a serving plate, then pile on the meringue. Finally, use a blowtorch (the fun bit!) to caramelise the outside and be wowed by your own success. A proper showstopper.
---