Welcome to Tilly Pamment's delightful world of baking, where she brings her Nana's cherished recipe to life in the most colourful and delicious way possible.
Introducing Nana's Rainbow Cake, a culinary masterpiece that is sure to ignite your taste buds and fill your heart with nostalgia. Tilly, author of "The Plain Cake Appreciation Society," invites you to embark on a sweet journey that celebrates the beauty of simplicity and the joy of indulgence. So gather your ingredients, dust off your mixing bowls, and prepare to create a cake that looks like a work of art.
Images and text from The Plain Cake Appreciation Society by Tilly Pamment, photography by Tilly Pamment. Murdoch Books RRP $39.99.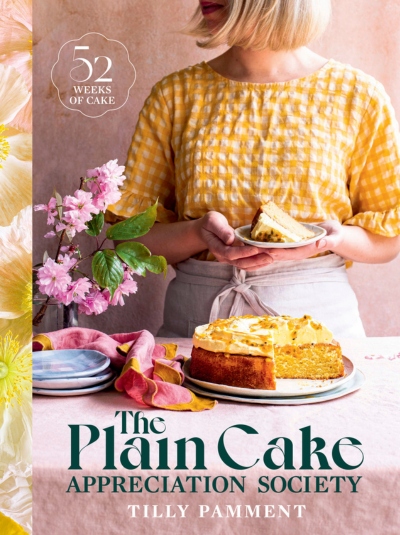 Ingredients:
ONE 18 CM (7 INCH) LAYER CAKE
plain (all-purpose) flour, to dust
250 g (9 oz) self-raising flour
generous pinch of bicarbonate of soda (baking soda)
¼ teaspoon salt
275 g (9¾ oz) caster (superfine) sugar
2 eggs
1 teaspoon vanilla bean paste
250 ml (9 fl oz) buttermilk, at room temperature
125 g (4½ oz) unsalted butter, melted and cooled
1½ tablespoons Dutch (unsweetened) cocoa powder
1½ tablespoons hot water
1½ tablespoons freeze-dried strawberry or raspberry powder, or a few drops of pink food colouring
FILLING:
300 ml (10½ fl oz) thickened (whipping) cream
1½ teaspoons vanilla bean paste
1 tablespoon icing (confectioners') sugar, plus extra to dust
Method:
Preheat the oven to 160°C (315°F) fan-forced. Grease three 18 cm (7 inch) round cake tins with butter and line the bases with baking paper. Dust with a little plain flour, tapping out any excess.
Place the self-raising flour, bicarbonate of soda, salt and caster sugar in the bowl of a stand mixer with a paddle attachment, stirring briefly to combine.
In a separate bowl, place the eggs, vanilla, buttermilk and melted butter, whisking lightly until smooth. Pour the wet ingredients into the bowl with the dry ingredients, then mix on low until combined. Scrape down the side of the bowl, then increase the speed to medium and beat for a minute or so, until the batter is lighter in colour and texture.
Divide the batter equally between the three mixing bowls. Place one portion of batter into one of the prepared cake tins, smoothing the surface with a spatula, and set aside.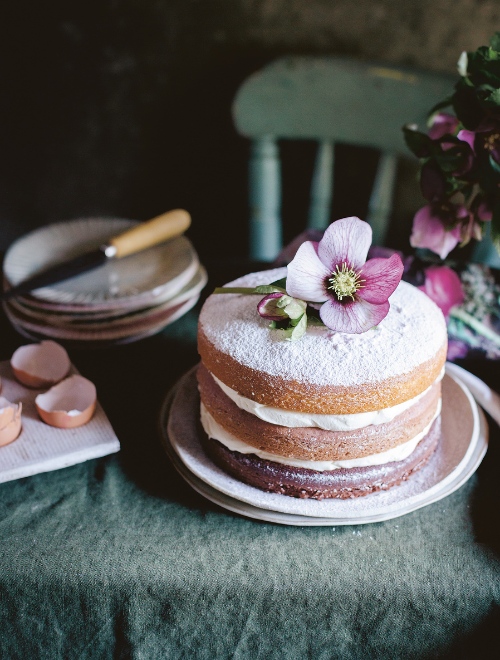 In a small bowl, combine the cocoa with the hot water, stirring until smooth. Add this to the second bowl of cake batter, mixing until just combined, before spooning the mixture into the second cake tin and smoothing the surface. Add the freeze-dried berry powder or food colouring to the remaining bowl of batter, mixing to combine before spooning it into the last tin.
Bake the cakes for 20–25 minutes or until risen and cooked through. Allow the cakes to cool for 10 minutes in their tins before turning out onto a wire rack to cool completely.
When the cakes are cool, make the filling. Whip the cream, vanilla and icing sugar together to firm peaks. Trim the domed tops off the chocolate and berry cake layers using a large serrated knife, if necessary (so you have a flat surface). To assemble, place the chocolate cake on a serving platter and spoon half the whipped cream on top, smoothing it out to form an even layer. Sandwich the berry cake gently on top and spoon on the remaining whipped cream. Top with the vanilla cake, dusting liberally with icing sugar just before serving.
This cake is best eaten within a few hours of assembling or at least on the day it is made. Keep any leftovers in the fridge – just return to room temperature before serving.
TEA & BLOOMS MATCH
Lemon-scented tea, hellebores and sweet peas.
---