The Chocolate Afternoon Tea at The Conservatory has taken a decidedly more traditional turn with its new menu and operations.
Last time The High Tea Society visited The Conservatory in December 2016, it was to discover a thoroughly non-traditional (but nevertheless enjoyable) afternoon tea served entirely buffet-style. Instead of finger sandwiches, there was peking duck pancakes, and dedicated Indian and Asian serving bars.
Now, The Conservatory team has upped the ante, and we're thrilled with the changes.
Rather than queuing up at the hot buffet stations on arrival, afternoon tea goers are now treated to their savouries served at their table on the requisite three-tier cake stand, with a selection of baked savouries on the bottom, three finger sandwiches with ultra-traditional fillings in the middle, and both plain and raisin scones taking out the top tier.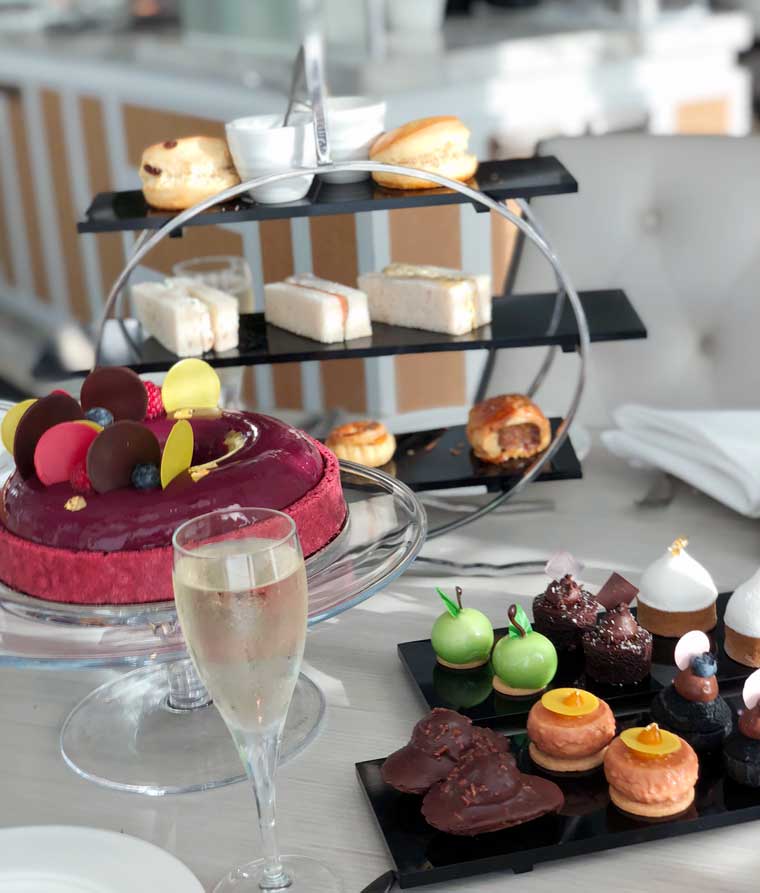 The finger sandwiches are done to absolute perfection, with generous, fresh fillings, while the pumpkin and parmesan parcel was the stand-out of the savouries.
At this stage the dessert buffet beckons and pleasingly, there's not a line to be seen as guests go up at their leisure to select from the extensive dessert items on offer. If there's one fly in the ointment, it's that you'll find it impossible to taste everything that's on offer.
The current selection has been curated under the theme of Chocolate Tea Time, with each dessert featuring chocolate in some way or form. This menu will run until the end of June.
Visually, the dessert selection is to die for, with each cake and petit four decorated to perfection. The Green Apple Vitality – which is presented to look like a mini Granny Smith apple, was a personal favourite, but the Honey Bee cake is the most popular among afternoon tea goers, says pastry sous chef Anthony Teva Dagorn.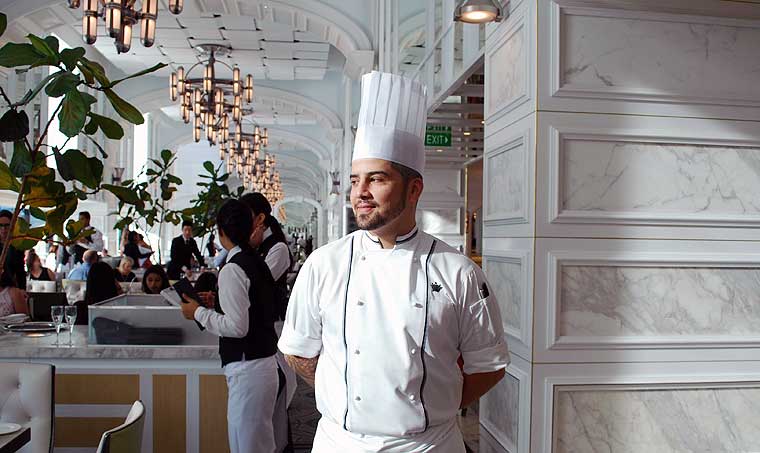 The French-born chef said the petite desserts were specifically made to be easy to eat without ruining one's lipstick (trés thoughtful!), while the venue is deliberately laid out to be spacious, to give each table an intimate feel.
Add to that The Conservatory's high ceilings, expansive chandeliers, and large windows overlooking the Yarra River, and this is easily one of Melbourne's classiest afternoon tea offerings.
It's not only classy, but popular too, with the venue full on the Sunday that The High Tea Society comes to visit. Big and small groups of (mostly) women are dressed in the finest and the mood is chatty.
To add to the refined offering, Moet and Chandon champagne is on offer for those so inclined, while tea is served in cute individual silver teapots.
Just when you thought The Conservatory could not ooze any more style, it has outdone by taking a more traditional approach to afternoon tea.
Chocolate Afternoon Tea at The Conservatory Menu: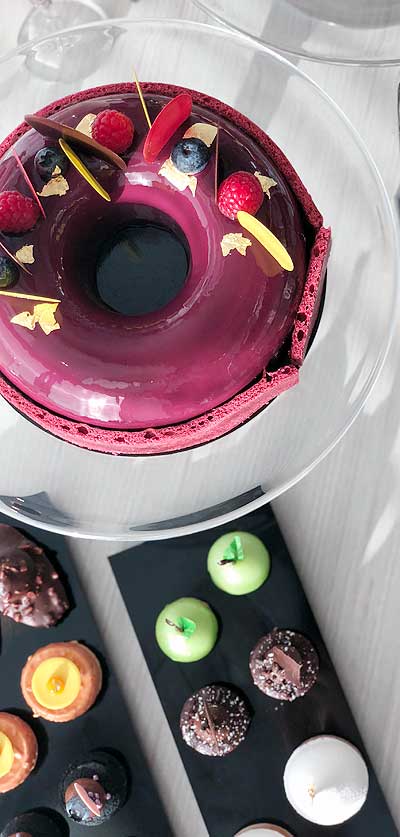 Savoury selection, served on high tea stands:
Traditional and raisin scones with whipped cream and strawberry jam
Chicken, cranberry and brie pie
Traditional sausage roll
Pumpkin and parmesan parcel
Finger sandwiches with:
Chicken and celery
Curried egg and chive
Smoked salmon, cucumber and cream cheese
Live station:
Freshly made crepes and berliner
Caramelised banana, berry compote, vanilla custard, Nutella sauce, whipped cream
Compotes of pineapple, peach, plum, lychee and mandarin
Cheese selections:
Australian cheddar, blue and brie cheeses with grissini, lavosh and dried fruits
Sweets:
Seasonal sliced fresh fruits
Chocolate brownie, cookies and truffles
Assorted candies and lollies with three flavours of chocolate fountain
Selection of Movenpick ice creams and sorbet
Strawberry and macaron tower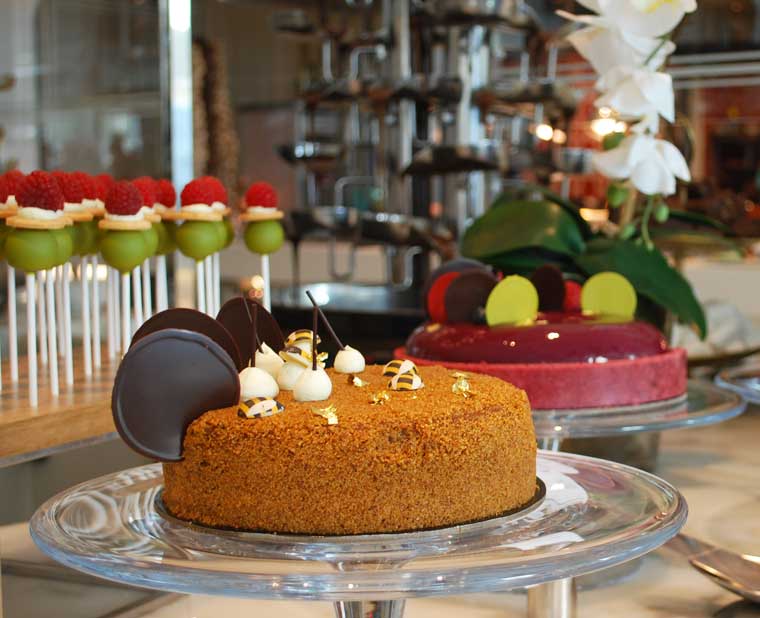 Chocolate Tea Time desserts:
Red velvet cake
Green apple vitality
Li chu chocolate and blackcurrant choux
Raspberry and lime lollipops
Exotic praline cake
Banana peanut butter
Black forest cup
Chocolate coconut cake
Coffee orange tart
Key lime pie
Praline passionfruit tartlet
Chocolate madeline
Honeybee cake
High Tea Melbourne – find more experiences
in our High Tea Venue Directory