High Tea Society was lucky enough to visit on the opening weekend of The Conservatory's 'In Full Bloom' Afternoon Tea; a pretty, petal-filled extravaganza of spring themed menu items.
Updated May 2022: High Tea is no longer served at the Conservatory Crown Melbourne but is now available from The Waiting Room, Crown Towers Melbourne.
Set within the Crown Melbourne complex, with marble and mirrors stretching almost as far as the eye can see, The Conservatory offers a decadent weekend-only afternoon tea.
If you can, book a table near the windows, to enjoy the view across the Yarra River while sipping on Piper-Heidsieck Rose Champagne, or a more traditional pot of Staunton Earl Grey. Of course, if you're not located along the windows, this does have the advantage of placing you closer to the indulgent buffet on offer, allowing for sneaky return trips to the crepe station, ice-cream stand or cheese corner.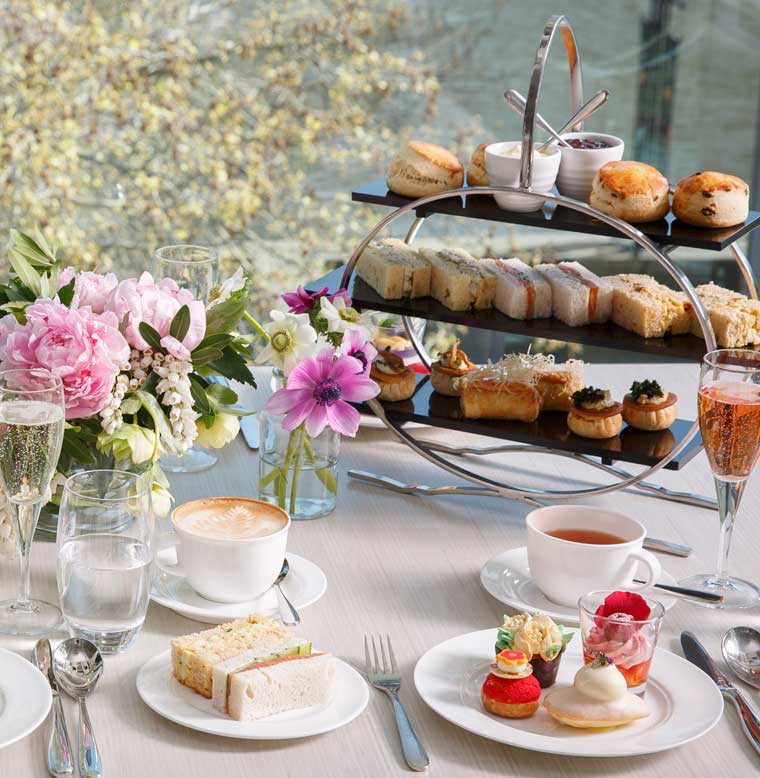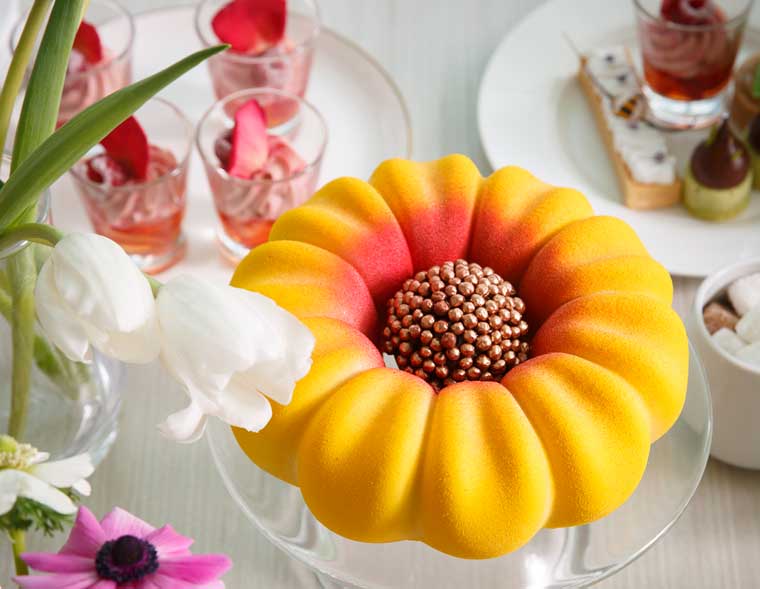 View this post on Instagram
Everyone's tastes are catered to at The Conservatory – the afternoon tea kicks off with the traditional tiered stand featuring finger sandwiches, a selection of savouries and plain and date scones. The classic egg sandwich was generously filled and a perfect mix of creaminess and saltiness. The other savouries, especially the mini mushroom and mini beef pies were very elegant yet big on flavour. The stand also includes the all-important scones with clotted cream and jam. There is one date and rose flavoured scone and one plain scone per person. Personally, I like my scones a little fluffier, and I definitely like more jam and cream than the dainty portions on offer. Happily, obtaining an extra serve of cream was not a problem for The Conservatory's efficient staff.
Following the tiered stand served to your table, guests can head over to enjoy what The Conservatory is best known for – the buffet. A dozen or so mini gateaux jostle for your attention on one side of the buffet, while around the corner there is a more interactive chocolate fountain, crepe station and Movenpick ice-cream station. And for the (big) kids, there is even an eye-catching lolly bar.
It is difficult to pick a favourite among the beautifully presented gateaux, made by Chef de cuisine Pastry Anthony Teva Dagorn, but a standout was the lemon meringue tart, which had an almost wafer thin crust and a pretty chocolate bee on top to complement the floral theme.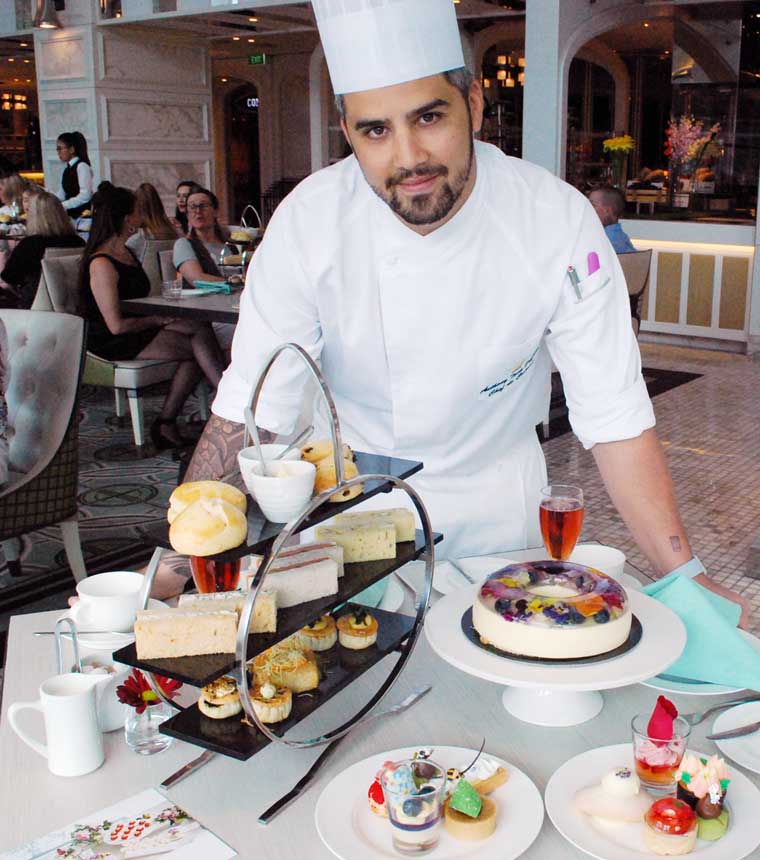 The Conservatory's Afternoon Tea Menu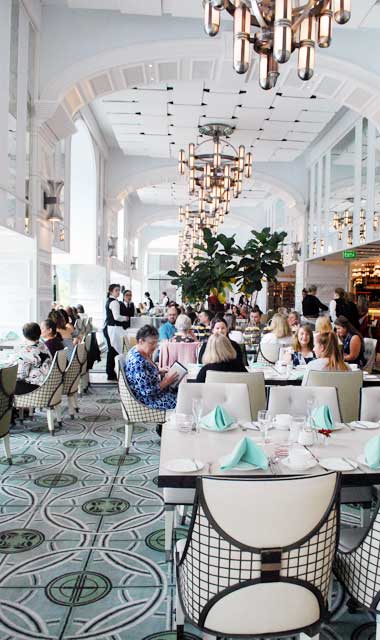 On the stand:
Rose and date scones
Plain scones
Jam and clotted cream
A selection of finger sandwiches
Mini mushroom pies
Mini beef pies
Cheese and spinach mini rolls
A large selection of gateaux from the buffet including:
Pistachio and Earl Grey chocolate friands
Jasmine tea crème brulee tarts
Raspberry and hibiscus profiteroles
Spring flower cupcakes
Lemon meringue tarts
Orange blossom madeleines
Rose mille feuille tartlets
A selection of cheeses
Crepe station
Ice-cream station
Chocolate fountain
Lolly bar station
To drink:
Piper-Heidsieck Rose Champagne
A selection of tea and coffee, including black, green, herbal and white teas
Bookings are essential, through the Crown Melbourne website. In Full Bloom runs until Sunday 30 December 2018.
This is one of Melbourne's most expensive afternoon teas, but it is definitely a five-star experience, with a very generous buffet in addition to the traditional tiered stand of high tea classics. This bright, glamorous venue has wide appeal and would work for everything from a large group celebration to an intimate feast for two. Children are also welcome and well accommodated with a children's afternoon tea for a reduced price of $37.50.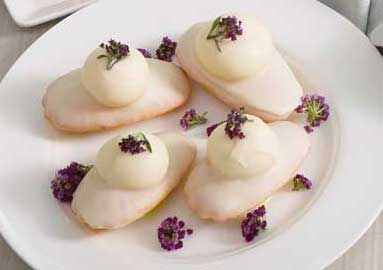 An Orange Blossom Madeleine is a light and buttery pastry, which originates from France.
Anthony Teva Dagorn, Chef de cuisine Pastry at Crown Melbourne's Conservatory has shared his recipe with High Tea Society.