We had a chance to experience the new English High Tea at The Conservatory, created in partnership with Paul Thiéblemont, Executive Pastry Chef visiting from the Mandarin Oriental Hyde Park, London.
Updated May 2022: High Tea is no longer served at the Conservatory Crown Melbourne but is now available from The Waiting Room, Crown Towers Melbourne.
Served in the glamorous setting of The Conservatory at Crown Melbourne, this is a decadent and lavish High Tea experience with the added bonus of a view across the Yarra River.
"Afternoon Tea in London is a really special occasion and I'm proud to bring a touch of it here to Melbourne. The beautiful, light setting of The Conservatory reminds me of grand tea rooms back in London – it's the perfect place to share my limited edition delights." said Thiéblemont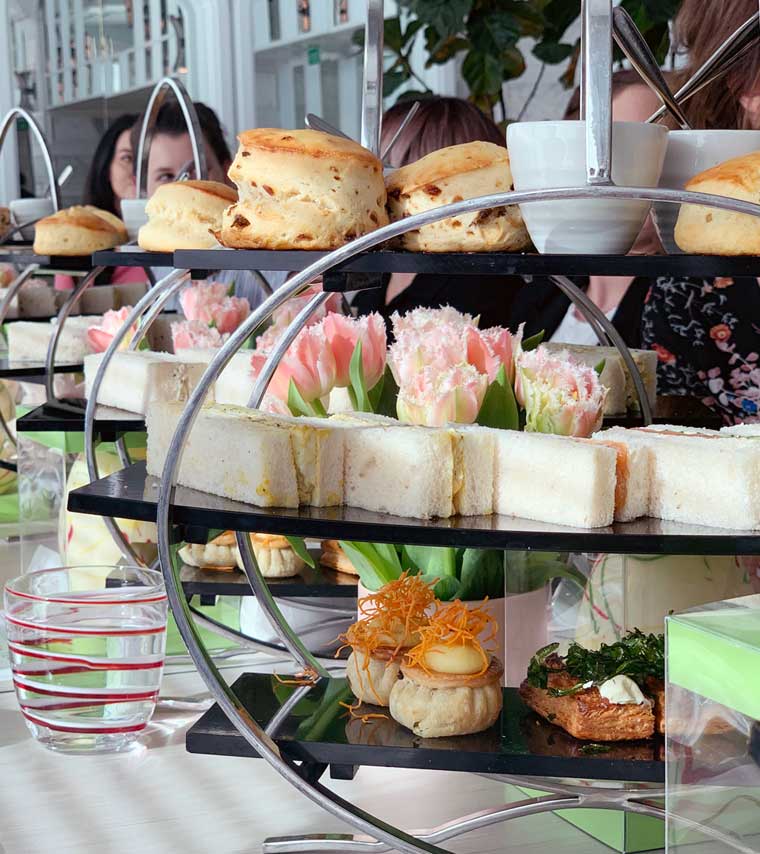 To begin, the table is presented with a three tiered stand filled with delicious savoury delights. Guests are offered a Yorkshire tart with a modern twist, comprising of sweet vanilla paste, lemon frangipane, raspberry & rhubarb jelly, vanilla cremeux and almond streusel. Accompanying this is a selection of three sandwiches and the top tier is decorated in scones with jam and cream.
With so much on offer, a little break is needed before moving to the cake and dessert buffet, with a wide selection of cakes, lollies and even a cheese board on display. The definite highlight is the Espresso Dome, which consisted of chocolate sable, tiramisu mousse, coffee and milk chocolate glaze.
Another highlight is the Apricot and Almond Tart, with frangipane, apricot jam and vanilla Chantilly crème.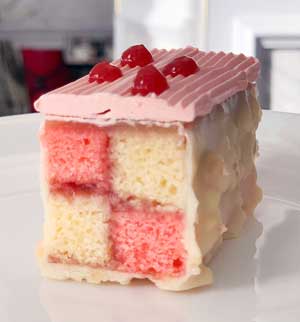 A beautiful cake on display in the buffet is the Battenberg Cake. A light sponge cake with the pieces covered in jam and fully covered in marzipan. This clever presentation, especially when cut in cross section, displays a distinctive two-by-two check pattern alternately coloured pink and yellow.
The Battenberg Cake was purportedly named in honour of the marriage of Princess Victoria, a granddaughter of Queen Victoria, to Prince Louis of Battenberg in 1884.
The English High Tea at The Conservatory at Crown Melbourne has reinforced its reputation as one of the best High Tea experiences in Melbourne. Bookings are essentially as this menu is only available until the 30th of June 2019.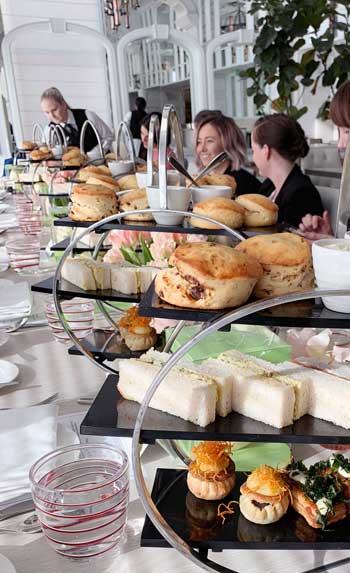 English High Tea Menu:
Tonka: Pain de Genes chocolate, raspberry jam, tonka crémeux, Li Chu mousse
Underground: Flourless sponge (GF), rice crispy praline, orange crémeux, caramel chocolate mousse
Yorkshire Tart: sweet vanilla paste, lemon frangipane, raspberry & rhubarb jelly, vanilla crémeux, almond streusel
Battenberg cake: two-by-two check patterned sponge cake, strawberry gel, strawberry buttercream
Pistachio & cherry cake: pistachio sponge, cherry jam
Raspberry and crème fraiche: fresh raspberries, raspberry jam, sable breton, Aneo mousse
Apricot & almond tarte: frangipane, apricot jam, vanilla Chantilly crème
Oryola & pear – vanilla sable, pear mousse, Oryola ganache, milk chocolate & almond glaze
Espresso dome: chocolate sable, tiramisu mousse, coffee, milk chocolate glaze
Braeburns finger: hazelnut sable, caramelized apple, vanilla Chantilly, fresh granny smith apple
Yuzu & hazelnut gateaux: hazelnut sable, yuzu crémeux, hazelnut mousse, milk chocolate glaze
Peach & verbena: biscuit, peach & verbena jelly, verbena mousse, white chocolate coating
Bakewell tart: gingerbread biscuit, plum jelly, orange drizzle
Eton Mess Verrine: Vegan recipe
High Tea Melbourne – find more experiences in
our High Tea Venue Directory