There's lots of things that Shangri-La Sydney can boast about, but its view from the Blu Bar on Level 36 would have to be one of the most impressive. It's also no surprise that there's an equally impressive intimate high tea way up in the sky now too.
This one is a little different to the more traditional High Tea in the Lobby Lounge at the Shangri-La Sydney. It's served buffet-style and has free flowing cocktails for the duration. Also, if you're in on a Sunday there's champagne on arrival, because, well… Sunday Funday!
Bookings are absolutely essential because it's a very intimate space designed so that every table gets its own bird's-eye million-dollar view of the Sydney trifecta – bridge, house and harbour. We visited on a sunny autumn Sunday and would have spent the first 20 minutes sipping our champagne in the sunshine, chatting and admiring the view before we even remembered there was a full buffet behind us!
Lets start with the free-flowing cocktails. Two boozy and one mock are on the menu, drink as little or as many as you like. Of course we tried all of them, and they're all delicious. One tequila-based with a flurry of fairy floss on top (a nod to Anna's neon pink Mohawk), the other gin and grapefruit-based, with the mocktail based on cranberries and cinnamon.
The buffet itself is very colourful and impressive. It's an even 50/50 split between sweet and savoury which is great for the non sweet-toothed among us. Check out the extensive menu below and you'll see what we mean!
From the ground floor lobby to the top floor cocktail bar, celebrity executive pastry chef, Anna Polyviou, has her finger in all the pies – well… not quite, but you catch our drift! "Everything's been specially selected to reflect the bar and my style, from the buffet stands in my signature colours, through to the sleek glassware, teapots and cutlery," she says.
Staff are attentive but not intrusive, quickly clearing plates and glasses so you never feel cluttered. Which is a very real concern, because you'll be up at the buffet more than several times deciding on which delicate morsels to try (or perhaps retry) next.
The chefs are constantly restocking the buffet too, so it's always looking decadent and full to bursting. And bursting is the right word, because that's how you'll feel once you've nibbled your way through the afternoon.
Blu Bar High Tea Menu: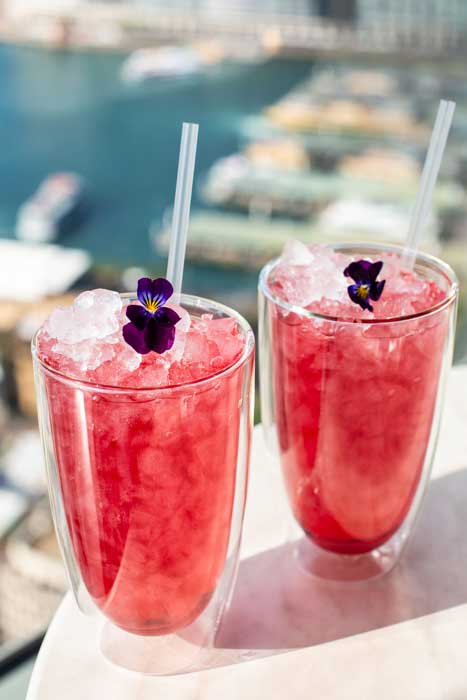 Pina-colada – Coconut, pineapple, lemongrass, Malibu
Popping – Caramel, pop-corn, chocolate
Tea cake – Apple, rhubarb, cake
Strawberries 'n' crème – Strawberry, mascarpone, vanilla
Lolli-pops
Chocolates
Quiches – Roast vegetable and Lorraine
Egg – Egg, mayo, watercress
Salmon – Salmon, beetroot, capers
Chicken – Chicken, lettuce, roll
Salad – Goats cheese, vegetables, olive oil
Buttermilk & tea-raisin scones
Clotted crème, pepe saya butter, Rose red berry jam, Pineapple marmalade, Apple cinnamon compote
We highly recommend the Blu Bar High Tea Buffet.