One of the perks of writing for High Tea Society is that I sometimes get to meet the pastry chefs behind the tiers of wonderful treats.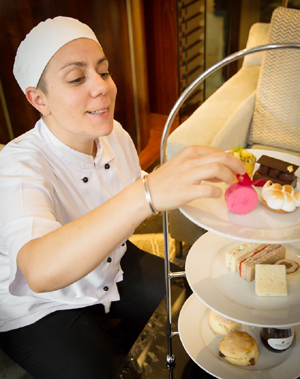 At the Shangri La in Sydney I recently had the pleasure of meeting its new executive pastry chef, Anna Polyviou, and let me tell you, this is one lady that's passionate about her pastry!
With time spent working at Claridge's in London, then popping over to Paris to spend some time at Pierre Hermes, Anna definitely has the know-how to revamp the Shangri La's high tea menu and in her first month there – that's exactly what she's done.
Everything is made in-house by Anna and her team, and the attention to detail is five star and fantastic. The buttermilk scones were light and fluffy, served with generous lashings of clotted cream and mixed berry jam. The ribbon sandwiches were your usual selection of cucumber, roast beef, chicken and smoked salmon.
Having an award-winning pastry chef on board, we were expecting big things from the dessert tier, and we were definitely wowed!
The macaron was perfect, with a fresh raspberry surprise in the centre. The chocolate brownie was more chocolate than cake, extra rich and velvety. So rich in fact, I could only eat half of mine! The tropical shot was a great balance of posset (set custard) with tiny juice-filled pearls that popped on your tongue. My favourite though was the toasted lemon meringue tart. A lovely buttery pastry, filled with lemon curd and topped with the softest meringue that had been lightly toasted to colour it, but it remained pillow soft to bite through.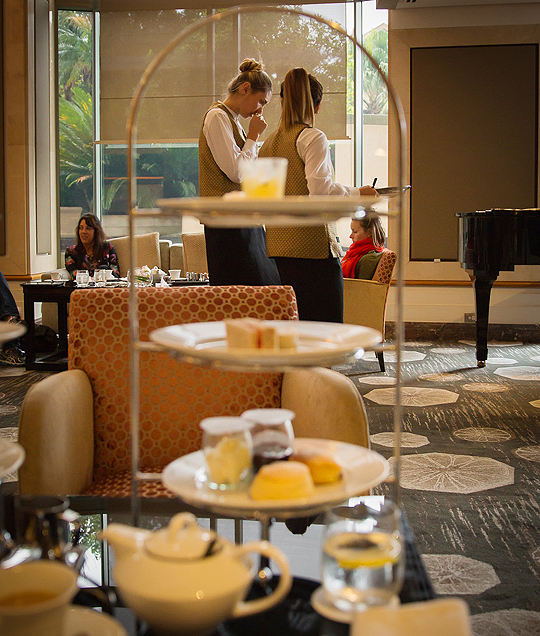 The Shangri La chain has globally partnered with Dilmah, and there were 18 different teas to choose from, so we'd have to say all tastes are covered with that large range. I'm going through an oolong phase at the moment, so that was my choice on the day.
Bookings are essential and the tea is available in the Lobby Lounge and Terrace where tables, armchairs and couches are arranged in intimate clusters so you can relax with friends without having to share your space. A word of warning though, if you're short like me, stick to an armchair rather than the couch, it was a bit tricky to reach the goods on offer while still appearing lady-like and not dropping anything in my lap!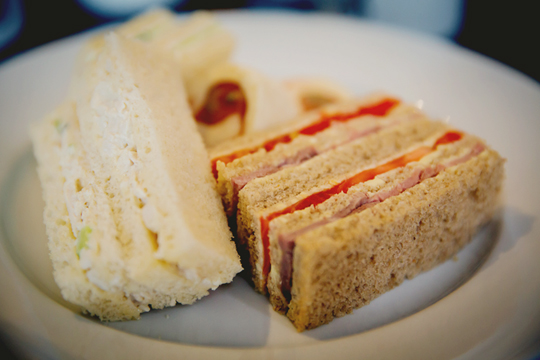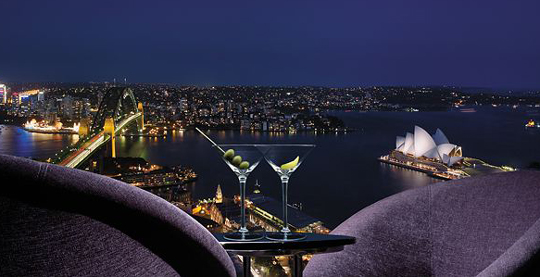 If you're visiting Sydney and staying at the Shangri La, its high tea service is also available to your room. There's definitely something indulgent about being able to take high tea while dressed in a fluffy white bathrobe and overlooking Sydney Harbour, that's for sure!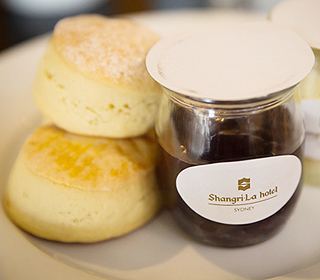 Shangri La High Tea Menu
Sweets:

Macaron – French vanilla and rose rosewater mousseline, raspberry
Tart – Lemon curd, toasted meringue
Chocolate – Chocolate brownie, chocolate anglaise, chocolate ganache
Tropical Shot – Passionfruit posset, mango jelly, tropical popping pearls

Scones: Buttermilk and earl grey tea raisin scones served with homemade berry jam & clotted cream pots
Sandwiches: A selection varies on the day
Also, while it's not strictly a 'high tea' Anna hosts dessert degustation evenings where you sit in her kitchen while herself and her team serve up a selection of sweet treats. It definitely sounds like something a High Tea Society reader would love to do! Contact the hotel for more information or to book your place. Be quick though, they sell out!