We first reviewed the Shangri La about a year ago, when its new Executive Pastry Chef, Anna Polyviou had only just joined the team.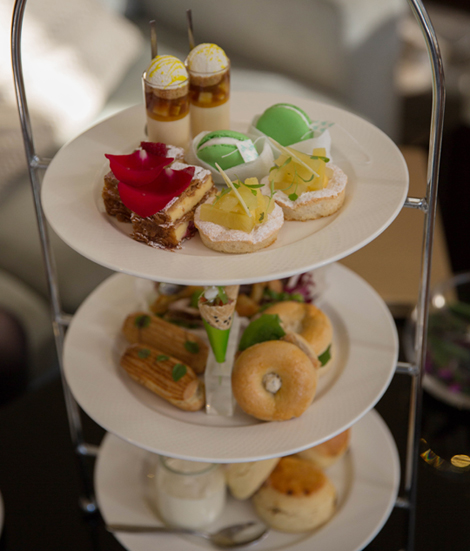 She had big plans for her pastry kitchen, so we went along to see if she's achieved what she set out to do.
While the high tea is still served in the Lobby Lounge, and still features the same delicious scones we wrote about in our last review, that's where the similarities end.
I know I probably shouldn't admit it, being a High Tea Society contributor and all, but I'm a savoury girl at heart, so was ultra excited to see Anna has given the savoury tier just as big a rework as the sweet tier.
If you think that éclairs are solely the domain of chocolate and custard, you'd be wrong. These tiny choux éclairs are filled with a delicious chicken mix. Teeny tiny cubes coated in a rich and creamy mayonnaise base. Wow. Completely moreish.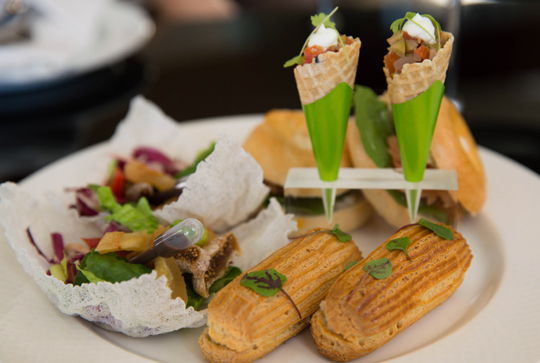 In another nod to the traditional flavours of high tea, there's also a mini smoked salmon bagel. That's where tradition ends. Next up was a salad of dried apricots, figs, and radicchio. Anna believes in involving you with your food, so there was also a tiny pipette of balsamic dressing stuck in top so you can dress the salad with as little or much as you'd like. There was talk of swapping this salad out for a brioche of roast beef and mustard, so by the time you visit things may have changed. I trust the brioche will be just as delectable.
The final savoury element was a tiny waffle cone filled with whipped goats curd and tomato salsa. It was so light and fresh it came a close second to those chicken éclairs.
Then we moved on to why we were really here – the sweet tier. What had this award wining pastry chef come up with? As you can see from the photos, Anna and her team take presentation just as seriously as flavour.
The chai tea and apple marshmallow was as good as any weird and wonderful flavour creation that Zumbo can come up with (they're actually quite good friends).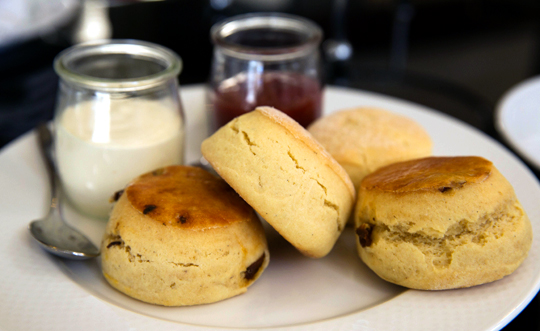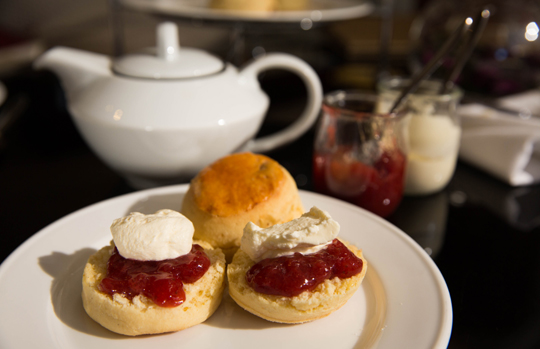 The team makes their own puff pastry in house, and in this instance it was caramelised to the brink of over done (I swear an extra 30 seconds would have seen it go from fabulous to failure, true skill in that one), filled with a vanilla pastry crème, fresh raspberries and topped with fresh rose petals. Pretty? Tick. Delicious? You bet!
Next was a coconut disc topped with sou vide pineapple and baby coriander leaves. It was so chewy in the middle it reminded me of a fluffier version of a coconut macaroon.
Finally, we saved the best until last. Anna calls it her Bananarama, and this tiny glass packs the biggest banana punch, it's quite unbelievable. It's layers are caramelised white chocolate, passionfruit jelly, banana jam, vanilla bavarois, banana bread crumbs and a white chocolate dome on top that you have to crack into using the tiniest spoon attached to the side of the glass. I love fresh bananas, I eat one every day, but if I could one of these instead, well… maybe I'll just have to put in a standard order with the kitchen!
In all, the original Shangri La high tea was a good example of a classic hotel's high tea. With Anna now at the helm, tradition gets the occasional nod, just with an extra larger than life dollop of colour, flavour and fun. We can't wait to see what she comes up with next.