High society meets fine dining with the latest high tea offering at the InterContinental Melbourne The Rialto.
Hosted in the ground-floor Alluvial restaurant, the decor is industrial luxe and offers lots of natural light plus views of the upper levels of the Intercontinental.
On arrival, the table is set with white linen tablecloths and napkins, silverware, blue and white patterned Noritake tea ware and, adding a sense of theatre, a deconstructed cocktail, with a mini bottle of brandy, small vial of bitters, sugar cube and mini tongs arranged on small silver trays at each place setting.
Upon seating, we are invited to add the bitters to the sugar cube, and pop both the sugar cube and brandy into a champagne glass, where it is then topped with Perrier-Jouët Grand Brut.
There is also the choice of four loose leaf TWG teas – English Breakfast, French Earl Grey, Moroccan Mint and Silver Moon – served in individual teapots.
The whole offering is inspired society ladies the Clarke sisters, who could often be found spending lavish afternoons swapping stories over fine china teacups in one of the neo-gothic balconies overlooking Collins Street in the mid-1800s.
The sisters shared a close affiliation with the Rialto's origins, with Emma Clarke marrying Patrick McCaughan, who commissioned the original Rialto building. After her untimely passing in 1872, Mr McCaughan went on to marry her sister Margaret.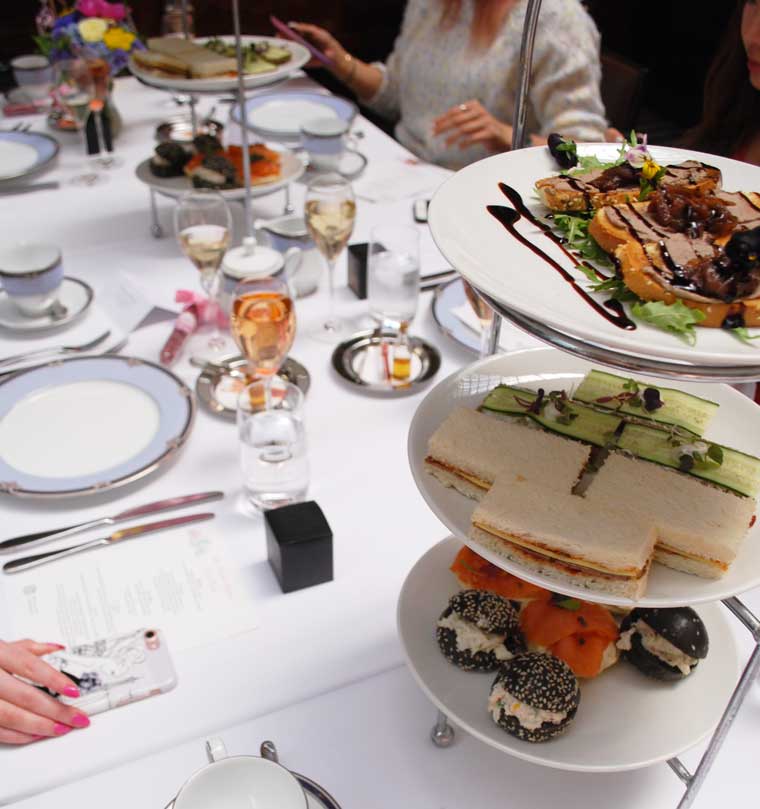 Unlike many traditional high tea offerings, the Clarke Sisters' Tea Party Menu is served degustation-style, beginning with a generously-portioned array of finger sandwiches, open sandwiches and the like served on a three-tier stand.
The fillings are both a mix of traditional – including an open cucumber sandwich and salmon and cream cheese mini-bagel – and exquisitely unique – such as the bay bugs on a black mini brioche roll, and duck liver pate en croute.
From there, high tea goers have the choice of either a lamp chop accompanied with truffle mash, pea puree and a red wine jus, or the king oyster mushroom tart served with pumpkin pulse. A small tip: go for the lamb. The mash in particular is to die for!
Then, it's on to the freshly baked (and still warm) plain and raisin scones, with each person getting their own dishes of butter, jam and double cream.
Just when you think you can't fit in any more, in rolls in the dessert tray, jam-packed with the best desserts found within the Rialto precinct, including Vue de Monde's triple-decker take on the classic lamington, cakes and tarts from Le Petit Gâteau's, and Italian cakes and cheesecakes by Merchant.
Here, you can choose as much or as little as you like, all served directly to you by Alluvial staff.
The venue caters for all kinds of dietary requirements, so just ask!
Starting at $99 with the champagne cocktail, the offering is at a reasonable price point considering the quantity and quality of food, the venue and overall theatre of the experience. This one's a must-try.
The Clarke Sisters' Tea Party menu: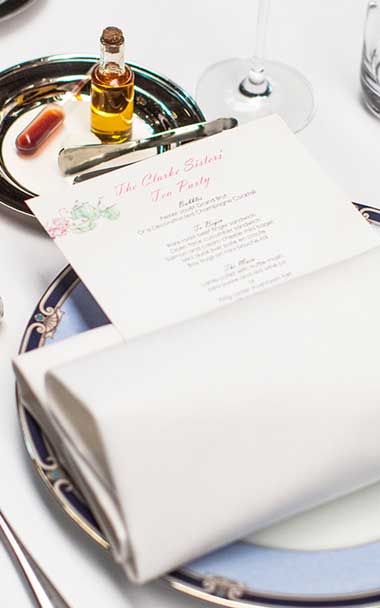 To Begin:
Rare roast beef finger sandwich
Open face cucumber sandwich
Salmon and cream cheese mini bagel
Mini duck liver pate en croute
Bay bugs on mini brioche roll
The Main:
Lamb chop with truffle mash, pea puree and red wine jus
King oyster mushroom tart with pumpkin pulse
To Finish:
Freshly baked buttermilk and fruit scones
Served with butter, strawberry jam and double cream
The Dessert Trolley:
Lemon Tart by Le Petit Gateau
Berry Tart by Le Petit Gateau
White Chocolate Cheesecake by Merchant Osteria Venice
Flourless Chocolate Cake (GF) by Merchant Osteria Venice
Vue de Monde Lamington
High Tea Melbourne
– find more experiences in
our High Tea Venue Directory