New year, new high tea offerings at the InterContinental Melbourne The Rialto.
That's what's happening at the InterContinental Melbourne The Rialto, which started serving its new and improved high tea menu on January 21st, 2017.
Among the biggest changes is the change in location from the Market Lane Bar to the downstairs Alluvial Restaurant.
Then there's the menu itself.
On arrival, guests can expect the traditional three-tier cake stand, which will feature freshly baked scones, finger sandwiches and hot savoury items.
There's also a glass of Perrier-Jouet champagne and a selection of four TWG teas.
Sweet tooths will be further indulged by the inclusion of a dessert bar, complete with chocolate fountain and lollies served in cereal canisters.
Those familiar with the InterContinental's reputation for also serving high coffee will be pleased to know that this option – which swaps tea and champagne for coffee and an espresso martini – will remain.
The whole offering is inspired by society lady Mrs D'Ebro, who was renowned for the lavish afternoon teas that she used to serve in her Toorak parlour in the 1890s.
Executive chef Clinton Jackson said previously, the high tea offering was trying too hard to be everything to everybody.
This new menu, he says, focuses largely on the dessert bar.
"The original way of having it all on the plate didn't work," he said.

"With the dessert bar, people can pick and choose what they like."
The High Tea Society got to try out the new menu at a special launch and was quite impressed by both the change of surroundings – which provide a stunning view of the InterContinental – and the new menu.
Perhaps the only complaint is that with such an extensive menu, it's just about impossible to try it all!
InterContinental Melbourne The Rialto Afternoon Tea Menu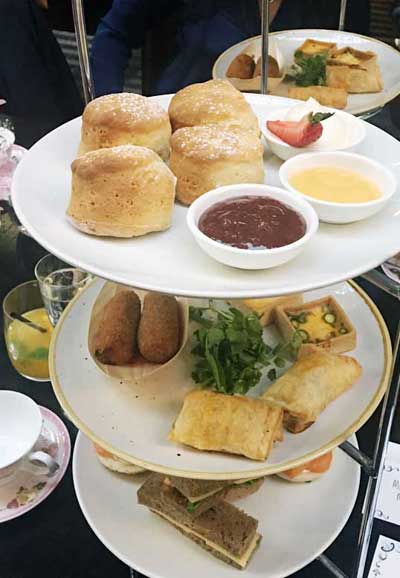 On the stand:
Freshly baked buttermilk scones with Darbo jams, lemon curd, double cream and a selection of sweets
Sandwiches
Ham with Jarlsberg cheese, tomato relish on Swiss white
Cucumber and tzatziki on light rye
Salmon and cream cheese bagel
Hot savouries
Asparagus and ricotta quiche tartlet
Chef's beef wellington
Smoked cod croquette with red pepper coulis
The dessert buffet:
54.5% Callebaut chocolate fountain
Mixed lolly bar
Veneered buttercream carrot cake
Chocolate brownie with peanut butter and walnut
Chocolate mousse and crushed hazelnuts pots
Velvet peach and mango cheesecake
Chia seed and strawberry pots
Jelly fruit salad pots
Assorted doughnuts
Macarons