When entering The Langham Hotel Sydney there is a real sense of tradition.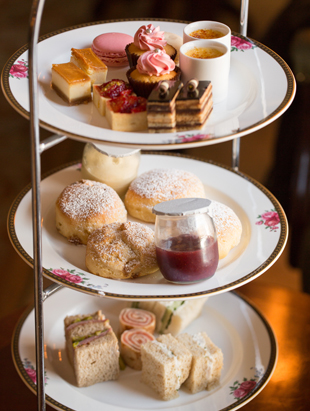 You would expect that though, being strongly linked to The Langham Hotel London – one of the oldest, purpose-built hotels harking back to 1865.
Tiffin at the Langham continues the long held traditions of high tea, serving ribbon sandwiches, scones and petit fours on a three-tiered stand. The tea service is all custom-made for the Langham by Wedgwood, and as you can see from the pictures, it's quite pretty.
On our Saturday afternoon visit, the opulent wood-panelled room, complete with grandfather clock, baby grand piano, leather armchairs pulled up to fully set tables ready for high tea service, the place had a real feeling of a private club. It was busy, but not overly loud, the patrons all quietly enjoying each other's company and the many delights on offer.
The staff were extremely attentive, and our glass of Laurent-Perrier Rosé Champagne arrived shortly after we were seated. The menu and the teas were explained to us, then it was time to taste!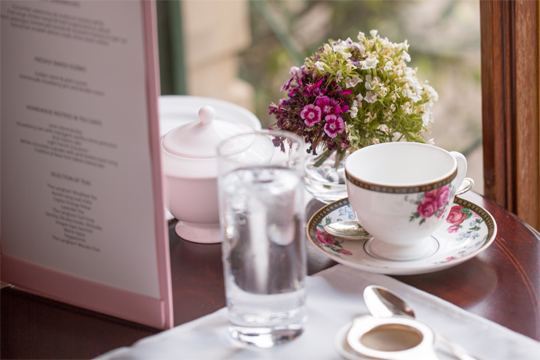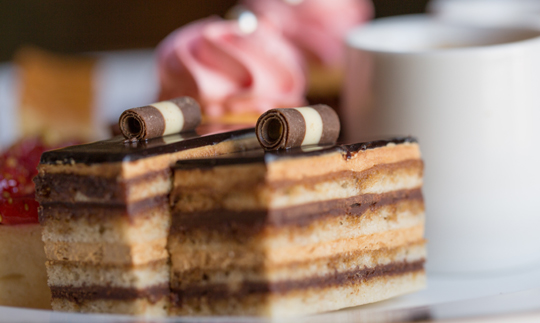 The tiered stand was placed on a smaller table off to the side. It's a nice touch as we find we often run out of room on a regular table for two, and it was nice not to have to look through the stand to speak to each other.
We began with the sandwiches, all of which were lovely. Our favourite was the smoked salmon rolled crepe. It was an original way to present a traditional component of the menu.
Next were the scones. Light and fluffy, served with some of the tastiest house made strawberry jam we've had in a while, and of course double cream to slather on top of it all.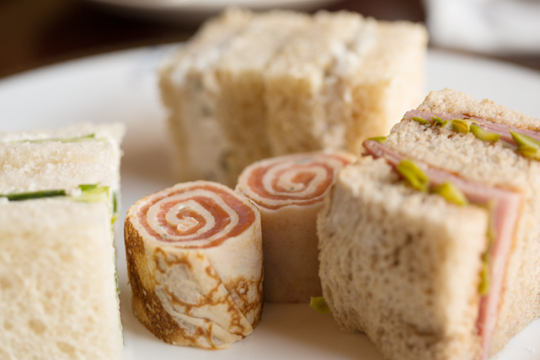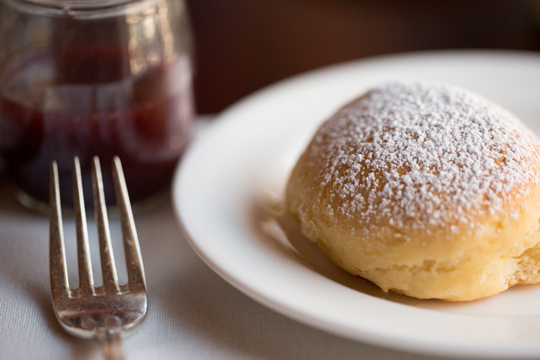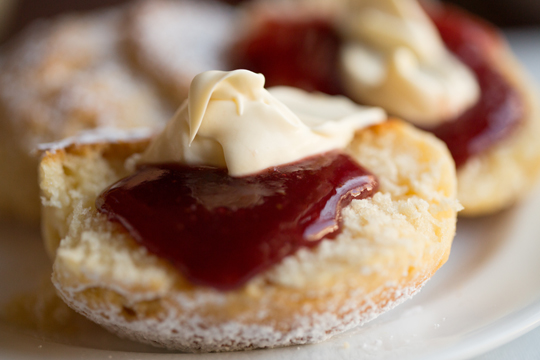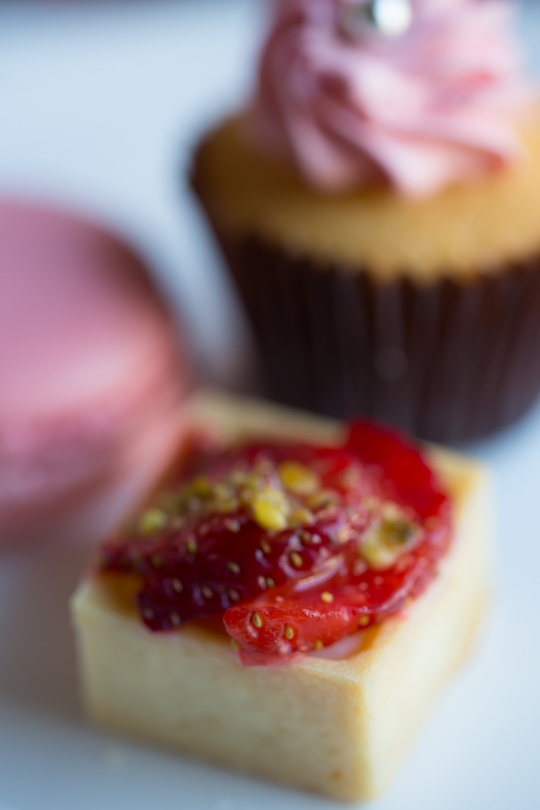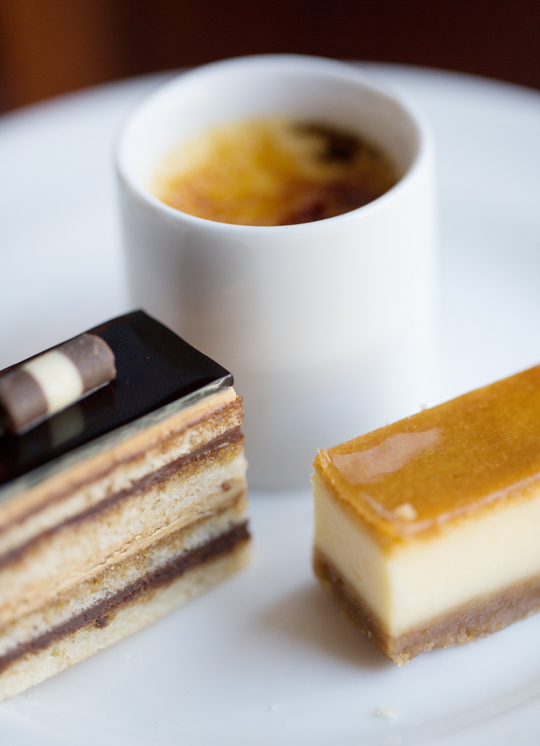 The sweet tier was full of ultra-rich treats and we were glad that they were all only two-bites each, we wouldn't have had room to try them all otherwise! The favourite was the strawberry tart, I'm a sucker for fruit and custard held in a buttery pastry shell.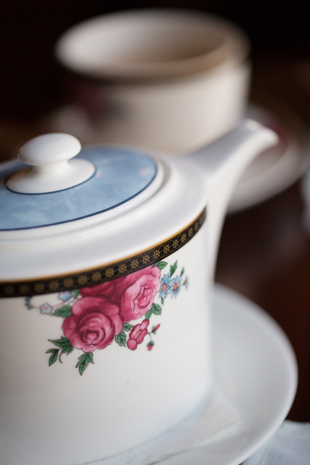 The tea selection has a few 'signature blends' gathered from all over the globe. The Langham Masala Chai that I had was a good example. Not overly spiced like chai can sometimes be, it was delicious from first pour to last.
Langham Sydney Afternoon Tea Menu
Finger sandwiches:
Cucumber, watercress, & ricotta on country white
Free range chicken breast & herb mayonnaise on wheat
Pastrami, asparagus, homemade tomato & mustard chutney on light rye
Tasmanian smoked salmon crepe, chive cream cheese.
Freshly baked scones: Golden raisin & plain with homemade strawberry jam and double cream
Homemade pastries and tea cakes
Lime crème brulèe
Strawberry tart with indulgent vanilla crème patissiere
Rich Opera cake
Light French macarons
White chocolate cupcake with pink buttercream icing
Traditional New York baked cheesecake.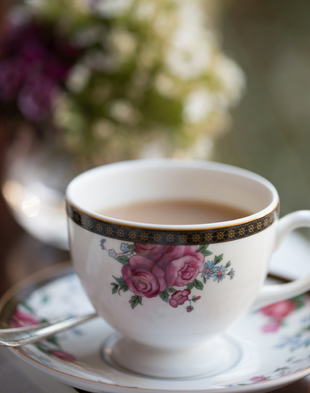 Tea selection:
'The Langham' breakfast tea
Assam long leaf, India
Ceylon orange pekoe
Lavender tea
'The Langham' earl grey tea
Sencha, Otsuka estate, Shizuoka
Dragon eyes jasmine
Warm spice
Peppermint
'The Langham' masala chai
We really enjoyed reviewing this venue. The opulence of the room really added that extra something to a traditional afternoon high tea. Highly recommended for small groups and large. There is also an option on the weekend to have your tea leaves read, just be sure to book in advance.