Arriving at the Langham Sydney is always a polished experience. Uniformed porters are buzzing about the foyer opening doors and helping guests with their luggage.
We arrived for our high tea at the same time as a large bridal shower, so the excitement levels were high.
Since our last visit the dining area has been remodelled again. Gone are the light, breezy Hampton-esque furnishings, replaced with a more stately darker colour palette. As equally as comfortable as before and the tea service is still the trademark Wedgwood for Langham fine bone china.
It was surprisingly busy on our recent visit, proving that Sydneysiders didn't take long to come out of lockdown to embrace our harbour views with friends once again. As well as the bridal shower we arrived with there were couples dotted around the room and a few larger groups celebrating birthdays too.
Executive chef, Stephen Lech, has designed a tasty selection of treats for the current menu. We had a sneak peek at his Christmas menu too which will be available throughout December and it looks just as delectable.
But back to today's menu. There are several packages available, and we chose the option which includes a glass of Tattinger champagne. There is also an Australian sparkling option, and a bottomless pour if you're settling in for a few good hours.
As always at The Langham the menu includes a lot of traditional flavours and a few new surprises along the way. We don't usually get good arancini balls on a high tea menu, but these mushroom and feta versions were delicious. The rice was cooked perfectly so the ball stayed nice and moist and mushroomy on the inside with a crispy outside, make sure you eat them while they're still warm.
A special mention needs to go to the free-range egg mayonnaise finger sandwich. One of my all-time favourites on a high tea menu, this one was elevated by the addition of just a hint of black truffle. I'm pinching this idea next truffle season for the fanciest work lunches ever!
And that's not the only item to feature truffles. The hazelnut praline with white chocolate was the cutest little mushroom-shaped chocolate truffle with the added flavour bomb from black truffle. You don't often see both types of truffle in the one bite, so this was a real treat. Rich and chocolatey with the earthiness of black truffle.
The chocolate mousse with cherry jelly was also a standout for me. Designed for a single bite just pop the whole thing in for a cherry choc explosion. Also of note was the blood orange friand. Soaked in a syrup the citrus blood orange cream on top balances the sweet with tang exceptionally well.
Something else we don't often see at high tea is the option of iced teas. Reading the menu they sounded like they would be incredibly sweet like most mocktails tend to be. But these ones have had a lot of time and attention paid to them to get the balance right. The tea shines through more than anything else making them really refreshing rather than cloying. Perfect for those who don't want a glass of champagne but feel like something fancier than sparkling water.

Overall, The Langham Sydney never disappoints. They've been serving high tea on an international scale for an incredibly long time and this wealth of knowledge and tradition is evident in this well thought out and executed experience.
Pastry Chef Gabriella Harianto shares with us The Langham, Sydney scone recipe.
The Langham Sydney Afternoon Tea Menu: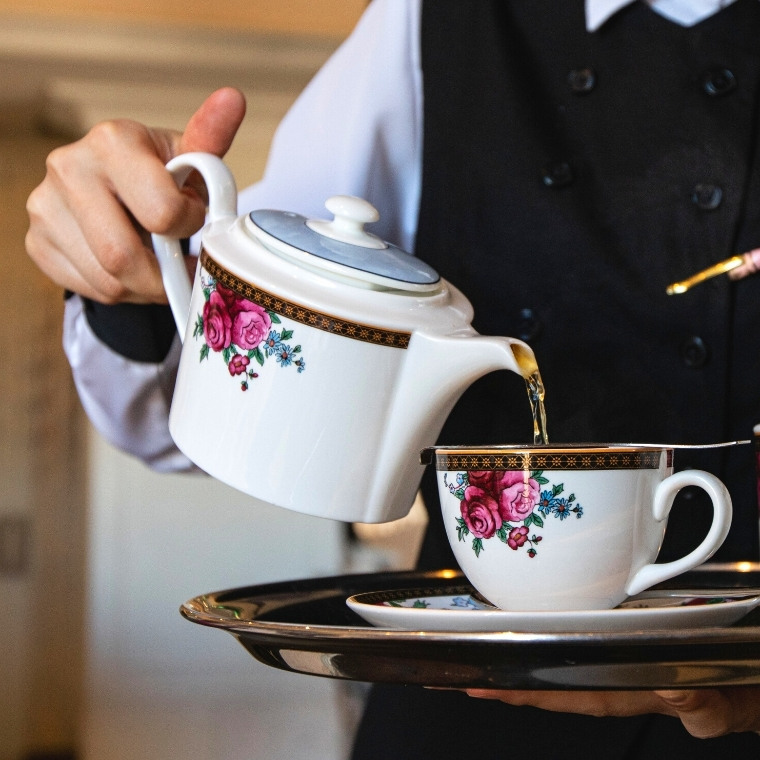 Savoury:
Swiss brown and oyster mushroom arancini with Persian feta and basil
Woombye truffle brie, fig and orange jam, lavosh
Classic beef pie, tomato chutney
Finger Sandwiches:
Free range egg mayonnaise sandwich
Angus roast beef, watercress with sundried tomato and wholegrain mustard mayonnaise
Cucumber and chive cream cheese sandwich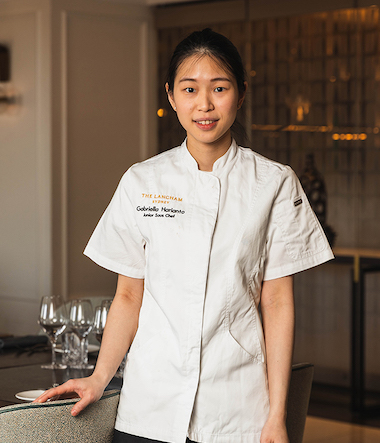 Homemade Pastries & Tea Cakes:
Hazelnut praline with white chocolate and black truffle
Coconut and mango panna cotta
Strawberry, whipped mascarpone and toasted meringue tart
Republica Del Cacao dark chocolate mousse with cherry jelly
Blood orange friend
Signature raisin scones with house-made strawberry jam and cream
With a selection of twenty teas.
Iced Tea:
Tea Time – Peach flower, lemon, lime & jasmine syrup
Earl Grey Collins – Earl Grey, lemon, orgeat & club soda
High Tea Sydney – find more experiences
in our High Tea Venue Directory