She's back and better than ever. Anna Polyviou is shaking up the afternoon tea menu at the Langham Sydney, but you'll need to get in quick because she's only there for six months.
Even if you don't know her name you most definitely know who Anna is. She's the crazy pastry chef with the bright pink mohawk who sets almost impossible to recreate dessert challenges for MasterChef contestants. She pops up on supermarket shelves too with her range of bake at home cookie dough, if it actually makes it to the oven before you eat it that is.
We had the chance to speak to Anna in person and she said she was excited to be back in a luxury hotel kitchen, even if it's just for a short time. She has brought her team along with her and they are being kept busy creating a new menu every six weeks throughout their stay. There's even talk of hosting a Doggy High Tea!
Anna's new menu consists of four sweet, four savoury and scones, along with an additional course called Cake de Jour. Every day there are three options, and each guest can choose whichever one takes their fancy. Each day has a theme, today it was caramel.
The savoury tier had one nod to the classics with a simple egg mayonnaise sandwich on white. While it was delicious (we all know I love a good egg sambo), perhaps this one was a little too simple, maybe it could do with the addition of some lettuce.
The poached prawn cocktail was jampacked with chunks of prawn tossed in a tangy Bloody Mary sauce. Kind of like a thousand island dressing, but much lighter so you can still taste the prawns.
When we saw the goats cheese tart on the menu we assumed it would be a fresh goats cheese. It was a lovely surprise when it came out as a baked version. The caramelised onion gave a lovely sweetness and the heirloom tomatoes cut through the richness with bursts of freshness.
The showstopper savoury was the roast chicken stuffing. Instead of baking the stuffing in a single batch in a tray, this stuffing is cooked the right way – inside chickens. Doing this adds the extra flavour and moisture that only being roast in a bird can add. The roast chicken is then diced and a little is mixed with the stuffing and served on a brioche bun. Absolutely delicious.
Moving on to the sweet we started with Breakfast. Enrobed in a bright purple mirror glaze are several intricate layers resting on a sable disk. Cutting it in half you'll find a cereal financier, fig jam, blueberry gel and yoghurt mousse. It's a lot to fit into such a small treat and it shows that Anna and her team are pastry pros. Texturally it was a delight to eat too.
The baked cheesecake was rich and creamy with the fruit salad on top providing freshness. We really enjoyed the playfulness of the chocolate shard on the side cut to look like a slice of Swiss cheese.
We both agreed that the tropical tart was our favourite sweet. Pineapple is cooked down until it becomes jammy. It is then topped with a thick yuzu curd and mango popping pearls. Very tropical and very enjoyable.
Every afternoon tea has a chocolate element and this one is no exception. It's a flourless chocolate sponge rolled with layers of chocolate mousse and covered in chocolate shards. It is so delicate we have no idea how the kitchen managed to cut through the roll without squashing it. Light with mousse yet rich with chocolate definitely eat this one last so you can enjoy the lighter flavours of the others first.
The Cake de Jour is an excellent concept designed for those who have "just a little more room". We sampled all three options: chocolate banana bread with caramel popcorn, a salted caramel macaron and a vanilla rum canelé. The caramel theme of the day was well and truly covered with these three.
Anna's scones are always exceptional, and these ones were no different. Not too crumbly and a perfect vehicle to layer with the clotted cream and berry jam. A generous serve of two per guest means you will be leaving this afternoon tea full and extremely happy.
If you can't make it to the Langham Sydney by mid-February for the current menu, make sure to keep an eye out for the upcoming menus while Anna is at the helm.
Afternoon tea with Anna Polyviou menu:
Current menu available 6th January until 14th February 2023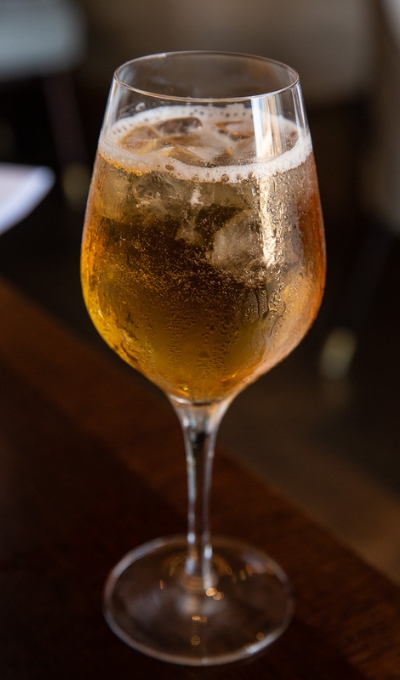 Sweet:
Roll me in chocolate – Chocolate flourless sponge, chocolate mousse, chocolate shards
Tropic twist – Passionfruit yuzu Curd, ginger pineapple, whipped coconut, pabana foam
Cheesy – Baked cheesecake, biscuit crunch, seasonal fruit salad
Breakfast – Vanilla yoghurt mousse, fig jam gel, honey cereal financier
Savoury:
Roast chicken stuffing – Roast chicken, chicken stuffing, gem lettuce
Egg-alicious – Egg mayonnaise, white bread
Prawn cocktail – Poached prawns, avocado, Bloody Mary cocktail sauce
Tarting around – Caramelised onion, goats cheese, heirloom tomatoes
Cake de Jour (cake of the day)
Scones:
Plain buttermilk and tea-raisin scones
Served with clotted crème, mixed berry jam
High Tea Sydney – find more experiences
in our High Tea Venue Directory