Callebaut have launched their ruby RB1 chocolate with a demonstration by Kirsten Tibballs – this is the fourth type of chocolate, and first new variety to be discovered in 80 years.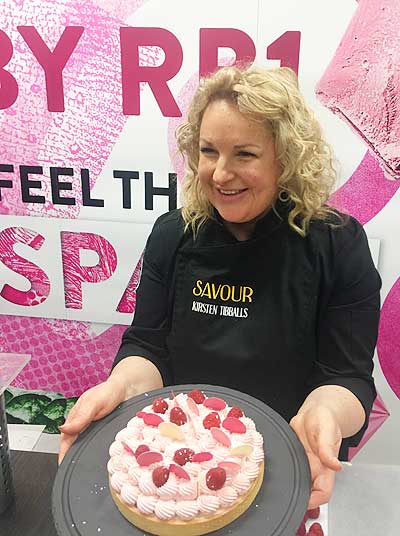 Adding a new option to the well-known milk, dark, and white chocolate categories, ruby RB1 turns everything we know about chocolate on its head.
The new chocolate's sparkling ruby colour occurs naturally from the ruby cocoa bean, and surprises with intense fruitiness and fresh, sour notes. Offering a completely new chocolate taste, the fruitiness and sourness makes it perfect for pairing with Rose Champagne, and even beer or savoury ingredients – so expect to see a lot of amazing creations from chocolate and pastry professionals once ruby RB1 is available in September.
The first ruby chocolate dedicated to chocolatiers and pastry chefs, ruby RB1 will be made available in Australia from September. Prior to this, Callebaut's Chocolate Heroes will be offering ruby RB1 treats for sale at their stores from August, giving die-hard fans the very first chance to taste ruby in Australia before its official September launch.
Global Callebaut Ambassador and Australia's Queen of Chocolate, Kirsten Tibballs says of the new chocolate, "ruby RB1 is one of the most exciting things to happen to the chocolate industry in decades. It opens up a whole new world of ideas and makes you rethink everything you thought you knew about chocolate."
Ruby chocolate was discovered more than a decade ago when researchers found out that ruby chocolate was linked to precursors in a specific type of bean: the "ruby" cocoa bean. Identifying the ruby cocoa beans, which hold plenty of these precursors, and finding the best way to process the beans during chocolate-making has taken many years of research. Callebaut's ruby RB1 owes its colour and specific taste solely to the expert selection and meticulous processing of the ruby beans – no fruit flavouring or colourants are added to the chocolate. In addition, Callebaut sources sustainably grown cocoa beans and supports farmers in cocoa farming communities.
Ruby RB1 Chocolate:

Taste:

Intense fruitiness (berry notes) with fresh, sour notes.
Less sweet for more longevity of the berry fruit aftertaste and a hint of cacao rawness.

Colour:

A natural pink colour that is unlocked by nature
NO Colourings are added.
Natural colour from Ruby Cacao beans – Yes there are Ruby cacao bean.

The Ruby Cocoa Bean:

Typical cocoa countries: Brazil, Ecuador and Ivory Coast
A natural occurrence of the typical precursors
Find Ruby desserts at the following locations in August 2018:
Purchese Sweet Studio: 647 Chapel Street, South Yarra VIC 3141
Textbook Boulangerie Patisserie: 274 Botany Rd, Alexandria NSW 2015
Josophan's Fine Chocolates: 132 Leura Mall, Leura NSW 2780