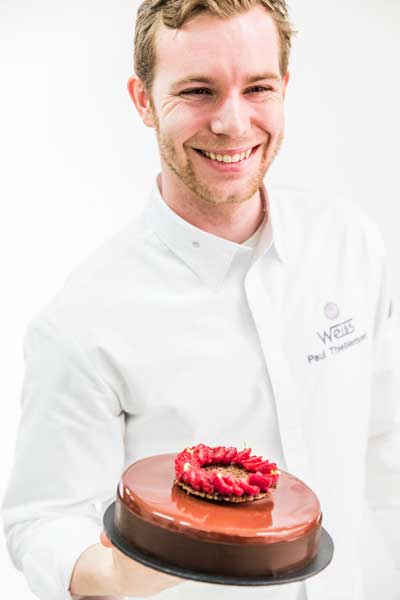 This Battenberg Cake recipe is from the English High Tea at The Conservatory at Crown Melbourne.
The Battenberg Cake is a light sponge cake with the pieces covered in jam. The cake is covered in marzipan and, when cut in cross section, displays a distinctive two-by-two check pattern alternately coloured pink and yellow.
The Battenberg Cake was purportedly named in honour of the marriage of Princess Victoria, a granddaughter of Queen Victoria, to Prince Louis of Battenberg in 1884.
"Afternoon Tea in London is a really special occasion and I'm proud to bring a touch of it here to Melbourne. The beautiful, light setting of The Conservatory reminds me of grand tea rooms back in London – it's the perfect place to share my limited edition delights." said Thiéblemont
Quantity & Ingredients: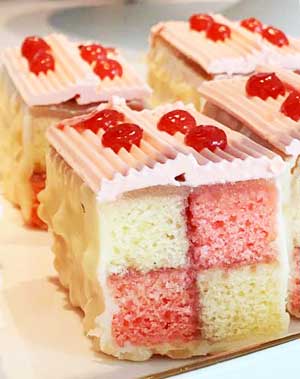 For the sponge
375 gr milk
200 gr whole egg
200 gr caster sugar
250 gr t55 flour
3 gr liquid vanilla
10 gr baking powder
275 gr butter
1.5 lemon zest
(1 gr red klein colorant)
For the strawberry gel
125 gr strawberry puree
25 gr sugar
2 gr pectine nh
For the butter cream
45 gr full fat milk
95 gr caster sugar
125 gr whole egg pasteurized
250 gr French butter
75 gr strawberry gel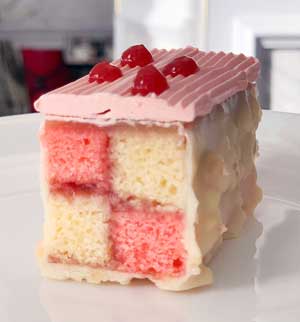 For the glaze
450 gr aneo white chocolate
75 gr grapeseed oil
500 – 125 gr chopped almond
For the top
Method
For the sponge
Warm up the milk, eggs, vanilla, zest and sugar.
Add the butter hot and finish with the dry ingredients.
Mix with the paddle until there is no more nibs.
Spread 450 k of mix in a tray lined with oven paper and grease spray in the bottom.
Cook it in the rational for 15 min, 165 oc, 100% humidity, fan3.
For the strawberry gel
Warm up you puree to 40 degrees and add the sugar mix the with the pectine nh.
Bring it boil for 2 min and cool it down.
For the butter cream
Cook an anglaise and whip it until the temperature reach 40 degrees.
Add the butter and whip it until the mix is really white.
For the glaze
Melt the chocolate with the oil and add the toasted almond.
For the top
Roll the marzipan between two guitar sheets.
Finishing & Presentation
Spread the gel between the two biscuits.
Cut stripes of 1.5 cm large.
Cut this stripe in half and spread on one side some gel to stick and flip it.
Cut one stripe of marzipan of 2.4 cm and stick it to the top of the stripe, deep the all lug in the glaze but keep the top clear to see the marzipan.
Cut with a hot knife small log of 6.5 cm, pipe with the chemin de fer nozzle the butter cream strawberry.
Pipe 4 dots of strawberry gel.
---