Blueberry Friand recipe from the High Tea at The Hatter & The Hare.
A Friand is a well-known staple to any High Tea. The dainty dessert is a light and fluffy cake with berries strewn throughout. Served either warm or at room temperature, a Friand is the more chic and refined cousin of the humble berry muffin.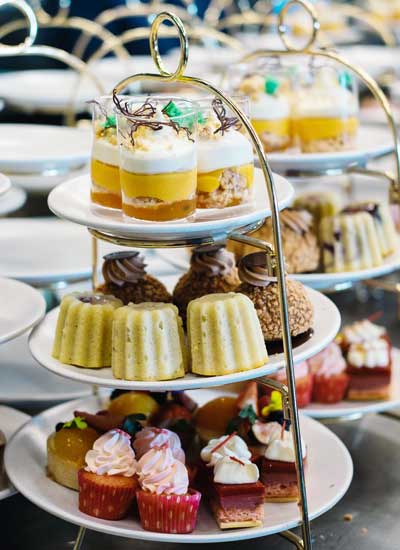 The Hatter and The Hare, located in the Melbourne suburb of Bayswater, have chosen blueberries to feature in their Friand, as a part of their High Tea menu.
Opening in March 2017, The Hatter and The Hare are relatively new to the Melbourne food industry, with an aim of quality food, innovative recipes and a one-of-a-kind Wonderland inspired experience.
The eatery seats up to 160 guests and boasts two kitchens, their main kitchen serving hot and cold meals and their dedicated patisserie kitchen. The patisserie kitchen is a full functioning open kitchen, allowing guests to watch the chefs create and bake from their seats.
High Tea is at the very soul of this place, with its conception the result of a month-long High Tea event held in 2015. The event held as part of the Cancer Council's Australia Biggest Morning Tea, was a huge success with high praise from patrons and each High Tea session selling out.
---
Ingredients
---
Instructions
Preheat oven 180 degrees C

Whisk egg whites to a soft peak

Melt butter

Sift dry ingredients together

Fold in dry ingredients to the egg whites, do not overmix

Add in cooled melted butter to the mix

Fold blueberries in gently

Spoon mixture into greased pans 2/3 of the way full. Bake for
18-22 minutes until risen and golden in colour

Leave to cool for a couple minutes before removing from pan