Enjoy Cherie Lyden's delicious and gluten-free Fruit Hot Cross Buns recipe at home.
As Easter approaches, it's hard to resist the temptation of a warm, spiced hot cross bun slathered in butter. Cherie's Fruit Hot Cross Buns recipe is the perfect way to indulge in this seasonal treat.
From the humming kitchen of Wholegreen Bakery and the heart of its founder Cherie Lyden, Gluten-Free Baking Made Simple is your playbook for re-creating the magic at home.
Gluten-free Baking Made Simple is accredited by Coeliac Australia.
Images and text from Gluten-Free Baking Made Simple by Cherie Lyden, photography by Ben Dearnley. Murdoch Books RRP $49.99.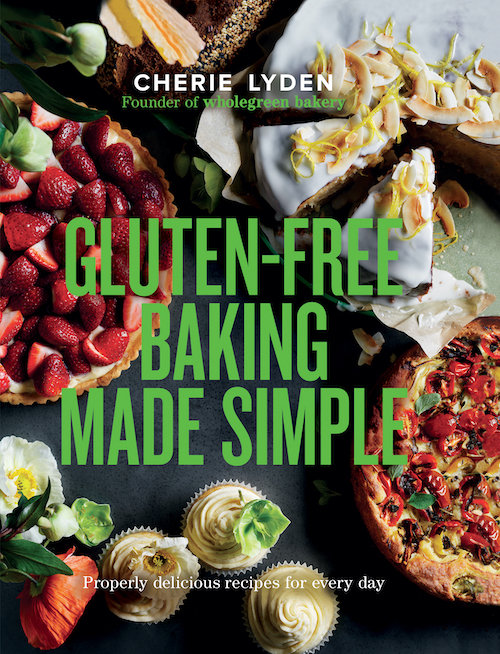 Ingredients:
2/3 cup (120 g/4¼ oz) raisins
2/3 cup (120 g/4¼ oz) currants
1¼ cups (205 g/7¼ oz) gluten-free self-raising flour
1½ cups (185 g/6½ oz) gluten-free cornflour (cornstarch)
1/2 cup (100 g/3½ oz) brown sugar
1/2 teaspoon salt
3 teaspoons xanthan gum
2 teaspoons ground cinnamon
1 teaspoon ground nutmeg
1/3 teaspoon ground cloves
1/3 teaspoon ground cardamom
75 g (2½ oz) butter, melted, or 75 ml (2½ fl oz) light oil (e.g. sunflower, rice bran, canola, light olive oil)
1 large egg, at room temperature
1½ cups (375 ml/13 fl oz) full-cream milk (or non-dairy alternative), at room temperature
1 tablespoon psyllium husk powder
1/2 cup (125 ml/4 fl oz) water
1½ teaspoons instant dried yeast
zest of 1 orange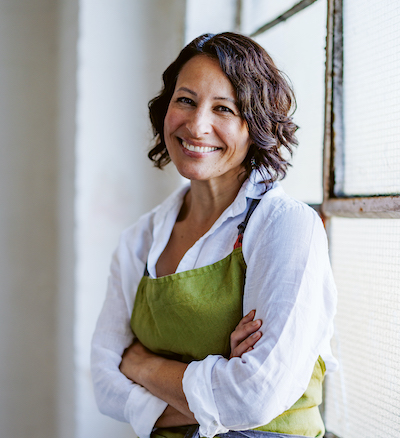 Cross Mix (optional)
2/3 cup (110 g/3¾ oz) gluten-free plain (all-purpose) flour
1/4 teaspoon ground nutmeg
2/3 cup (170 ml/5½ fl oz) water
2 teaspoons sunflower oil
Syrup:
1/2 cup (110 g/3¾ oz) white sugar
1/2 cup (125 ml/4 fl oz) water
finely grated zest of 1 orange
Method:
Place the raisins and currants in a small bowl and cover with boiling water. Leave to soak for 10–15 minutes, then drain and set aside.
Line a baking tray with baking paper.
Sift the dry ingredients except the psyllium husk powder and yeast into the bowl of a stand mixer and whisk to combine.
Whisk the butter, egg and milk together in a small bowl, then pour this mixture onto the sifted dry ingredients.
Using the dough hook attachment, mix on low for 1 minute to combine, then increase the speed to medium and mix for a further 8 minutes to work the xanthan gum into the batter. Stir the psyllium and water together to form a slurry, add to the bowl along with the yeast, pre-soaked raisins and currants and orange zest and mix for 1 minute more. (Alternatively, mix the ingredients together in a mixing bowl with a hand mixer.)
Leave the dough to rest in the bowl for 5 minutes. (This allows the psyllium to continue to absorb moisture and makes the dough a little easier to handle.)
Using a 1/3 cup spring-loaded ice-cream scoop for perfectly shaped buns, transfer slightly heaped scoops of batter onto the lined baking tray, keeping them 1 cm (½ in) apart.
Loosely cover the scooped buns with oiled plastic wrap and leave in a warm, draught-free spot to prove for approximately 30 minutes, or until risen by about a third.
Preheat the oven to 190°C/375°F (170°C/325°F fan-forced) with the oven rack positioned in the middle of the oven.
For the cross mix, if using, whisk the flour and nutmeg together in a bowl. Add the water and oil and whisk until smooth, then pour the batter into a piping bag fitted with a 7 mm (½ in) circular nozzle. (Alternatively, simply cut the end of the bag off where a nozzle would normally go so the opening is a similar size.)
Remove the plastic wrap from the buns. With a firm grip on the piping bag, pipe crosses on the buns, starting at one end of the tray and moving horizontally across each layer first and then vertically. Once done, place in the hot oven and bake for approximately 30 minutes, rotating the tray after the first 20 minutes for an even colour, until the buns are risen and golden and the tops spring back when you press down gently on them with two fingers.
While the buns are cooking, make the syrup. Bring the sugar and water to the boil in a small saucepan. Reduce the heat to low, add the orange zest and simmer for 5 minutes, or until reduced by a quarter.
Once the buns are cooked, remove them from the oven and brush all over with the hot glaze. Leave to sit for 10 minutes to absorb the glaze, then serve warm with butter.
Tips:
• Pre-soaking the raisins and currants will soften them and help prevent them drying out when baking.
• When making the cross mixture, be aware that flour blends can vary – you may need to add more or less water in order to find the right consistency
Storage:
These buns will stay fresh in an airtight container at room temperature for 3–4 days or in the fridge for up to 5 days, but they will need to be toasted after the second day.
---