Classic Truffle recipe by Master Chocolatier Arno Backes.
This Classic Truffle recipe is a popular recipe that is served in all the best chocolateries in Belgium. The variations can be endless, so don't limit your imagination.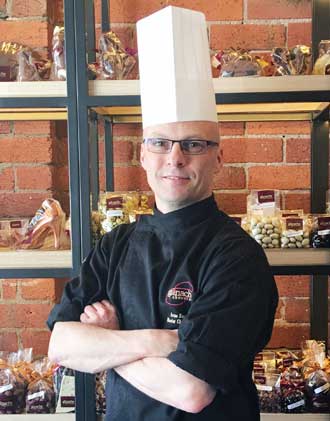 Arno Backes, Master Chocolatier & Patissier is a German-born pastry chef who has made delectable chocolates in London for the best in the business: Marasus Petit Fours, Harrods, the Ritz, The Dorchester and the British Royal family.
Arno's Tips
The best cocoa powder to use is alkalised 22% or 23% fine cocoa powder. This is sometimes called Dutch Process cocoa powder.
Chocolate should be finely chopped to ensure it all melts and mixes smoothly with the cream.
Use a dark couverture with fruity acidic notes in its flavour characteristic which works well with the richness of the butter.
Butter should be roughly chopped to ensure it melts into the chocolate mix.
The mixture can split and the butter separate, so be gentle with the mixture
When piping the truffles, try to keep them as round and as compact as possible.
During the coating step, ensure the cocoa powder doesn't get into the melted chocolate.
If you have two people for the coating step, have one person dip the truffles in the melted chocolate and the other roll them in cocoa powder.
---
Ingredients
---
Instructions
Cut the vanilla bean longways and scrape out the seeds. Place the pod and seeds into the cream in a pot and bring the cream to the boil.

Remove the vanilla pod and pour hot cream over the chopped chocolate.

Mix until smooth using a whisk then add the butter and continue mixing until it melts and the mixture is smooth again.

Cover with cling film and leave on the bench overnight.

The next day, without mixing the ganache, spoon into a piping bag with a 10mm nozzle.

Pipe round 10g balls onto greaseproof paper. Leave these to set overnight.

Temper a dark chocolate coverture and prepare a flat tray with sifted cocoa powder.

Coat each truffle in chocolate then place into the cocoa powder and roll until covered.

Allow the truffles to fully set before shaking of excess cocoa powder.