Equipment
20cm square tin
---
This delicious Lamington recipe from the SACWA will perfectly cater your High Tea to those with gluten intolerances or sensitivities.
The humble Lamington; up there with the pavlova or the vegemite sandwich as one of the most iconic Australian dishes, and a staple at any afternoon tea. While many modern recipes include jam in the lamingtons centre, the traditional construction is simply day-old sponge cake, covered in a chocolate icing and rolled in shredded coconut; simple and rustic.
Another hero recipe of the SACWA Calendar of Cakes book, this Lamington recipe is every bit the true blue Australian classic, just without the gluten. These easy to whip up lamingtons are the perfect addition to any Australian Afternoon Tea, and perfect to accommodate for those with gluten intolerances or sensitivities.
"Calendar of Cakes" by Fiona Roberts & Jacqui Way. Learn more here: www.sacwa.org.au.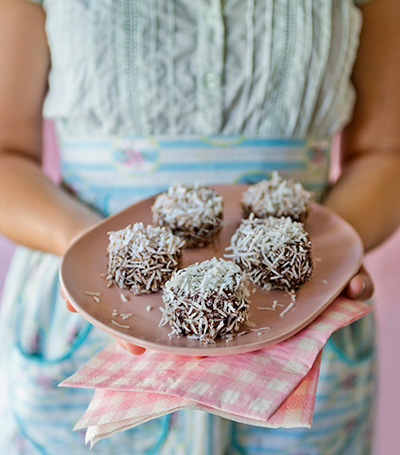 Cake Ingredients:
2 large free-range eggs, lightly beaten
1/3 cup caster sugar
¼ cup tapioca flour
¼ cup pure (maize) cornflour
1 tablespoon gluten-free self-raising flour
½ teaspoon gluten-free baking powder
1 tablespoon unsalted butter, melted
1 tablespoon boiling water
Icing Ingredients:
2 cups pure icing sugar, sifted
1/3 cup unsweetened Dutch cocoa, sifted
½ cup (125ml) boiling water
1 tablespoon unsalted butter
1 cup shredded or desiccated coconut
---
Instructions
Preheat oven to 180oC (160oC fan-forced) and lightly grease and line a 20cm square tin with baking paper.

Beat eggs and caster sugar in the small bowl of an electric mixer on the highest speed setting for 5 minutes or until mixture becomes thick and glossy.

Combine flours and baking powder together and sift twice.

Add flour mixture – a few spoonful's at a time – into the egg mixture, folding gently using a large metal spoon, until just combined. Add melted butter and boiling water, stirring until just combined. Do not over-stir

Pour mixture into prepared tin and bake for approximately 20 minutes, or until sponge springs back when lightly pressed at centre. Cool sponge in tin for 5 minutes before turning onto a wire rack, to cool completely

Cut sponge into 12 equal portions and wait until firm (or freeze for 30 minutes – see notes below) before icing.

Meanwhile, to make the icing, combine icing sugar, cocoa, boiling water and butter, stirring mixture becomes smooth. Dip sponge into icing and roll in coconut. Place lamingtons on a wire rack to set. Store in an airtight container.

NOTE: Lamingtons are traditionally made with day-old sponge. To make lamingtons on the day you've baked them, pop the cooled sponge portions into the freezer to firm up before coating in icing and coconut.