Indulgence takes on a whole new meaning with Kirsten Tibballs' decadent Rocky Road Chocolate Cake.
This recipe is a symphony of rich chocolate flavours, velvety textures, and a medley of delightful surprises in every bite.
Renowned Pastry Chef Kirsten Tibballs has woven her culinary magic into this irresistible creation. This beauty is covered in luscious chocolate ganache and crowned with a halo of fresh raspberries, peanuts, marshmallows and milk chocolate. The inside of the cake is also studded with rocky road surprises. It's so much more than just another chocolate cake.
Images and text from Chocolate All Day by Kirsten Tibballs, photography by Armelle Habib. Murdoch Books RRP $49.99.
Ingredients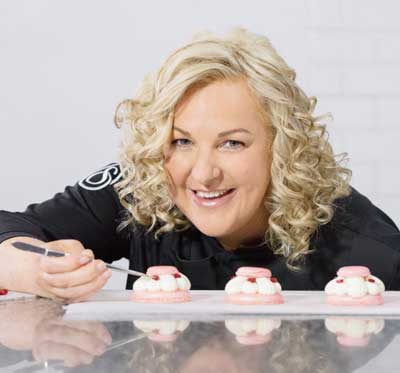 Rocky Road Chocolate Cake:
200 g (7 oz) whole eggs
115 g (4 oz) caster (superfine) sugar
2 vanilla beans, split lengthways and seeds scraped
95 g (3¼ oz) plain (all-purpose) flour
20 g (¾ oz) Dutch-process cocoa powder
½ teaspoon salt
20 g (¾ oz) unsalted butter, melted
30 g (1 oz) marshmallows, chopped
45 g (1½ oz) good-quality milk chocolate, roughly chopped
35 g (1¼ oz) roasted salted peanuts, roughly chopped
60 g (2¼ oz) fresh raspberries
Chocolate Ganache:
200 ml (7 fl oz) thickened (whipping) cream
250 g (9 oz) good-quality milk chocolate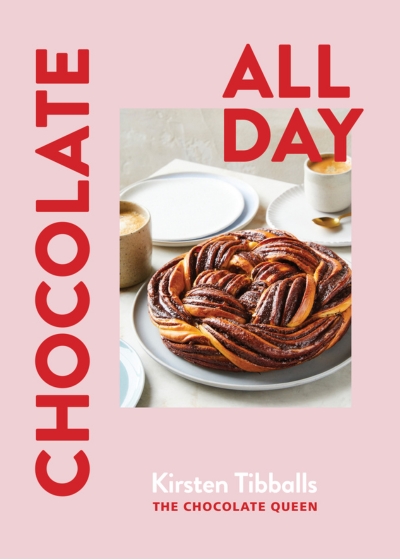 To Finish:
45 g (1½ oz) good-quality milk chocolate, roughly chopped
30 g (1 oz) marshmallows, chopped
25 g (1 oz) roasted salted peanuts, roughly chopped
60 g (2¼ oz) fresh raspberries
Method:
To make the cake, preheat the oven to 170°C (325°F) fan-forced.
Grease an 18 cm (7 inch) round cake tin.
Whisk the eggs, sugar and vanilla seeds in the bowl of a stand mixer with a whisk attachment on high speed for approximately 5 minutes, until light and fluffy.
To check whether the mixture is ready, lift the whisk and drizzle the mixture back onto itself. If it sits on top without
immediately sinking back into the rest of the mixture, it is ready.Sift the flour, cocoa powder and salt, then gradually add to the whisked egg mixture.Mix a small amount of the batter into the melted butter, then fold all the butter into the batter to incorporate.
Add the marshmallows, chocolate, peanuts and raspberries and gently fold them through until evenly distributed.
Transfer the mixture to the prepared cake tin and bake for 30–35 minutes or until a skewer inserted into the centre comes out clean.
Leave to cool completely at room temperature.
For the chocolate ganache, heat the cream in a saucepan over medium heat and bring to the boil.
Put the chocolate in a bowl.
Pour the hot cream over the chocolate and whisk until the chocolate is completely melted and incorporated.
Cover with plastic wrap touching the surface of the ganache and leave to cool at room temperature for 2 hours, until it thickens to a spreadable consistency.
Spread the chocolate ganache on top of the cake.
Arrange the chopped chocolate, marshmallows, peanuts and raspberries to form a halo around the top of the ganache.
The cake is best eaten within a few days of baking and served at room temperature. Store the undecorated cake in the fridge for up to 4 days. The cake can be made up to 4 weeks in advance and frozen. After the ganache and decoration are added, the cake can be stored for up to 3 days.
For Best Results:
Place the eggs in a bowl of body temperature water and leave for 10 minutes to warm them before making the cake. Gently move the eggs around as they warm. This will create better volume when whisking.
Next Level:
For added glamour, replace the marshmallows on top with edible flowers.
---